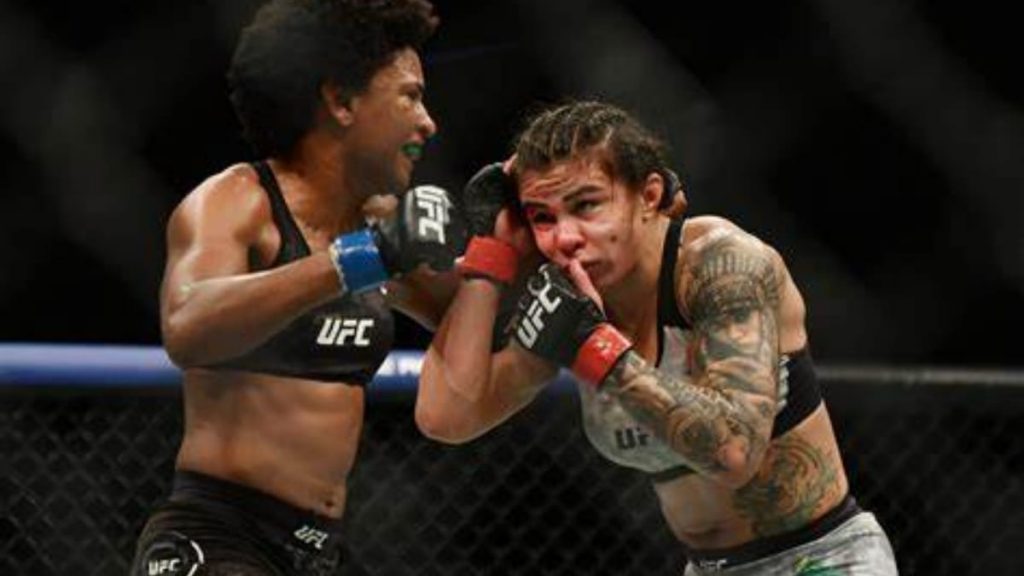 Angela Hill feels like she got robbed after her split decision loss to Claudia Gadelha in their encounter earlier this year. She feels one of the most pivotal wins of her career was stolen from her. 
Angela Hill fought Michelle Waterson at UFC Vegas 11 and was impressive until Waterson came from behind to lead the scoring charts in the latter rounds of the fight. While almost the entire MMA community praised the two women for putting on one of the best female fights of 2020, women's strawweight contender Claudia Gadelha wasn't impressed across the board. Gadelha may have congratulated Waterson on her performance. But she was quick to take a dig at Hill following her close-knit loss.
Build up to the banter between Hill and Gadelha
Hill and Gadelha went head to head in May and the latter won the fight via split decision. Hill, who out-struck Gadelha in that fight and even scored a knockdown, remains adamant that she won the co-main event affair.
But Gadelha's win over Hill was speculated by many media platforms as a steal. Majorly because it showed the other way around in most of the scoring charts.
However, against fighting Waterson for 5 rounds. Taking about 20 front kicks to the body and face, Hill is relatively unscathed after her first main event bid. She has already fought 4 times this year. Having said that, it will be up to UFC to book the rematch with Gadelha. Or rather give Hill a new top 15 opponent altogether, such as Marina Rodriguez, Amanda Ribas, or Virna Jandiroba.
Also Read: UFC Vegas 10: Michelle Waterson wins over Angela Hill at Strawweight...