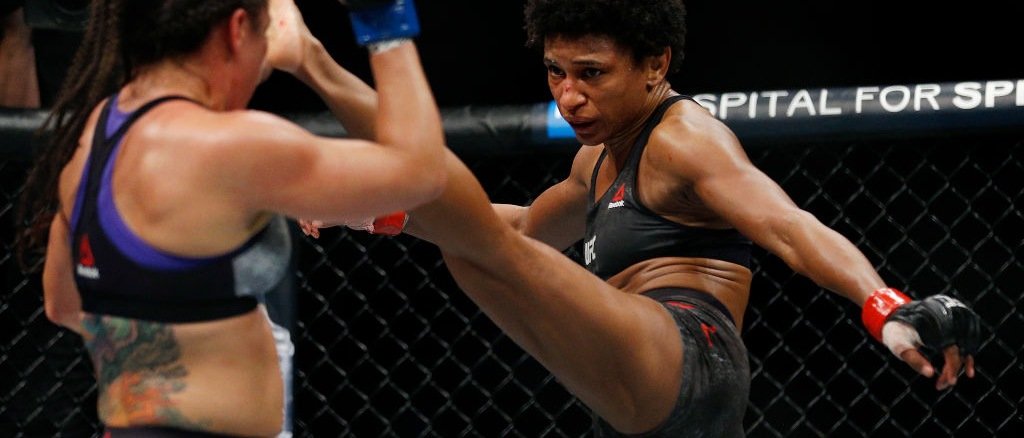 The main event of UFC Vegas 10 saw women's strawweight bout between Michelle Waterson and Angela Hill. In which Michelle Waterson defeated Angela Hill via split decision. 
UFC Vegas 10 main event- As it happened
First Round
At the start of the fight Angela Hill looked fierce and merciless in throwing jabs and punches at Waterson. Waterson was looking to catch her nerve in the initial moments of the first round. But as the first round got along, Waterson seemed to be getting in her groove, having connected better as each second passed by. As action was neck to neck, it seemed like Angela Hill was getting the better off Waterson. Hill gave a huge bump on Waterson's head in the first round. 
Second Round
The second round made Hill more confident, executing her punches and jabs with even more precisely. Although Waterson again seemed to be looking for a takedown, Hill wasn't letting that happen. Both fighters were throwing wild jabs at one another, which were not connecting. Defence of both these strawweight fighters seemed to be on point but Hill was able to get the better time and again of Waterson. But towards the end of the second round, Waterson's patience looked to be put to test. 
Third Round
The third round started with Hill and Waterson starting on a lighter, non-aggressive note. But Hill's jab seemed to give Waterson a huge blow, making it bleed. Waterson countered with a take down. Which he firmly held for a couple of minutes, making Hill run out of fuel. For almost 2-3 minutes it was Waterson who maintained to be on top of Hill. Waterson finished the round on a great note.
Fourth Round
In the 4th round Waterson was keen on getting a takedown but Hill kept shrugging her off. The pace of the fight seemed to be increasing but Hill was slowing down. Throwing jabs in the air rather than connecting it, was Hill's summary in the 4th round. Waterson followed it up connected a kick on the chin of Hill. Waterson seemed more confident, relaxed and aware of the scenario in the octagon. 
Fifth round
The last round could either be a very attacking one or with both fighters looking to maintain their scores. It was the former scenario where in both fighters were looking to end the fight in one way or the other. But even after 5 rounds of 5 minutes each, the fight was not completed. Everything rested in the hands of the judges. A split decision helped Waterson win over Hill. Nothing better to see a fight filled with respect and dignity.
Also Read: UFC Vegas 10: Ottman Azaitar unleashes his 'Bulldozer' on Khama Worthy