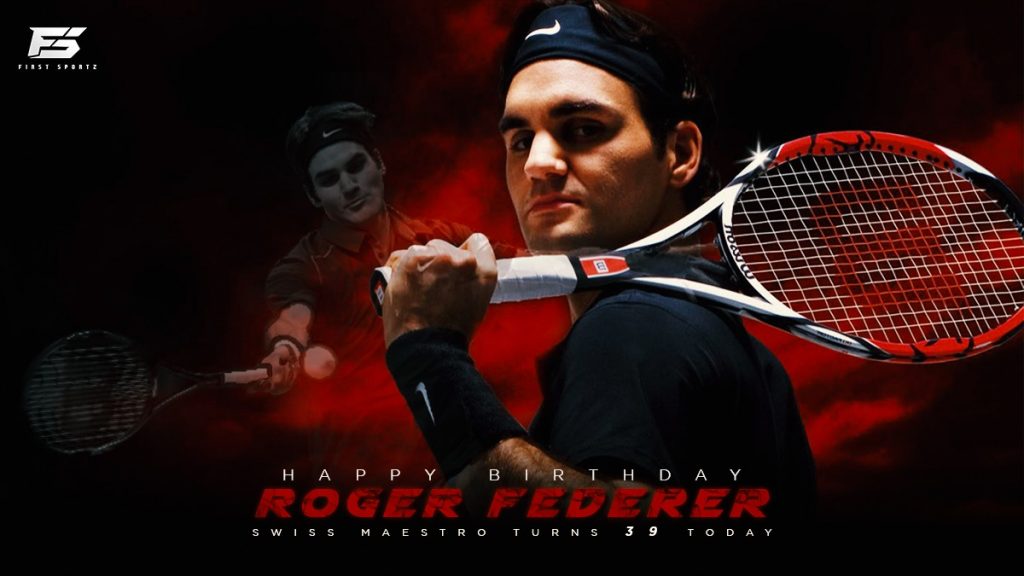 Roger Federer is one of the best tennis players to have graced the game. The Swiss legend turns 39 today. Federer is considered the GOAT by his millions of followers and many of the former and current players share a similar opinion. His legendary status not only attributes to his numerous tournament victories but also the elegance with which he plays and his longevity in the game pays homage to the status.
During his incredible career which began in 1998, the Swiss champion has won 103 titles, including 20 Grand Slams. He is the only player after Jimmy Connors to have won 100 or more career singles titles, as well as to amass 1,200 wins in the Open Era.
This article features all of the record 20 Grand Slams won by the Swiss maestro.
GRAND SLAM #1 – 2003 Wimbledon
Def. Mark Philippoussis 7-6(5), 6-2, 7-6(3)
The year was 2003 and the men's tennis landscape was in flux. Longtime standard-bearer Pete Sampras retired the previous August after winning the US Open, and it wasn't yet clear who would assume the reins and lead the ATP World Tour going forward. Fans did not have to wait long for an answer to become apparent, as they got Roger Federer.
His opponent: fellow Wimbledon final debutant Mark Philippoussis. Philippoussis had endured a much tougher path to the final and proved no match for Federer, who claimed his first taste of Wimbledon glory after just one hour and 56 minutes of play. It was only the beginning.
GRAND SLAM #2 – 2004 Australian Open
Def. Marat Safin 7-6(3), 6-4, 6-2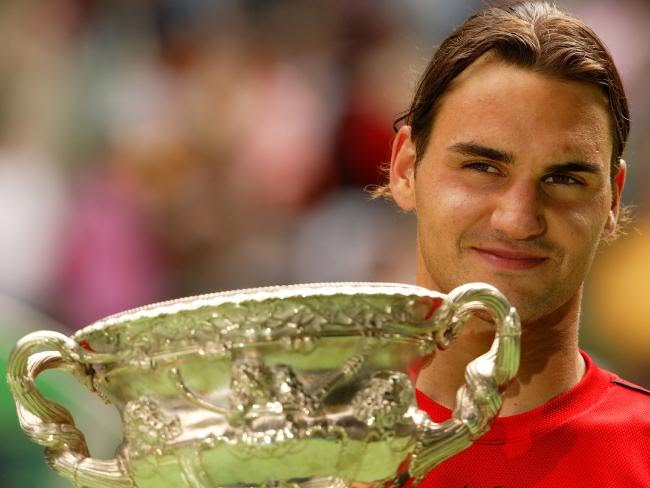 22-year-old Federer did not have to wait long for his second success at the Grand Slam level. Just over six months later, on the other side of the world, the Basel native lifted the Norman Brookes Challenge Cup for the first time. Federer once again showed his class on the grandest of stages.
GRAND SLAM #3 – 2004 Wimbledon
Def. Andy Roddick 4-6, 7-5, 7-6(3), 6-4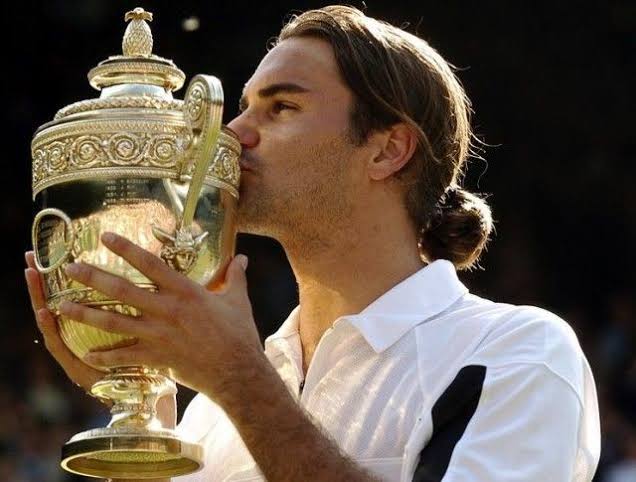 Federer vs. Roddick in the Wimbledon final is synonymous to epic encounters. The Wimbledon faithful were treated to a dream No. 1 vs. No. 2 championship clash and Roddick got off to a great start, becoming the first man to take a set off Federer in a Grand Slam final.
But, ultimately, Federer would fight back, winning two tight sets before firing down a 12th ace out wide at championship point to lift the trophy and cement himself as the best player in the world.
GRAND SLAM #4 – 2004 US Open
Def. Lleyton Hewitt 6-0, 7-6(3), 6-0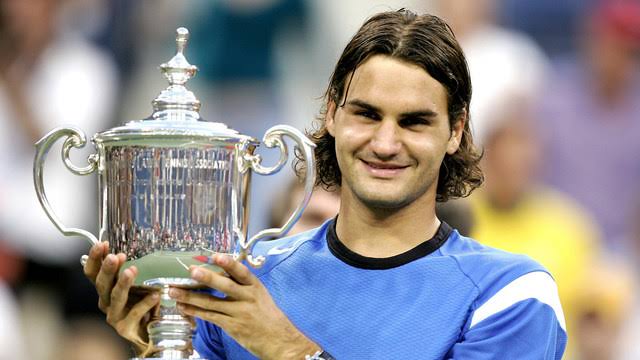 Federer had never progressed beyond the Round of 16 when he entered Flushing Meadows in 2004. He had to overcome two-time US Open champion Andre Agassi in the quarter-finals which lasted for three hours. A convincing win over Tim Henman put Federer in his first US Open final where he would meet 2001 champion, Lleyton Hewitt.
The Australian though, had no answer for the brilliance of Federer in the championship. Federer became the first player since Mats Wilander in 1988 to win three Grand Slam titles in one season, and also the first in the Open Era to triumph in his first four major finals.
GRAND SLAM #5 – 2005 Wimbledon
Def. Andy Roddick 6-2, 7-6(2), 6-4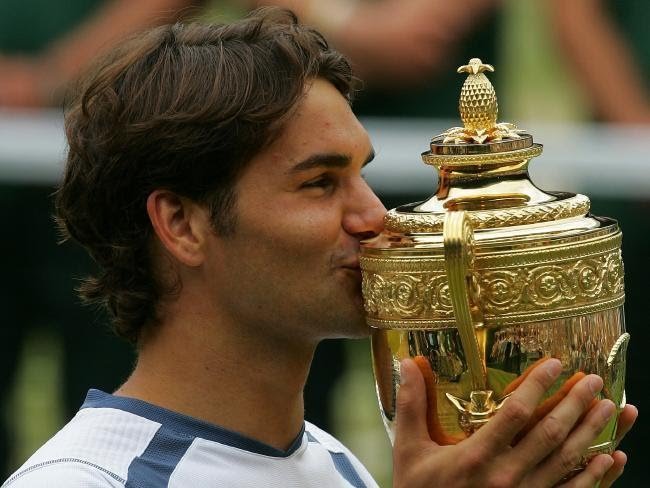 It would be a repeat of the 2004 final in SW19 as he took on Roddick once again. Federer, the two-time defending champion would not be stopped, sealing a hat-trick of Wimbledon titles after one hour and 41 minutes.
He joined Bjorn Borg and Pete Sampras as the only men to win three consecutive titles at the All England Club since World War II.
GRAND SLAM #6 – 2005 US Open
Def. Andre Agassi 6-3, 2-6, 7-6(1), 6-1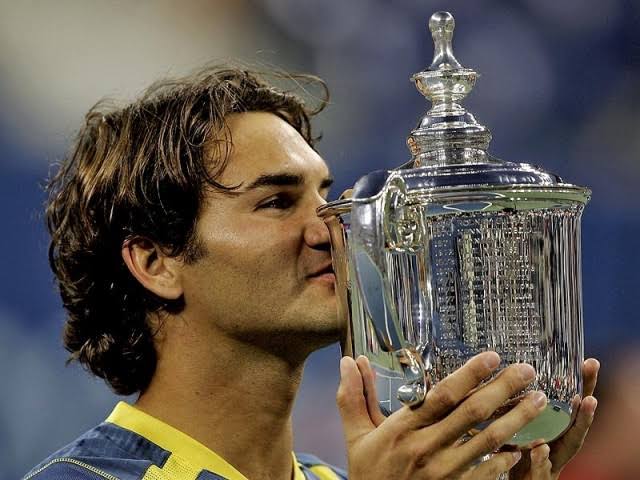 Federer's U.S. summer concluded with a sentimental four-set victory over Agassi, in what would be the American legend's last Grand Slam final appearance.
Federer successfully retained his US Open crown and became the first man in the Open Era to complete the Wimbledon-US Open double in consecutive years.
GRAND SLAM #7 – 2006 Australian Open
Def. Marcos Baghdatis 5-7, 7-5, 6-0, 6-2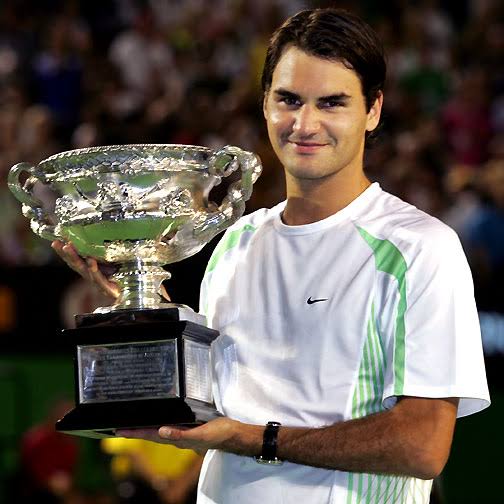 Federer squared off against the young Cypriot Baghdatis playing the best tennis of his career. Baghdatis surged to a set and 2-0 advantage and held points for a double break lead, but was unable to maintain the momentum. From that position, Federer would win 14 of the next 16 games to claim the title and become the first man since Pete Sampras in 1994 to win three consecutive Grand Slam crowns.
GRAND SLAM #8 – 2006 Wimbledon
Def. Rafael Nadal 6-0, 7-6(5), 6-7(2), 6-3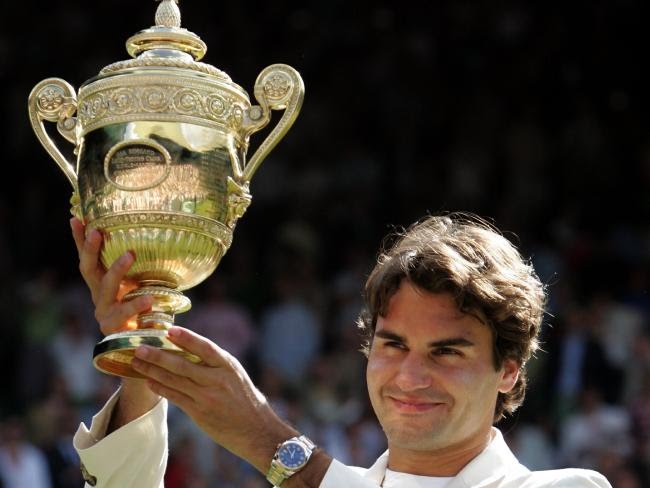 Later that season, Federer's pursuit for the career Grand Slam and a first Roland Garros title were dashed by a 20-year old Rafael Nadal in Paris. The two great rivals would meet again in the final.
It marked a turning point in their rivalry as the young Spaniard stepped up his game on the slicker surface, using his agility to rattle Federer. But, keen to defend his turf against his chief rival, the Swiss would not be denied. Federer retained his Wimbledon title and become just the third man in the Open Era (Borg & Sampras) to win four consecutive trophies at SW19.
GRAND SLAM #9 – 2006 US Open
Def. Andy Roddick 6-2, 4-6, 7-5, 6-1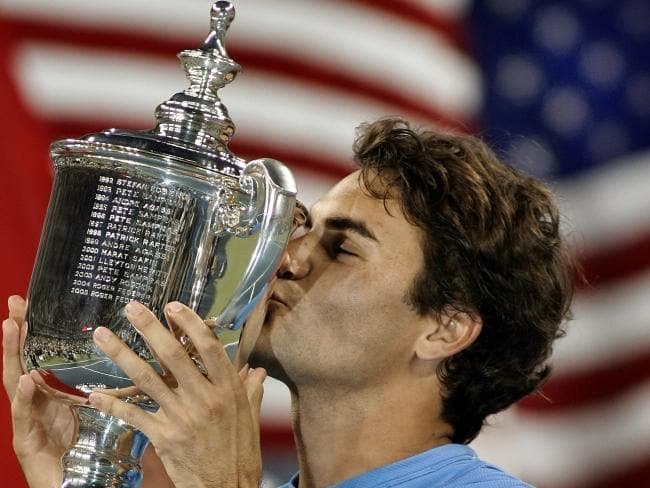 Federer, who spoiled the hopes of home favourite Andre Agassi in 2005, ended U.S. hopes of a home-grown champion once again, denying Roddick a Grand Slam title for the third time. Federer was once again too clutch in the big moments and Roddick had no response.
With nine major trophies, Federer moved into solo sixth place on the all-time list, passing Agassi, Connors and Ivan Lendl. He also became the first man in the Open Era to win three consecutive Wimbledon titles and US Open crowns. Federer would go on to post a career-best 92-5 win-loss mark in 2006, capping one of the most dominant campaigns in history.
GRAND SLAM #10 – 2007 Australian Open
Def. Fernando Gonzalez 7-6(2), 6-4, 6-4
A 25-year-old Federer breezed past Chile's Gonzalez in the 2007 final, just as he had done against the field all fortnight long at Melbourne Park. The Swiss star didn't drop a set throughout the tournament, becoming the first man to flawlessly win a major since Bjorn Borg at 1980 Roland Garros.
The achievements continued to pile up for Federer: he tied Jack Crawford's 73-year-old record by appearing in seven consecutive major finals and less than a month later he would break Connors' record of 160 consecutive weeks atop the ATP Rankings.
GRAND SLAM #11 – 2007 Wimbledon
Def. Rafael Nadal 7-6(7), 4-6, 7-6(3), 2-6, 6-2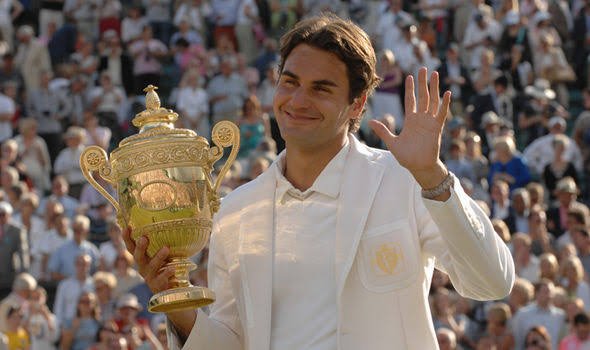 On historic Centre Court, Federer and Nadal gave the Wimbledon faithful a match they would never forget. The Spaniard pushed his Swiss rival to five sets, marking Federer's first five-set match of his five-year reign at the grass-court major.
It seemed as if Nadal had discovered the formula to defeat Federer on his preferred surface, but that moment would be put on hold for one more year. After dropping the fourth set 6-2, the Basel native responded in kind, saving multiple break points in the decider before emerging victorious after four hours and 20 minutes.
GRAND SLAM #12 – 2007 US Open
Def. Novak Djokovic 7-6(4), 7-6(2), 6-4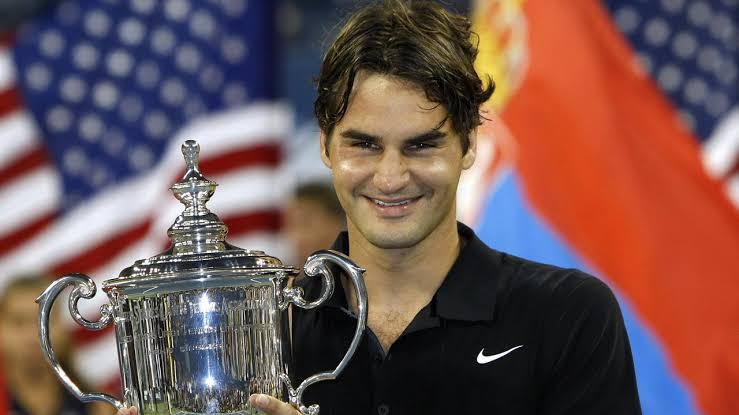 For the third time in the past four years, Federer clinched a three-Slam season, beating 20-year-old Djokovic during their first meeting in a Grand Slam final. The 26-year-old Federer became the first man in the Open Era to win four consecutive US Open titles since Bill Tilden of the United States won six straight U.S. national titles from 1920-25.
GRAND SLAM #13 – 2008 US Open
Def. Andy Murray 6-2, 7-5, 6-2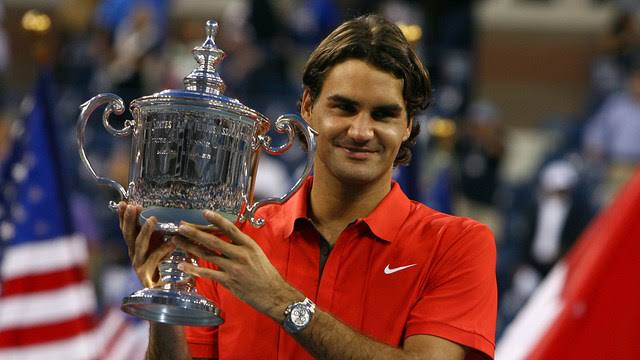 After falling short in the Roland Garros and Wimbledon finals, Federer needed less than two hours to dismiss Murray. With Federer's record-tying fifth US Open title – he matched Jimmy Connors – the Swiss celebrated his 13th Grand Slam crown, moving to within one of Sampras' all-time mark of 14.
GRAND SLAM #14 – 2009 Roland Garros
Def. Robin Soderling 6-1, 7-6(1), 6-4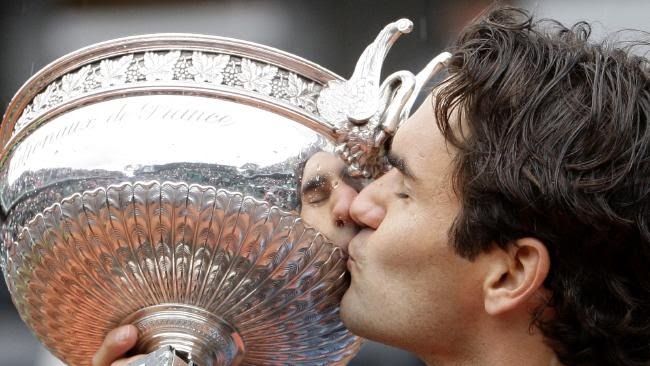 Federer tied Pete Sampras' record of 14 major titles — set at the 2002 US Open — winning his first Coupe des Mousquetaires to complete his career Grand Slam. The Swiss ousted Soderling in straight sets. It was Federer's fourth Roland Garros final but his first against someone not named "Rafa". The Swiss took advantage of the opportunity.
GRAND SLAM #15 – 2009 Wimbledon
Def. Andy Roddick 5-7, 7-6(6), 7-6(5), 3-6, 16-14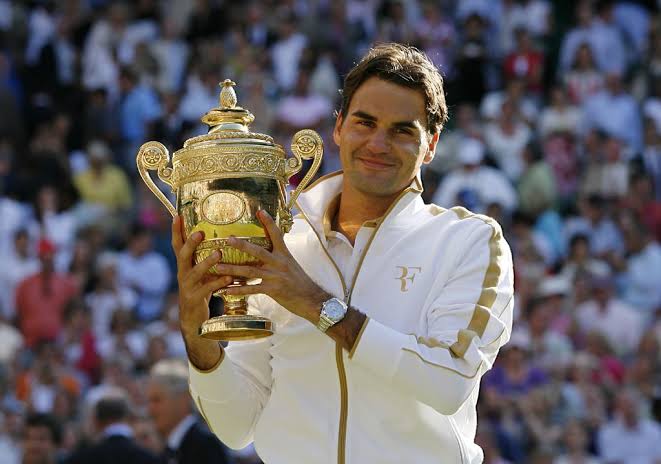 One year after seeing his title streak at Wimbledon come to end at five in arguably the greatest match of all time against Rafael Nadal, another longtime rival in Andy Roddick — whom Federer beat in their previous three Slam finals (2004-05 Wimbledon, 2006 US Open) stood across the net in the final.
This epic match included a personal record of 50 aces for Federer, which still stands today. A break in the final game — Federer's only break in the entire match — was enough as he ended the longest final in Grand Slam history by games (77) to dethrone Sampras in the record books and Nadal in the ATP Rankings, regaining the No. 1 spot.
GRAND SLAM #16 – 2010 Australian Open
Def. Andy Murray 6-3, 6-4, 7-6(11)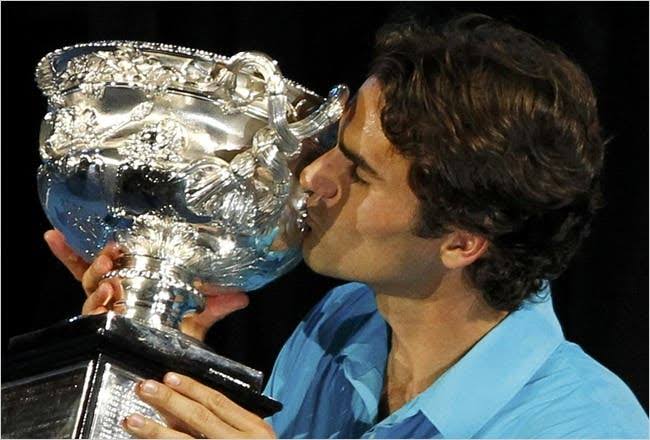 Despite losing six of his previous nine FedEx ATP Head2Head meetings against the Scot Andy Murray, the 28-year-old extended his Grand Slam titles record with a masterful performance. The straight-sets victory clinched Federer's fourth title in Melbourne, the third major at which he owned at least that many trophies.
GRAND SLAM #17 – 2012 Wimbledon
Def. Andy Murray 4-6, 7-5, 6-3, 6-4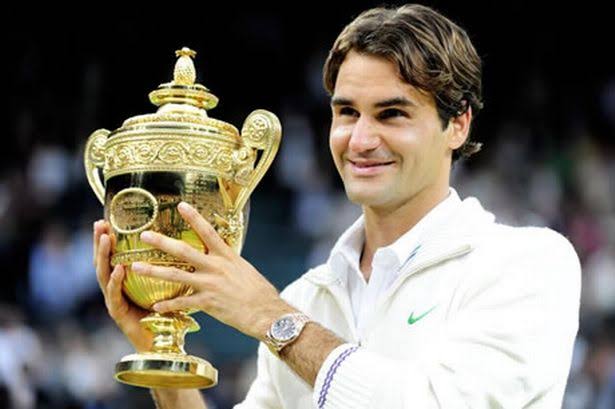 The rise of Novak Djokovic — who won three Grand Slams in 2011 as well as the 2012 Australian Open, left Federer as the third seed entering Wimbledon for the second consecutive year after being No. 1 or No. 2 for the six years prior. It had been more than two years since Federer last won a major — his longest Slam drought since he earned his first triumph at that level at 2003 Wimbledon.
He ousted Djokovic, the defending champion, in a four-set semi-final before ending Murray's hopes of capturing his first major once again, this time in a tougher four sets. The triumph was Federer's seventh at the All England Club, tying William Renshaw and Pete Sampras' all-time record.
GRAND SLAM #18 – 2017 Australian Open
Def. Rafael Nadal 6-4, 3-6, 6-1, 3-6, 6-3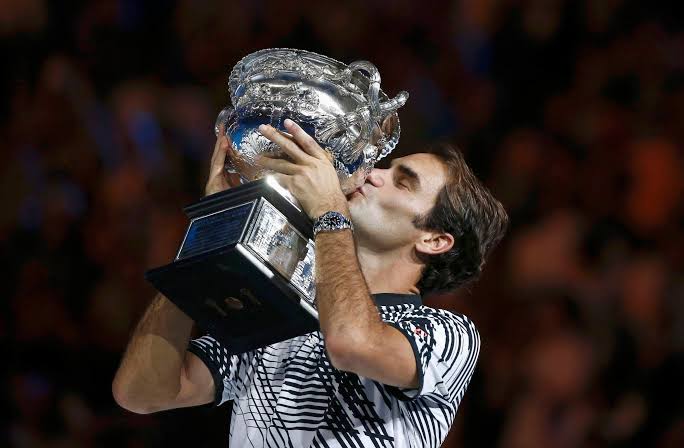 The 35-year-old arrived at Melbourne Park after six months on the sidelines due to a knee injury. It was improbable that the 17th seed would manage his first major since 2012 Wimbledon, especially given his daunting draw — Federer had not beaten a Top 10 opponent in his past four tries.
Federer navigated his way past three Top 10 players — including three-time major winner Stan Wawrinka in the semi-finals — to become the oldest Grand Slam finalist since Ken Rosewall at the 1974 US Open. Then came Rafael Nadal, whom he had not beaten at a major since 2007 Wimbledon.
Down 1-3 in the fifth set, the Swiss' dream run appeared it would fall just short of a perfect ending. But after winning five straight games, Federer was able to raise his 18th Slam trophy.
GRAND SLAM #19 – 2017 Wimbledon
Def. Marin Cilic 6-3, 6-1, 6-4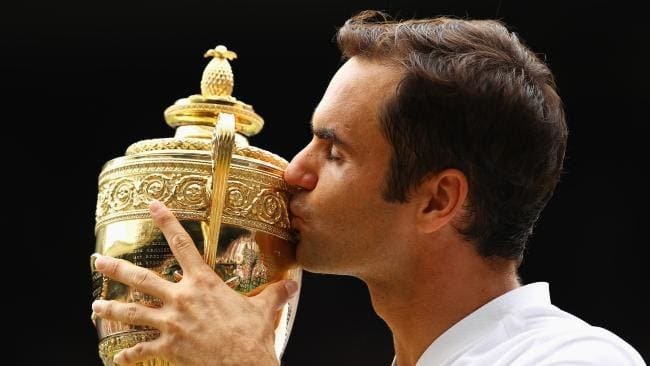 Federer began 2017 better than anyone — including himself — could have imagined, arriving at SW19 with a 25-2 record on the season. He carried the impressive momentum to the final crushing the challenge of the Croatian Marin Cilic.
Federer, in becoming the oldest player to win on the grass of SW19 in the Open Era, also became the first to win the tournament without the loss of a set since 1976 when Bjorn Borg won the first of five consecutive Wimbledon titles. Federer's most lopsided major final victory by games since the 2004 US Open was also the first time since 2009 that Federer earned two Grand Slam trophies in a single season.
GRAND SLAM #20 – 2018 Australian Open
Def. Marin Cilic 6-2, 6-7(5), 6-3, 3-6, 6-1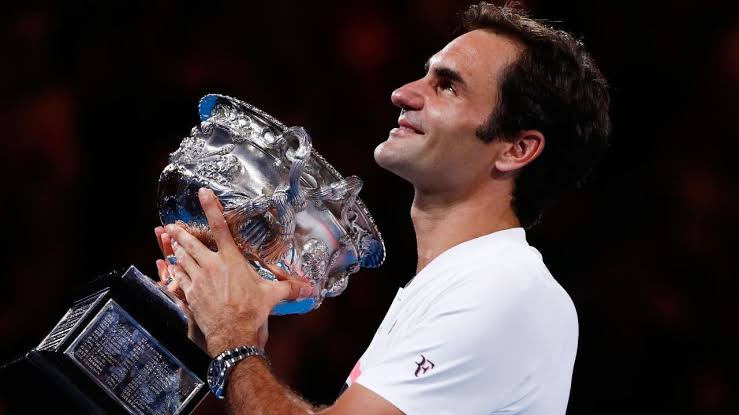 An extraordinary 20th Grand Slam trophy was so close. Federer cruised to the final without dropping a set, and standing across the net was Marin Cilic, whom the 36-year-old beat in straight sets to win his 2017 Wimbledon title. The Swiss led two sets to one and an immediate break in the fourth set.
But suddenly, victory appeared far away. Federer lost all rhythm on his serve and a historical win was not so certain anymore as the Croat claimed the final five games of the set to force a fifth.
But much like in the 2017 Australian Open final, Federer saved his best tennis for last, breaking in the second game of the decider and never looking back, winning a Grand Slam final in five sets for the fourth time in his career. It was Federer's sixth Norman Brookes Challenge Cup, and also tied with Roy Emerson and Novak Djokovic for the most triumphs in the event's history.
Will we see Federer win another Grand Slam?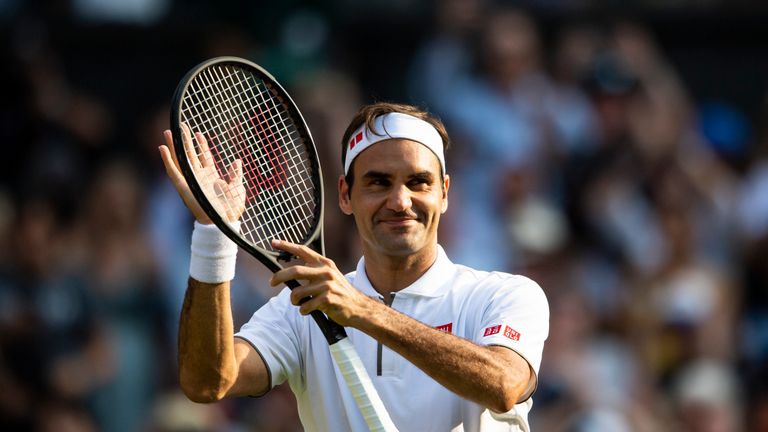 Federer is currently sidelined and will miss the rest of the 2020 tour due to knee surgery. There are doubts that the Swiss will add to his Grand Slam tally, but Federer is still optimistic of his chances next year, he revealed in a recent interview with the Time.
"I'm still very eager, very happy, very motivated. But I feel like I need to be able to compete with the best, that I can still win big tournaments. Like last year at Wimbledon, I was so close. I need those moments."
Fans will be looking forward to seeing another Federer fairytale similar to the 2017 season and add to his 20 Grand Slams.
Also Read US Open 2020 to be the First Grand Slam without Roger Federer and Rafael Nadal in 21 years!