Rudrankksh Patil is the toast of the Indian shooting world. After his gold-medal winning heroics at the ISSF World Shooting Championships where he also secured a quota for the Paris 2024 Olympics, the shooter interacted in a Sports Authority of India (SAI)- organized press conference to face a number of questions ranging from his preparation for the Championships, his mental training routine, his role-models and the pressure young Indian shooters face.
Excerpts from the media interaction organized by SAI with Rudrankksh Patil:
You have been part of Khelo India and TOPS. So a little bit on all the support behind this achievement.
I got selected for the Khelo India scheme in 2020 after winning gold at the Khelo India Games in Guwahati. After that I joined the Gun For Glory Academy who sponsored me for domestic trials which helped me get selected for international competitions.
Being part of the TOPS scheme has been a huge help because they provided me with ammunition and training facilities. It has been a great support and motivation for this medal.
How was the start of your journey like? What difficulties did you face in Mumbai?
I started shooting in 2015. My coach was at Andheri (western Mumbai) and I had to travel there (from Thane) everyday for 1 and a half to 2 hours which was quite difficult. I got some national recognition but 2 years later when I entered 10th standard I had to use a makeshift range in Thane so I could focus on my studies, which worked out well for me.
Under the new NRAI policy this achievement does not guarantee you being in the Paris 2024 squad so how crucial will it be for you to carry on this momentum in the build-up to Paris?
Well, if I've seen my progress on my personal level, I've been growing steadily since 2019. I have a set of processes and I have a good team and a good support system and I believe that if I continue this process, I will be able to perform well in the NRAI Olympic trials which will enable me to be selected for Paris.
Tell us a bit about the kind of inspiration you draw from people like Abhinav Bindra and Gagan Narang.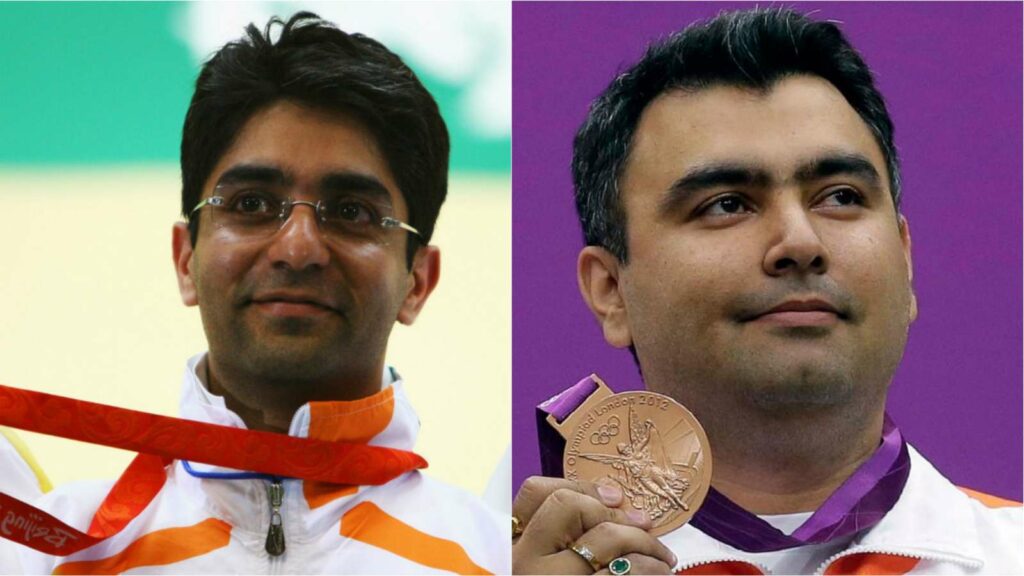 The main reason why I started shooting was (that) my parents are very much inspired by these two shooters. Abhinav sir winning gold for India in 2008 a great support for the field of shooting (in India) itself. So when I started shooting, obviously we had an aim for the Olympics but right now, when I'm growing (as a shooter) I see how they have trained, I see their story, see how they were able to bring good scores (with a) good technique. And with the help of that knowledge, I'm able to grow from their experience. I'm in contact with both of them; they're able to guide me very well.
When you look back at your career, you mentioned you've been growing steadily since 2019, even though you started in 2015. What are the moments that you feel that made you the shooter that you are today?
2018 was not a good year for me because I was coming 4th in almost every competition. The main thing, which my coaches told me during that time was to learn and improve. Because of that I was able to find my mistakes. I was able to observe my idols during that time. And I was able to grow out of that phase in 2019.
In 2019, I brought 6 international medals for my country. And I was 15 years old at the time. These medals were a huge confidence booster for me which got me selected for the 2021 Junior World Championships. That was a major competition for me. And I was able to secure an individual silver over there. So with those medals I felt that I have the potential and I can grow. So after that again we followed a process, the team was very good we were able to grow till today.
You were trailing in the World Championships final. What was your process to still perform under pressure, even though you were trailing by a lot. You were able to make a comeback in the end.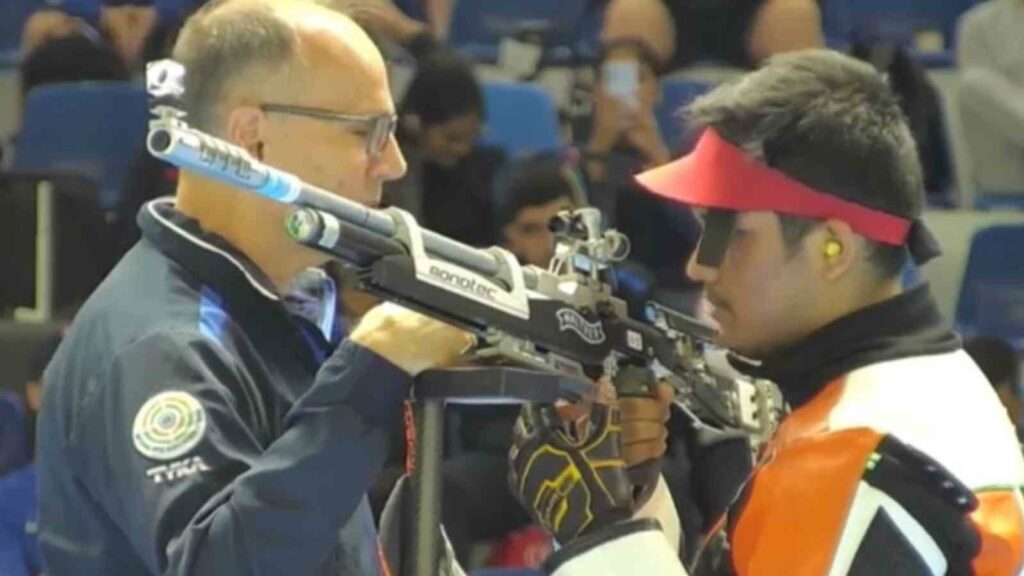 We have been taught relaxation techniques for this crucial period. We had a short break, which our foreign coach took for one minute. During that time, he reminded me of the relaxation exercises, and I was able to calm myself during that crucial moment.
The past experience of me playing in Cairo in February this year was an inspiration for me because I came 9th or 10th in that competition and I had a huge hunger to win this time. Because of that I was able to bring back my consciousness and my focus; I was able to relax myself. I knew I had to provide some value to my training and hard work so it was important for me to relax.
So the one minute break, which my foreign coach took during that period, that exact moment was a huge confidence booster, and a great move which helped me calm down.
Rudrankksh you spoke about how frustrating it was in 2018. How did you overcome that frustration? Have you used a mind trainer to become the focused shooter that you are now?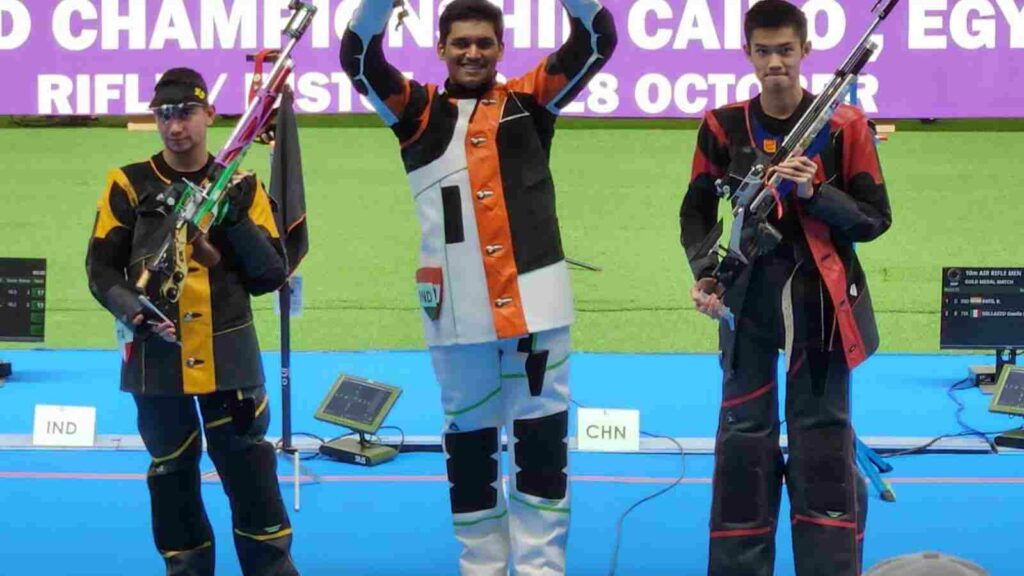 So in 2018 when I was having a series of bad matches I hired a psychologist named Dr. Nadkarni, who lives in Thane. He is a renowned psychologist and he helped me a lot during that period. He basically re-started my entire thinking process. He explained to me the exact mental pattern; how we think and how we should relax during those periods and how we can improve during that period. He told me about the connection between the subconscious mind and the conscious mind and how we can train our subconscious mind and how we can focus our conscious mind.
Also when I was having bad matches, my coaches told me that later on if I'm able to win medals, then these matches will be a great step-up for me. If I wouldn't have lost those matches I wouldn't have won today.
Similarly this year, I played two World Cups in Cairo and Baku. In Cairo I came 9th or 10th and in Baku I came 7th. So I was able to push myself after learning from that experience. I had that huge hunger. I had that motivation to move forward to improve myself and it ultimately led to the World Championship gold.
Tell us about your stint in Germany.
So over there I usually train with Heinz and Gaby, who were also the coaches of Abhinav Bindra sir. They helped in giving me experience on how I should play World Cups and how I should prepare for the World Championships. They focus much more on recovery and performance enhancement. They gave me knowledge about improving myself and improving my technique and also my equipment.
Germany is known for guns, because our guns are manufactured over there. So whenever I have an issue, I can easily go over there. And even my foreign coaches are present over there. So going to Germany usually helps me a lot.
We spoke about your psychologist and support staff. Can you elaborate a bit more on your processes in preparation for shooting, which is a bit different from from the usual.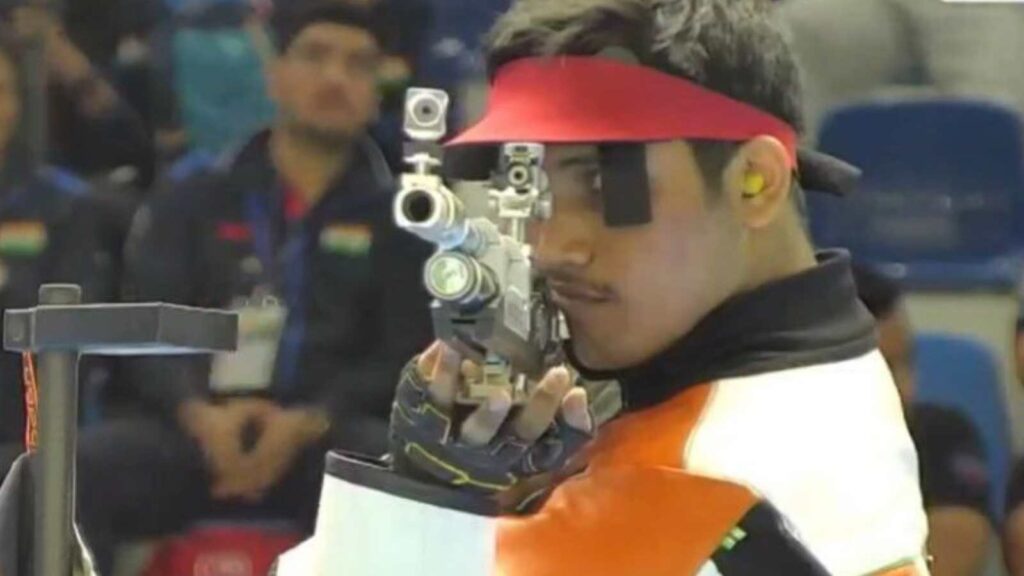 In my team we have physiotherapists, we have psychologists, we have nutritionists. Our sponsors also keep on giving us new ideas. They provide us financial help from which I can improve myself technically and tactically. For preparation, we we have a set of plans and processes, which we developed from 2019 itself: which pattern helps me perform much better, which process helps me get in a peak form. And that process is working till now, and I'm able to improve on that process each and every day.
Wanted to get your thoughts on the air rifle scene in India, because that's a quality competition there. Because your competitors are also shooting at at the top level and doing really well. How do you look at this competition? Because if they do well, they might end up taking your spot for that at the Olympics.
I think that the person who deserves it the most will go to the Olympics. The person who works the hardest is the one who deserves to go there. I think it's very important for me to learn from them. Most of my colleagues are very experienced from previous Olympics and previous World Cups. I usually take a lot of tips from them. They helped me a lot during the competition. And being among the youngest helps me improve myself because they treat me as a younger brother. We are competitors only on the field. Outside we are friends; we are like brothers and sisters. Even our coaches maintain a good environment which keeps us stable and is required for a good performance.
You said that you have been in touch with Abhinav and Gagan. Is there some particular piece of advice that they've given you that still stands out?
They usually give me technical advice. They keep motivating me. And they say that every match is a good experience, learn from it whether you win or lose, because that experience very much counts for the next competition.
I'm sure you've kept in touch with what happened in the Tokyo Olympics. There were a couple of young shooters who were expected to do well. But India came back without a medal and without any great performance. Do you feel similar pressure because of what happened in Tokyo and because you're young? Or is it just water off the duck's back? What is it for you?
Well, currently, I think I would like to be in the present moment. I would just like to focus on my process. I believe in my team and we have a strong team. I believe that if I be in the present, if I focus on my process and move on, as I've been doing till now, I think we can achieve what we have aimed for.
A follow up on that previous question. You must have watched, along with the entire nation, the Tokyo Olympics. What has been the biggest learning you've taken from Tokyo, that you've watched and learned personally?
I have seen one thing, which is very common, is that everyone has a good match, and everyone has a bad match. I have yet to discuss with them what exactly happened. So I cannot comment on that. But if I've to say personally how to focus on 2024, I will just say that I would just like to be in the present. And I would just like to be following the process which I've been doing.
Back in the day, you had mentioned that, when you used to go to the firing point and used to see your idols; somebody like an Aishwary Pratap Tomar or Divyansh Panwar, that would play on your mind. But now it doesn't. So what helped you get over that thing that some big shooter is standing next to you shooting? What is the moment that you decided that that doesn't play onto your mind anymore?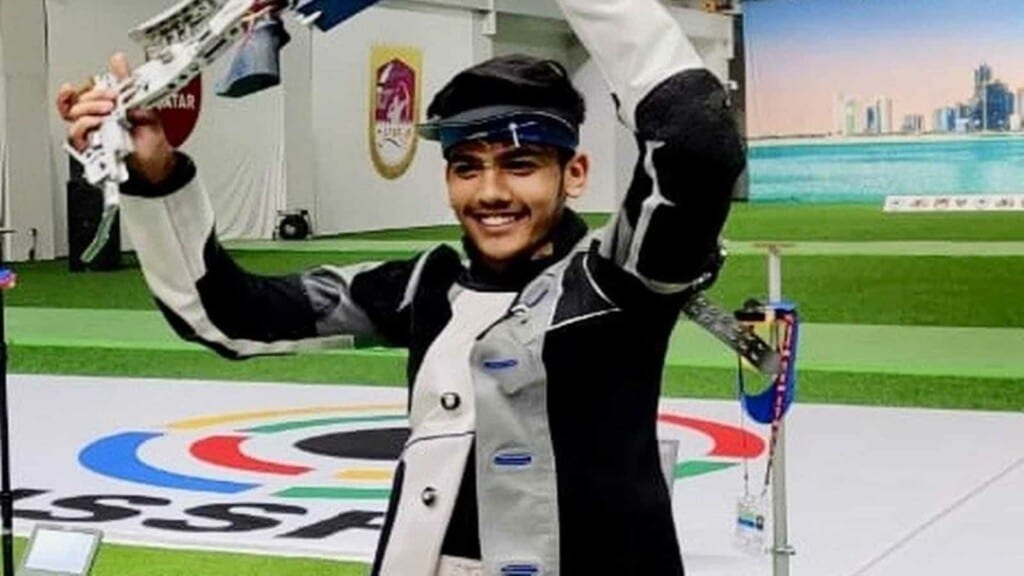 During one of my first international matches, I did not know the names of any players, and I won silver over there. After that I had 2-3 matches at domestic levels. And I knew the names of all the players and their history, and I had a lot of pressure. Later on in my journey, I found out that it's best to be within yourself during that time. And just to follow your process as much as you can. Because it doesn't really matter who is standing besides you. Because on that day, we cannot guarantee who's going to win. Because the game of shooting is just like that. If we just follow a process and if we give what we have been training for; if we win a medal that's good and if we don't win, it's still good. We can improve ourselves.
Some people were saying that the National Games were too close to the World Championships. Did you benefit from shooting in the National Championship and winning the gold medal in Ahmedabad and then going to the World Championships? How did the National Games work for you?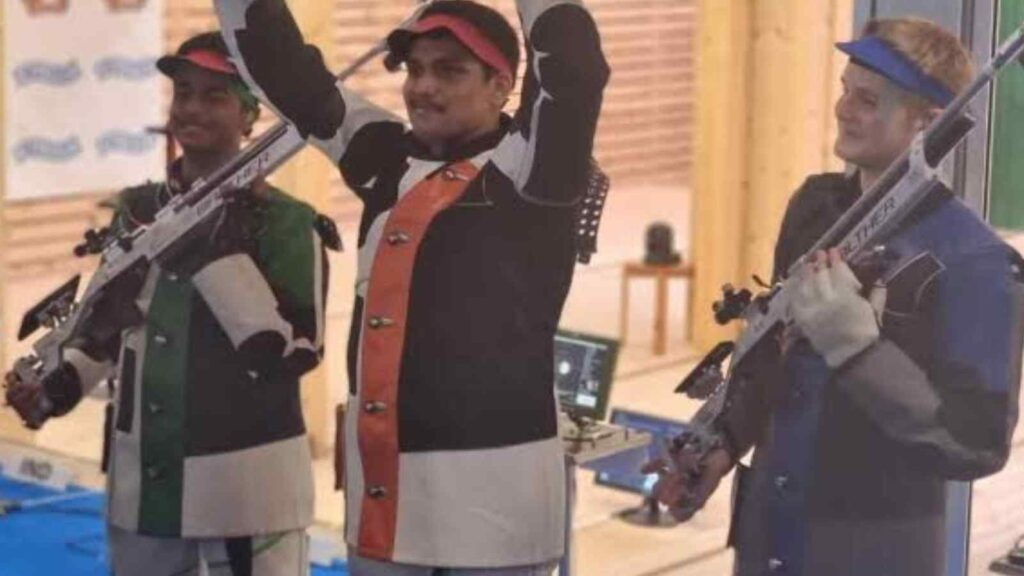 Well, the National Games were a huge motivational booster for me. I had heard this thing that it's too close to the World Championships. But coaches told us to see it as a positive opportunity to test our ability. I had learned few things from my previous matches, and I was able to utilize it in the National Games and it worked and I was able to win a gold for my state. So after going back to the camp, I trained on those techniques again and again and at the World Championship I was much in much better shape and in much better form. And I got the result according to that.
Thank you Rudrankksh. You have a great journey ahead and wish you all the best towards that journey and may you do well.
Thank you.
.