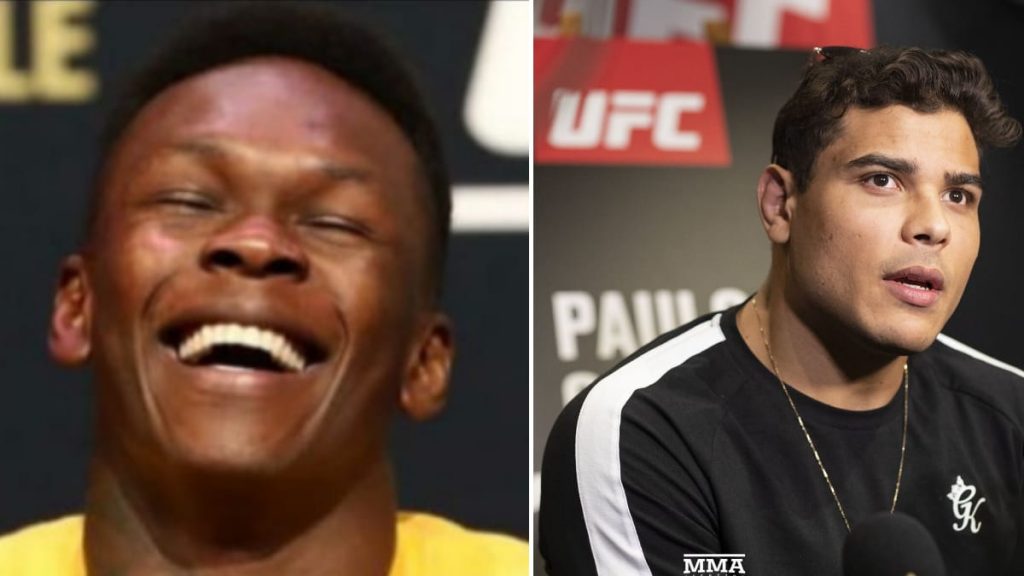 It has not been long since UFC 253 took place. UFC 253 was a rocker pay-per-view for the company as it recorded the third-most buys of the year. Reason? Probably the most hyped middleweight fight between Israel Adesanya and Paulo Costa took place in which Adesanya finished Costa and killed his unbeaten streak. The two had bad blood boiling between them for over an year.
If finishing Costa was not it, "The Last Stylebender" has continued to mock "The Eraser" over social media. Tweets have come across from both sides but recently, Paulo Costa posted a video on Instagram alleging Adesanya wants to be friends. He was very clear with his statements saying,
"Adesanya stop sending friendship messages to me, I don't want to be your friend, 'I want to kill you', A lot of bad things happened before the fight, I was hurt before the fight and I'm not here to excuse I am here to say this to you that next time it will be different".
Adesanya's reply to Costa's video and allegations
It did not take Israel Adesanya much time to one more time, clap back at Paulo Costa's claims. Adesanya not only shared Costa's video on his Instagram but also the conversation between the two.
In the conversation, it can be seen that Adesanya wanted to talk some sense into Costa, telling him to treat him with respect. It is visible in the DM's that Paulo Costa had nothing to say to the champion. But he posted a video for Adesanya.
Adesanya said, "Sounds like excuses to me… 🤷🏾‍♂️ Lol I tried to be nice lowkey, in case he was suicidal. Paulo you haven't even accepted that fact that you got schooled by the skinny guy who you kept trying to pick on. Now I'm a bully, but at least I'm nice. Your fragile ego cannot fathom how this "Skinny Clown" was able to beat you so easily.Humble yourself and learn from this so you might grow as a person. Train all you want, you'll never ever beat me.I own your mind now cuz you'll be obsessed with me forever, like my ex. Say all you want bout me… Doesn't matter, still smeshed!!"
Adesanya also gave us a glimpse of the chat he had with the Brazilian over Instagram. The mocking from the undefeated champ continues to be on the rise for now. Adesanya has done his best to be inside Costa's mind right now. All Costa can do is win a few fights, climb back to the top and get his rematch with Adesanya.
Also Read: 'I want to kill you' Paulo Costa replied to Israel Adesanya's DMs