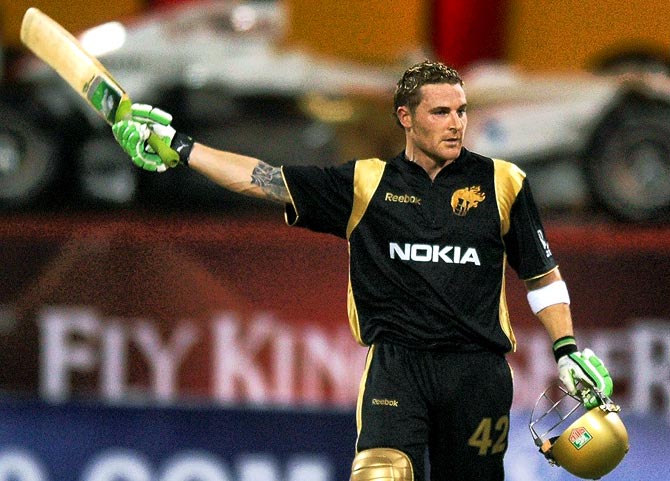 India's historic victory in the 2007 T20 World Cup led to the formation of Indian Premier League in 2008. Nobody, at that time, knew how the tournament would pan. Much to the delight of everyone, Brendon McCullum took the cricket world by storm after playing a sensational knock on the opening day of the tournament.
Against a star-studded attack of Royal Challengers Bangalore, Brendon McCullum produced one of the finest knocks played in T20 cricket. He hit 12 sixes and 10 fours en-route to his match-winning 158-run knock off just 73 balls. His knock powered KKR to 222-run total in the first innings. In reply, RCB bundled out for just 82 runs. The knock laid the foundation for a successful maiden IPL campaign.
Brendon McCullum was just 26 years old at that time and making a name in world cricket. Recalling the incident, the former New Zealand skipper said that after his knock, Sourav Ganguly came to him and told him that his life was changed forever.
"I was just a young kid back then, so I was so in awe of Shah Rukh Khan who was such a megastar. I was so out of my depth even just around the superstars in my cricket team, let alone the megastar who owned our cricket team! I don't remember many reactions in detail, but what I do remember is what Sourav Ganguly said to me that night. Dada said, 'Your life is changed forever', and I didn't quite know what he meant at the time, but (in hindsight), I 100% agree with him," McCullum told KKR's website.
You will always remain a part of KKR: Shah Rukh Khan to Brendon McCullum
McCullum further stated that KKR owner, Shah Rukh Khan, too lauded his knock and told him that he will always be a part of KKR. Brendon McCullum was released by the franchise in 2014 edition of IPL. Ahead of IPL 2020, KKR has once again presented an opportunity for him as the franchise's head coach.
"Shah Rukh, in the months which followed or the days and the weeks, he said. 'you'll always be with the Knight Riders.'
"There were times when I was with KKR, and then I got released, but we always finished on really good terms. I was always very grateful, and thankful for the opportunity that the franchise had provided for me. So when an opportunity arose again (for the role of head coach), I thought: 'Well, Shah Rukh did say to me 'You'll always be very involved with KKR' and this, I guess, is another opportunity'," McCullum added.
Also read: Delhi Capitals aims to be the most consistent team and win IPL 2020, says Kagiso Rabada