Aryna Sabalenka has already faced a lot of ruthless questioning by the journalists at the French Open, and it has just been two rounds for her so far. The press continues to bombard the World No. 2 will non-tennis and political questions despite her refusing to answer them in the Round 1 press conference. Aryna Sabalenka is one of the most vocal players from the women's contingent. She has openly spoken about locker room hate she perceived from Ukrainian players as she is a Belarusian.
Aryna Sabalenka was questioned about her support for Belarusian president Alexander Lukashenko and also whether she personally supports or is against the war. Sabalenka chose to respond to such insinuations by maintaining silence and staving off controversy. A journalist asked her to make a personal statement by saying 'I, Aryna Sabalenka flatly condemn the fact that Belarus is attacking Ukraine with missiles." Sabalenka responded, "I have got no comments for you."
The Press continued to cajole Sabalenka to give a response to political questions, such as "So you basically everything (the war) because you can not speak up. You're not a small person Aryna, … ." At this point, the questioner was cut off by the moderator, saying that Sabalenka had made it clear she would not be answering such questions.
Aryna Sabalenka defeated her fellow countrymate, Iryna Shymanovich, in round 2 of Roland Garros. She will take on Russian Kamilla Rakhimova in the third round. She had a controversial first round match with Marta Kostyuk when the Ukrainian refused to shake her hand.
Keep Exploring: "The French are built to surrender. Not fight," Caroline Garcia and Co. become target of fans as they make early exits from the French Open
Aryna Sabalenka faces hostility in locker rooms and on social media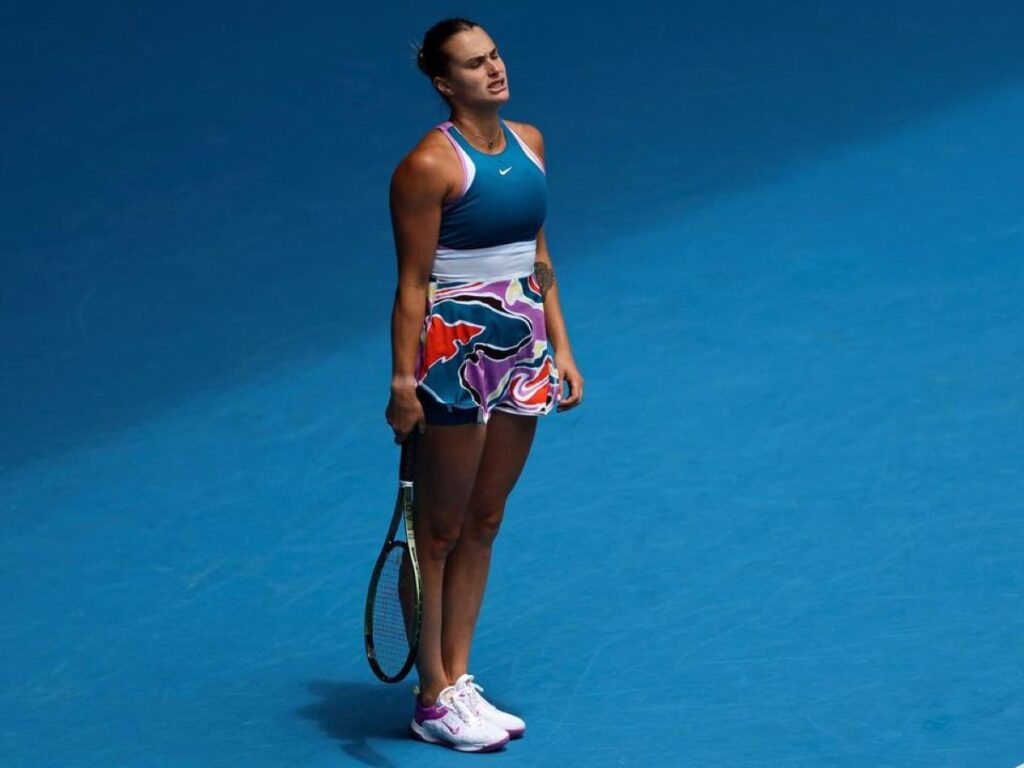 A few days ago, a report analyzed the social media sentiment for all top tennis players. Interestingly Aryna Sabalenka's name came on top of this for the women's group. In the men's group, it was Novak Djokovic. As per the report, Sabalenka receives the most negative feedback, with a stat of 15% on Twitter and 5% angry reactions to her Facebook posts. And now, even journalists continue to ask her very uncomfortable questions.
Adding to her woes, she is one of the few players who have spoken about locker room hostility by her peers due to her Belarusian nationality. From the Russian and Belarusian contingent, Sabalenka is always in the limelight for things like "No shake hand" from Ukrainian opponents or about the tension she felt in dressing rooms. After her first-round match, Ukrainian Marta Kostyuk openly told the press that she doesn't respect Aryna Sabalenka, defending her stance on no handshake with Russians and Belarusian players.
With the stress of playing well week after week, Aryna Sabalenka has a lot of nagging challenges and additional stress with the global political scenario. It could be difficult for players to keep their mental game strong while having these additional obstacles. Hope Sabalenka is able to march on without much emotional damage.
In case you missed it: