The seventh edition of the Laver Cup commenced on Sunday with Team Europe's defeat for the second time in a row. However, instead of being disappointed by their loss, Team Europe took a more positive route. Bjorn Borg, the Captain of the losing group, made a bold claim. He revealed Team Europe had set its sights high for next year's tournament.
Team World ousted Team Europe from the competition when they completed Day 2 with a huge lead, scoring 10-2. On Sunday, the John McEnroe-led Team World was merely 3 points away from their Laver Cup win. Team World performed exceptionally, beating their opponents in all but one game. World No. 9 Casper Ruud claimed Team Europe's first and only point on Saturday with a 6-3, 4-6, 7-6 win against Tommy Paul. While complimenting his group for their efforts, Vice Captain of Team Europe, Thomas Enqvist, said, "This is sport. Sometimes you need to admit that the opponent was a little bit better, and they were".
Borg, as well, credited the winners for their epic showdown over the three days of the event. "We gave 100% [but] Team World played unbelievable tennis," said Borg. "We are all very disappointed, because we never expect to lose [by] this much," he added. Looking forward to the tournament next year, the former World No.1 said, "We will definitely bring back the Cup…It's going to stay in Europe next year". He further revealed that he'll lead his team next year as well, at Berlin and that the team will "look forward to that".
Norway's Casper Ruud, who beat Tommy Paul on Saturday to score the only 2 points for Team Europe, added, "We're(Team Europe is) going to be eager". Gael Monfils, who made his debut at the Laver Cup as part of Team Europe this year, revealed he was in awe at the fitness of his peers. "I was amazed with the fitness of those guys," he said. Later, the 37-year-old added that the event was great.
Also Read: Iga Swiatek sets a timeline for when she will complete a career Grand Slam
John McEnroe believes next year will be a "completely different story" at the Laver Cup
The eighth edition of the Laver Cup will be played in Berlin, the capital of the European Country of Germany. Regarding the Laver Cup next year, Team Europe's Captain Bjorn Borg stated, "It's going to be completely different, it's our home court". This time around, Team World successfully defended the Laver Cup with their opening match on Day 3.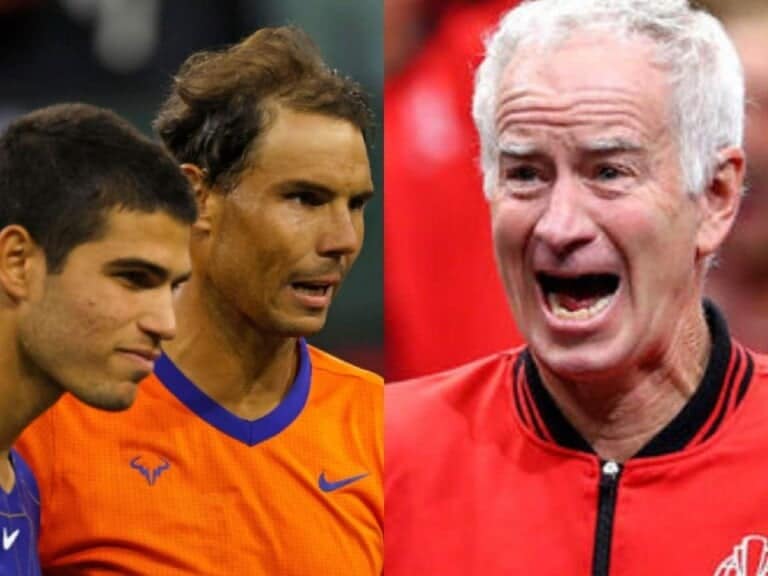 The duo consisting of Frances Tiafoe and Ben Shelton claimed victory in the Doubles encounter over Andrey Rublev and Hubert Hurkacz from the European side. They proceeded to win both sets in the tiebreaker, which can be described as the best fixture in the Laver Cup this year. Team World's Captain, John McEnroe still, expresses his apprehensions regarding the tournament next year.
Talking about the tournament next year, Mc Enroe said, "We'll be back in Europe. A couple of guys, you know, Carlos, if he plays, it will be obviously a different story right off the bat," ."We've got to take advantage of this opportunity and get some momentum," he added. As tennis fans pointed out as well, this year, with the absence of the Big-3 as well as the top-ranked European players, Team Europe entered the tournament with a weaker line-up. Next year, it will be interesting to see if Team Europe could return to winning ways in 2024, given that the Laver Cup moves back to Europe.
In case you missed: