Spanish tennis ace and World No.2 Carlos Alcaraz has said that knowing that Rafael Nadal won his Olympic gold medal at the same court where he is playing in the China Open motivates him to perform well. As Alcaraz has advanced into the semifinals of the ATP 500 event and will face Jannik Sinner on Tuesday at the Diamond Court, the Spaniard said it feels special for him to play on the same court as Nadal.
It is worth mentioning that Rafael Nadal won his maiden Olympics gold medal at the Beijing Olympics in 2008 as he defeated Novak Djokovic and Fernando Gonzalez in the semifinal and final respectively. The 22-time Grand Slam winner defeated Gonzalez 6–3, 7–6, 6–3 while playing on the Diamond Court.
Fast forward to 2023, Carlos Alcaraz made his debut at the China Open with a straight-set win over Yannick Hanfmann. Now, as the 20-year-old gears up for the semifinal clash and eyes to lift the elusive title, Alcaraz has spoken about what it means to play at the Diamond Court.
"It was great. Honestly, it's an extraordinary field. I felt very good, I didn't feel any difference, really. I would even say I prefer it; it was great. Knowing that Rafa won his Olympic gold medal on this court makes it even more special for me, I really loved it," said Alcaraz. "As for the surface, I didn't feel any difference, the speed of the ball was obviously the same. I only felt a difference at the stadium level: the Diamond (Central) is bigger than the Lotus, here we feel that the people are closer to us, and that's something I like."
Also Read: WATCH: Marc Polmans hits the chair umpire after angrily smashing the ball, gets disqualified instantly from the Shanghai Masters qualifiers
Carlos Alcaraz looks to win first title since Wimbledon win
Carlos Alcaraz has won a total of six titles so far this season. However, a trophy has eluded the Spaniard ever since his title win at The Championships wherein he defeated defending champion Novak Djokovic in the final. After the win at the All-England Club, Alcaraz has played three tournaments- the Canada Open, the Cincinnati Masters, and the US Open.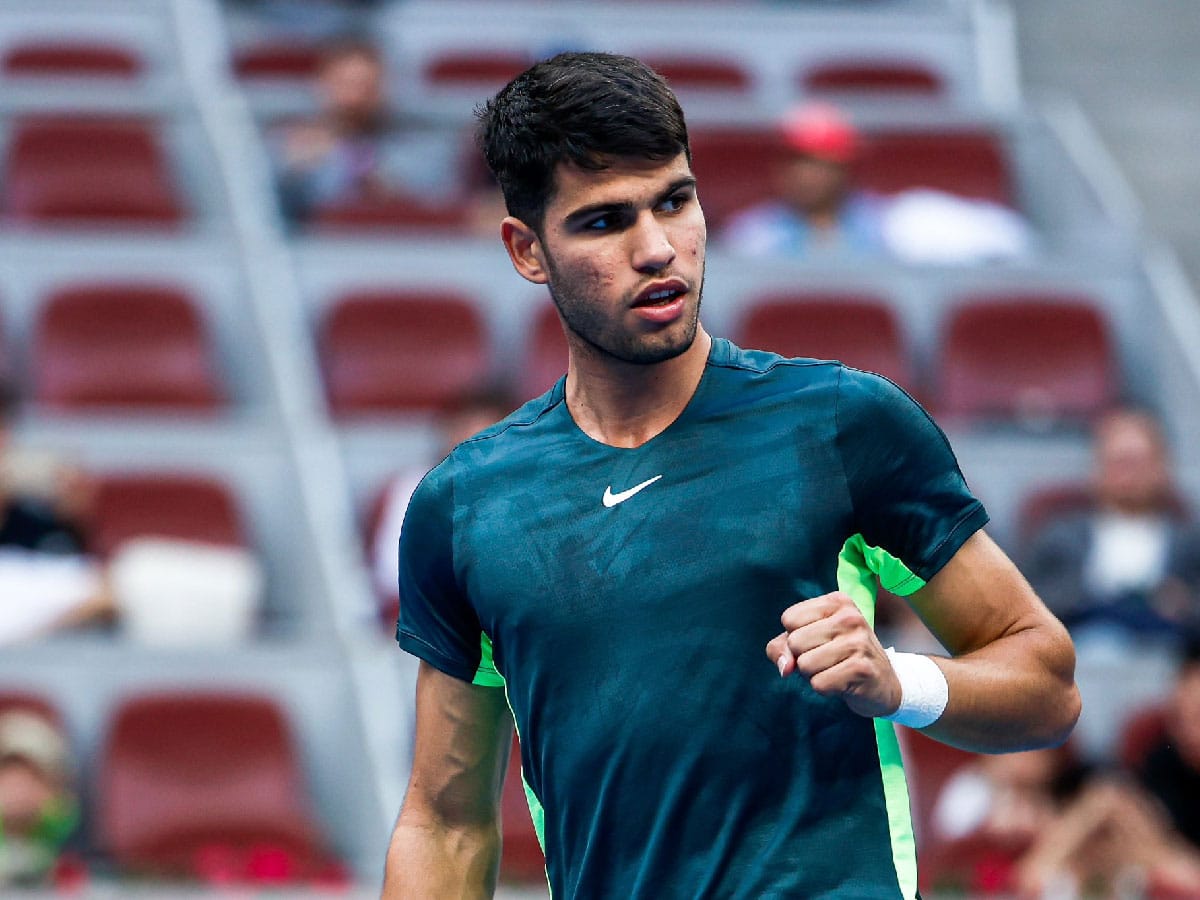 While he progressed to the quarterfinals in Canada before losing to Tommy Paul, Alcaraz lost to Novak Djokovic in the Cincinnati Masters final. At the 2023 US Open, the Spaniard reached the semifinals but Daniil Medvedev ended his campaign. The Russian registered a win in four sets to march ahead. Nevertheless, Alcaraz has done well so far at the China Open, reaching the semifinals.
He is expected to defeat Sinner although the two have a 3-3 head-to-head record. Alcaraz is expected to meet Daniil Medvedev in the final. The Spaniard ace will want revenge for his US Open defeat and also end his wait for a title since Wimbledon.
In case you missed it: