Carlos Alcaraz has a huge fan following that transcends the tennis community. He is loved and followed by many celebrities. It is a long and illustrious list. Now, another name can be added to it, that of American professional basketball player Jimmy Butler III (popularly known as Jimmy Buckets).
Jimmy Butler III has been selected to the NBA All-Star team six times, has been named to the All-NBA Team four times, the NBA All-Defensive Team five times, and had earned an Olympic gold medal in 2016 in Rio. He has experience playing for some of the top NBA teams, including the Chicago Bulls, Minnesota Timberwolves, Philadelphia 76ers, and Miami Heat, where he is presently playing.
He flocked to Miami Hard Rock Stadium to watch Carlos Alcaraz take on Dusan Lajovic in his second-round match of the Miami Open 2023. In this match, the young Spaniard beat the Serbian 6-0, 7-6 (7/5).
American sports broadcaster Tennis TV broke this news by sharing videos of this meeting on social media.
When, the current World No.1 was asked about the presence of stars in his matches and the excitement of media all around him, he shared his excitement.
"Well, I feel great, you know, to see, like, celebrities watching my matches. It's unbelievable. You know, I feel a little bit nervous when I see a person like Jimmy, celebrities, when I was playing, like, in the US Open. For me it's unbelievable, you know. In certain ways I can't believe, you know, that these people enjoy watching my matches for me. It's crazy," he said.
Carlos Alcaraz will face Tommy Paul in the next round of the competition.
Keep Exploring: Serena Williams' step-mom facing huge mounting debt as King Richard's Florida house on brink of foreclosure
Carlos Alcaraz plays basketball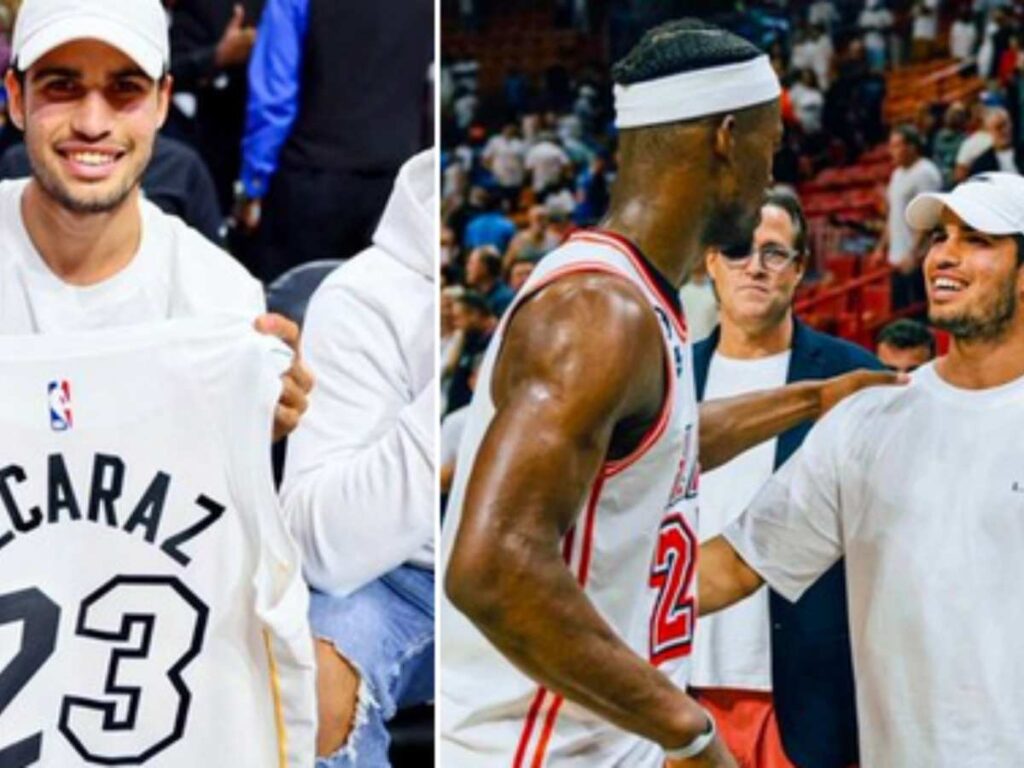 A few days ago, the current World No.1 joined basketball enthusiasts to catch a glimpse of the NBA match between Miami Heat and New York Knicks. He saw the home team beating New Yorkers 127-120.
Meanwhile, Carlos Alcaraz also got a chance to try his hands with basketball. It was a refreshing change to watch the focused tennis player to try out new sports. He scored a few baskets and played basketball with children. He was honored with an official NBA shirt with his name on it.
The young Spaniard continues to remain a dominant force on the ATP tour but he also knows how to engage with his fans. These qualities can help him to become one of the most loved tennis superstars on the planet.
In case you missed it:
"For the Bills it's an away game," Jessica Pegula rekindles her memories of playing and visiting Miami
"All I see is hair and cheekbones," Andy Roddick cracks up fans with a cheeky comment on Andre Agassi and himself