F1 star, Charles Leclerc was seen attending the first day of the 2023 Monte Carlo Masters on Saturday, April 8th. The Ferrari driver, who is currently ranked 10th in the driver's championship, was spotted interacting with fans in Monaco. Leclerc attended the ATP 1000 tournament following a mishap at his apartment in Monaco.
Over the last few months, fans have disturbed Leclerc's peace, as his apartment address became public information. Fans have been showing up on Leclerc's doorstep and ringing his doorbell. Regardless of the invasion of privacy, Leclerc made rounds at the local tennis tournament, clicking pictures with fans and interacting with Hubert Hurkcaz, his compatriot.
Unfortunately, this is not Leclerc's first rodeo, a fan even tried to kiss the driver, surpassing personal boundaries. Other F1 drivers have also been subjected to similar kinds of treatment too. A fan once catcalled Mercedes Team Principal, Toto Wolff at a race. Additionally, social media frequently sexualize the drivers, and veteran fans blame Netflix's Drive To Survive series for bringing in these disrespectful fans.
Leclerc's presence left fans thriving with excitement as well. The official Rolex Monte Carlo Masters Twitter account also expressed their delight at having him. That was enough to leave fans of both sports thrilled. With the qualifiers underway, fans hope to see whether Novak Djokovic manages to win the title or whether Stefanos Tsitsipas and Jannik Sinner could pose a problem for the Serbian.
Often spotted playing tennis with friends and family, Leclerc also attended the 2022 edition of the event, along with ex-girlfriend, Charlotte Sine. On Saturday, Ferrari's golden boy went to witness the qualifiers on the clay court. With Rafael Nadal and Carlos Alcaraz's withdrawal, the tournament will surely be entertaining to keep track of.
Also read: Charles Leclerc desperate to at least 'finish a race' with Ferrari in 2023
Charles Leclerc also involved in a bizarre kissing incident previously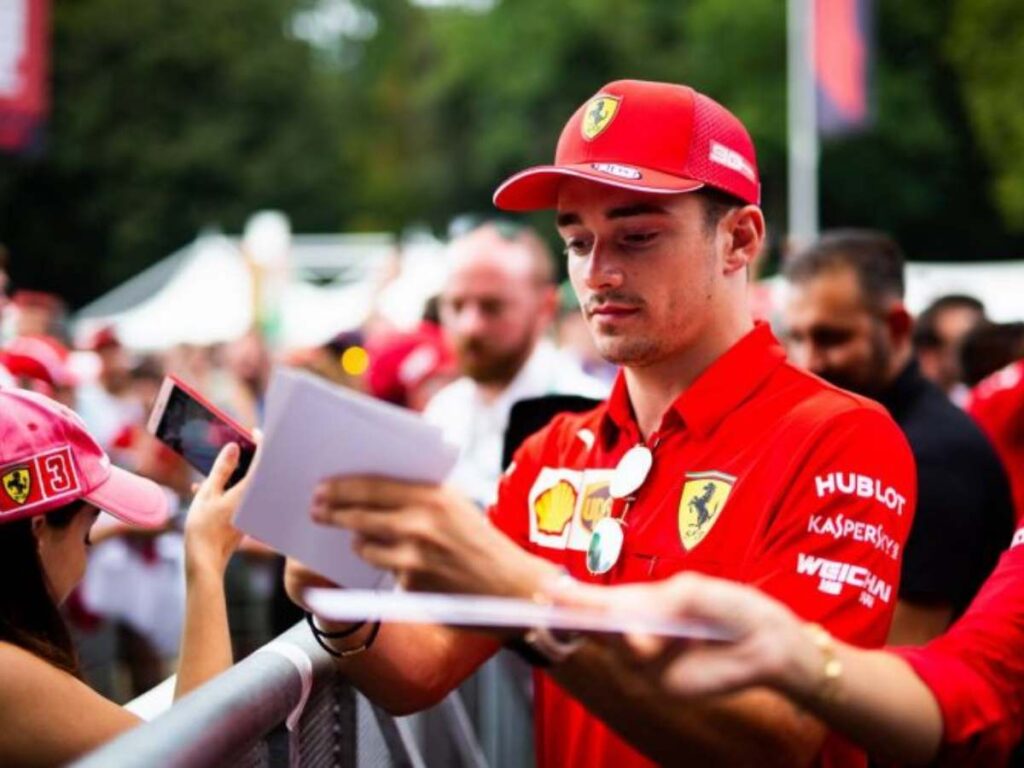 A bizarre incident involving a fan trying to kiss Charles Leclerc as he was taking a selfie happened occurred a few months ago. The video went viral on social media and caused quite a fuss because many fans questioned how much privacy invasion is acceptable when it comes to drivers. The incident took place during the 2022 season.
Fans and drivers often interact in the paddock, prior to races. Yet occasionally, these gestures can be going too far. Fans even started a morality debate over this old video from last year, condemning the woman for her actions
In case you missed it:
Dominic Thiem splits with coach Nicolas Massu after rocking four-year run
Rafael Nadal's absence in Monte Carlo termed 'advantageous' by defending champion Stefanos Tsitsipas