Daniil Medvedev may have had a tough season on the court in 2022, but he is looking positive to make the most of the 2023 season. He is enjoying playing the sport at the professional level. He is currently participating in the Diriyah Tennis Cup 2022 in Saudi Arabia. He will be playing the final here against Taylor Fritz.
The Russian and Belarusian players were banned from participating in Wimbledon on the backdrop of Russia invading Ukraine by the All England Lawn Tennis and Croquet Club in April. This led to all Russian and Belarusian players losing the chance to play in the hallowed courts including top seeds such as Andrey Rublev, Karen Khachanov, Aryna Sabalenka, Victoria Azarenka, and also Daniil Medvedev amongst others this year.
With no end to the Ukraine-Russian war in sight, the ban may continue in the 2023 season. Daniil Medvedev shared his views on this issue in a recent interview. He put full faith in ATP and congratulated it for taking cognizance and taking necessary actions.
"To be honest I think ATP handled the situation really well. I'm not talking about Wimbledon particularly, but in terms of the year itself. I have to trust in ATP structure. Every structure can be broken in any moment and we can never know if it's good or not. So far I like the ATP structure, but I'm not saying in 5 years maybe it's gonna be something completely different for the tennis world, we never know," he said.
The World No.7 is optimistic that he can return to Wimbledon soon.
"About the All England Club, I can only say I love Wimbledon, I was really disappointed that I could't play this year, and I'm hoping to comeback there. That's the only Slam that I haven't done quarterfinals. I still like grass; I hope to play good in Wimbledon, I hope I can come back there one day," he continued.
Daniil Medvedev like all Russian players may have to wait for the conflict in Eastern Europe to subside so that sports gets its due chance.
Also Read: Martina Navratilova calls Justice Clarence Thomas and his wife 'traitors' for their attempt to alter the 2020 US election results while making an indirect jibe at Donald Trump
Daniil Medvedev shared his opinions on the pressure on Russian players this season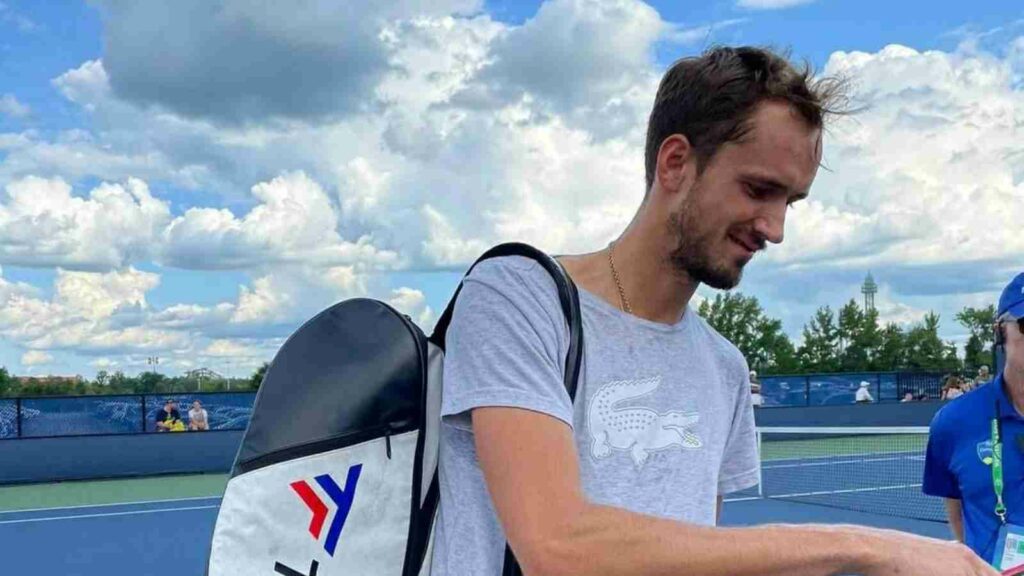 The ban by ATP, WTA, and ITF deprived the Russian players chance to defend their title at both the Davis Cup 2022 and Billie Jean King Cup 2022. Many important tournaments disallowed Russian players from participating. Also, media and social media users have put extra pressure on the Russian players.
However, Daniil Medvedev thinks that it was necessary for the case of Russian tennis players. He thinks that he could get time for his family and friends and enjoyed that thoroughly.
"I don't like to talk about there is extra pressure because for sure a lot of people in the world, not only in Russia and Ukraine, suffer. There are a lot more difficult problems than what we have. But we are still humans and we deal with our problems that for some people would feel like minor problems, and for other, major problems. It's how the world works. If I speak about myself, I do what I can: practice hard, play tennis, spend time with my family when I'm away from tennis, and those are some things that I can control. I try to do my best when I dedicate to them," he explained.
Daniil Medvedev would be starting his 2023 season on the first day of the year as he is participating in the Adelaide International tournament. Novak Djokovic, Felix Auger-Aliassime, Jannik Sinner, and Andy Murray will also join him.
Also Read: "Complete self-honesty and self-reflection," Venus Williams reveals her biggest learnings from playing tennis
Also Read: Elina Svitolina continues fighting for Ukraine while doing her 'Mum job 24/7'