The ongoing Qatar Open has brought back the dominance of Iga Swiatek over her rivals. The world No. 1 defending champion in Doha has set up the final clash against Jessica Pegula on Saturday. But before the summit clash, it's her ruthless annihilation of opponents that has become the talk of the town. 
The 21-year-old defeated No. 8 seed Veronika Kudermetova in Friday's semifinals, 6-0, 6-1. All she needed to open the Russian exit door was 56 minutes. Swiatek was so dominant in the match that Kudermetova never earned a breakpoint. She was so focused that the blustery conditions of Doha too seemed a cakewalk. 
After the match, Jose Morgado, a famous tennis journalist, posted about the same on Twitter, with interesting details of the match. He highlighted the fact that Swiatek lost only two games in her two matches on her way to the final. Tennis fans joined him to salute the three-time Grand Slam champion. Earlier, she handed an identical defeat to Danielle Collins in Round 2. 
Wow.

#1 Iga Swiatek just beat #11 Veronika Kudermetova 6-0, 6-1 in 55 minutes to reach her first final of the season in Doha.

She lost 2 games in 2 matches on her way to the final.

R1: bye
R2: 6-0, 6-1 on Collins
QF: walkover (Bencic)
SF: 6-0, 6-1 on Kudermetova

— José Morgado (@josemorgado) February 17, 2023
Swiatek has returned to her winning ways after a sketchy start to the season. In the inaugural United Cup, she was in tears after her loss to Pegula, the same opponent as her final clash in Doha. Switek also failed to live up to expectations at the Australian Open, losing in the fourth round to none other than Elena Rybakina. 
Related: Qatar Open 2023 FINAL: Iga Swiatek vs. Jessica Pegula Live Stream, Match Timing, Prediction, and Preview
Fans hail Swiatek for her ruthless run in Doha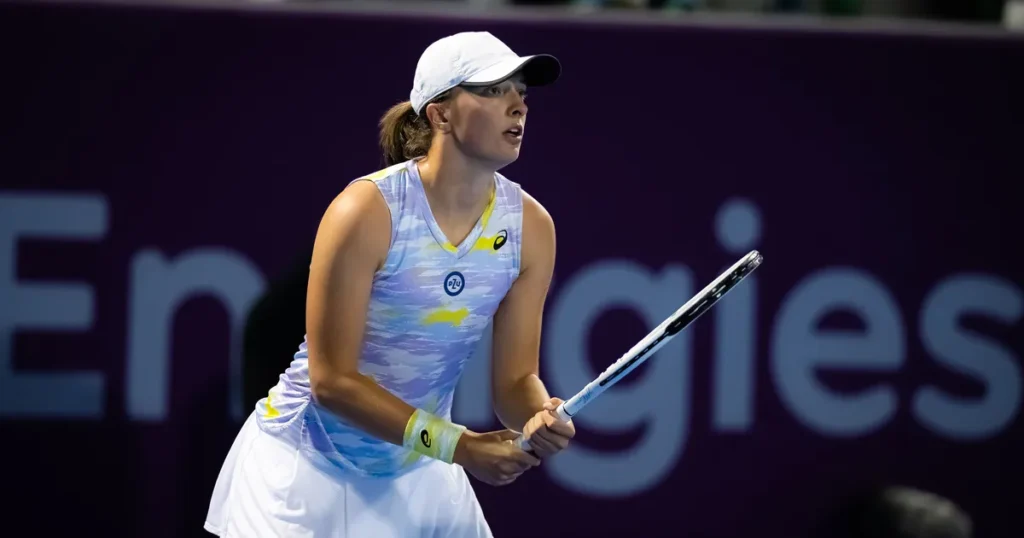 The Qatar Open run has given back her lost confidence. She is on the hunt for the 12th WTA title there. Given her terrific run during the week, Swiatek will be the absolute favorite against American rival and second seed Pegula. The fans are also expecting no mercy from her on Saturday. 
Swiatek too expressed her satisfaction with her form. "I was pretty worried about how I was going to compete with the conditions today, so I'm glad that I could play the smart way," Swiatek said after her semifinal victory. "I'm pretty happy that I was so solid."
"Just give her the title and then get her to the ATP, She's too good for the WTA," one of the fans exclaimed on Twitter. "Too easy for her. Getting ready to win another French Open," wrote another. Take a look at some other interesting tweets from Swiatek's fans.
Bencic probably thought it would be pointless to play Swiatek. 🤣🥳

— Floris (@evenniets) February 17, 2023
Just give her the title and then get her to the ATP, She's too good for the the WTA

— Chris🎾🎾 (@Khris113) February 17, 2023
Too easy for here. Getting ready to win another French Open

— P.Watersz (@PWatersz) February 17, 2023
Pretty incredible !! Curious how Jessie will perform tomorrow because she plays both singles and doubles (=10h on court)?! I am actually surprised that at 28 you can play so many matches (2per day) and still recover to play top game

— Dr Joanna Wiecek (@joannawiecek) February 17, 2023
Other players will probably end up elevateing their game because of Iga, but which will only be great for all the fans. Isn't that what happened years ago in the ATP after all🤷🏻‍♀️

— Johanne Paquette (@EquipePaquette) February 17, 2023
Hope to see her win tomorrow. But don't forget how solid Jessie is. Can't wait!

— Wika (@wikifijolek) February 17, 2023
Iga isn't wta standard, she's so good.

— Sire_ID (@itz_mracks) February 17, 2023
Wowza!

— Janelle 🪴 🗣 (@teesock) February 17, 2023
Nice decision from Bencic

— neves (@neves667) February 17, 2023
Iga is back 💪

— Johanne Paquette (@EquipePaquette) February 17, 2023
Continue Reading:
Nicola Pietrangeli expresses concerns over Matteo Berrettini's drop in form, compares him to Filippo Volandri
"It annoys him," Gilles Simon reveals Novak Djokovic's growing frustration over questions on his Australian Open injury