A dominant Aryna Sabalenka has silenced all her doubters. Following her incredible 2023 Australian Open triumphs, the tennis professional has shown the tennis world that she's a top-tier talent on the WTA circuit. She steamrolled her opponent en route to her maiden Slam, losing just one set the entire tournament. Despite playing second fiddle to Iga Swiatek for the majority of 2022, Sabalenka rose to the occasion and staked her claim as a force to be reckoned with.
The Australian Open had Aryna's mental fortitude and lethal serve on full display. With a win over reigning Wimbledon champion Elena Rybakina in the final in three sets 4-6 6-3 6-4, she insured her WTA ranking point count went up 2,000 points. During the run, she defeated everybody but Rybakina in straight sets.
Having experienced success at the Adelaide International 1 earlier this year, Sabalenka's rampant Australian Open campaign saw her make quick work of her opponents. She sped through the seven opponents which stood between her & the Daphne Akhurst Memorial Cup, facing a single tie-break the entire tournament.
From this point forward, Sabalenka will be expected to win every single time she takes the court. Yet to lose in 2023, she will be the girl to beat wherever & whenever she chooses to play next. The Belarusian's climb to the summit has been difficult. But her desire, determination & hunger drove her to a Slam title. With her having fixed her serve, she'll be incredibly tough to beat.
Related – WATCH: The priceless moment when the 2023 Australian Open champion Aryna Sabalenka realized her name was already on the trophy
Sabalenka has dominated the WTA circuit by setting multiple records in 2023 so far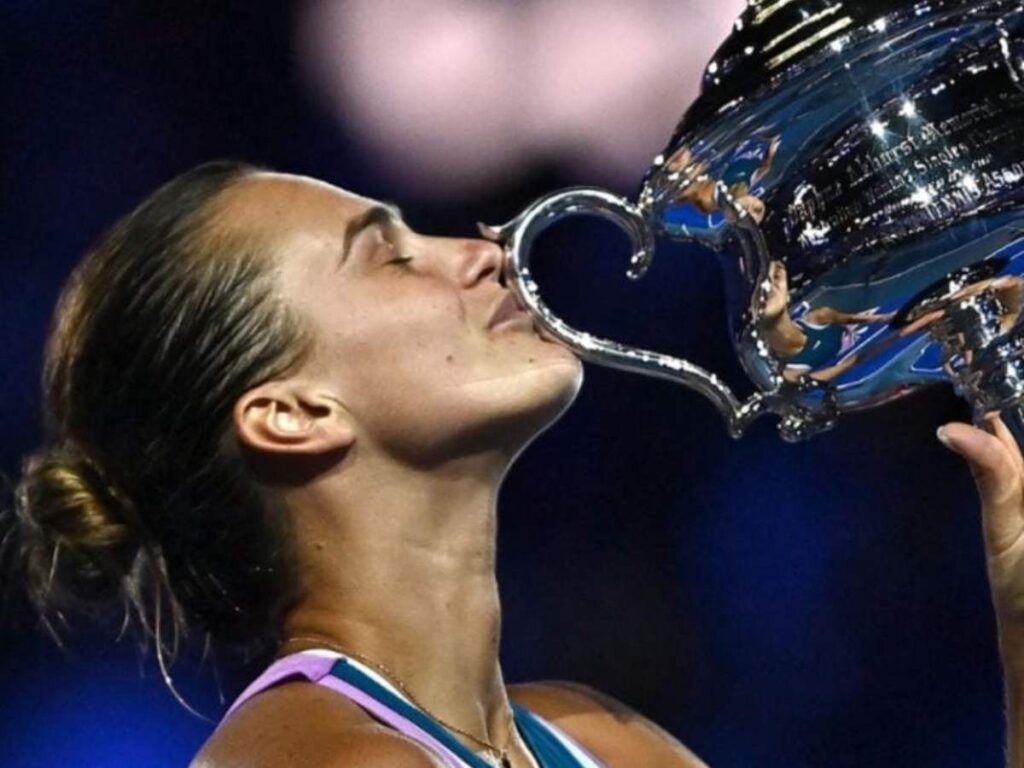 January 2023 has been the most prolific month of Aryna Sabalenka's career so far. Here's a list of records created by the Belarusian so far:-
Sabalenka's win-loss record in 2023 stands at an amazing 11-0
With her win against Magda Linette in the semi-finals, she became the first female player since 2013 to win her first 10 seasonal matches without dropping a single set.
She joined Anna Smashnova (2002) & Agnieszka Radwanska (2013) as the third female player this century to start a season 10-0 without dropping a set
Sabalenka has now won titles at each of the different levels in the top flight – 250s, 500s, 1000s & now a Major.
In case you missed it:-