Australian professional tennis player Nick Kyrgios recently expressed his frustration on social media after missing out on winning the prestigious Newcombe Medal to his compatriot Ashleigh Barty. To show his dissatisfaction over the decision, he took to his official Instagram handle and lashed out at Tennis Australia for showing "no respect at all" to him.
For context, after winning the coveted Don Award last week, a three-time singles major champion and now retired, Ashleigh Barty took home Australia's greatest sports honor for a record fifth consecutive year, defeating this year's Wimbledon finalist Nick Kyrgios, Wimbledon doubles champion Matt Ebden among others. As expected, the news did not go down well with Kyrgios as he used some harsh words to vent his anger.
"Lol! No respect at all. I don't give a f*ck," Kyrgios wrote on his Instagram stories. He also shared some stats related to titles, Grand Slams and match wins to compare him with Barty. Interestingly, about the grand Slam numbers,  he mentioned 1 with an asterisk, meaning his Wimbledon final appearance this year.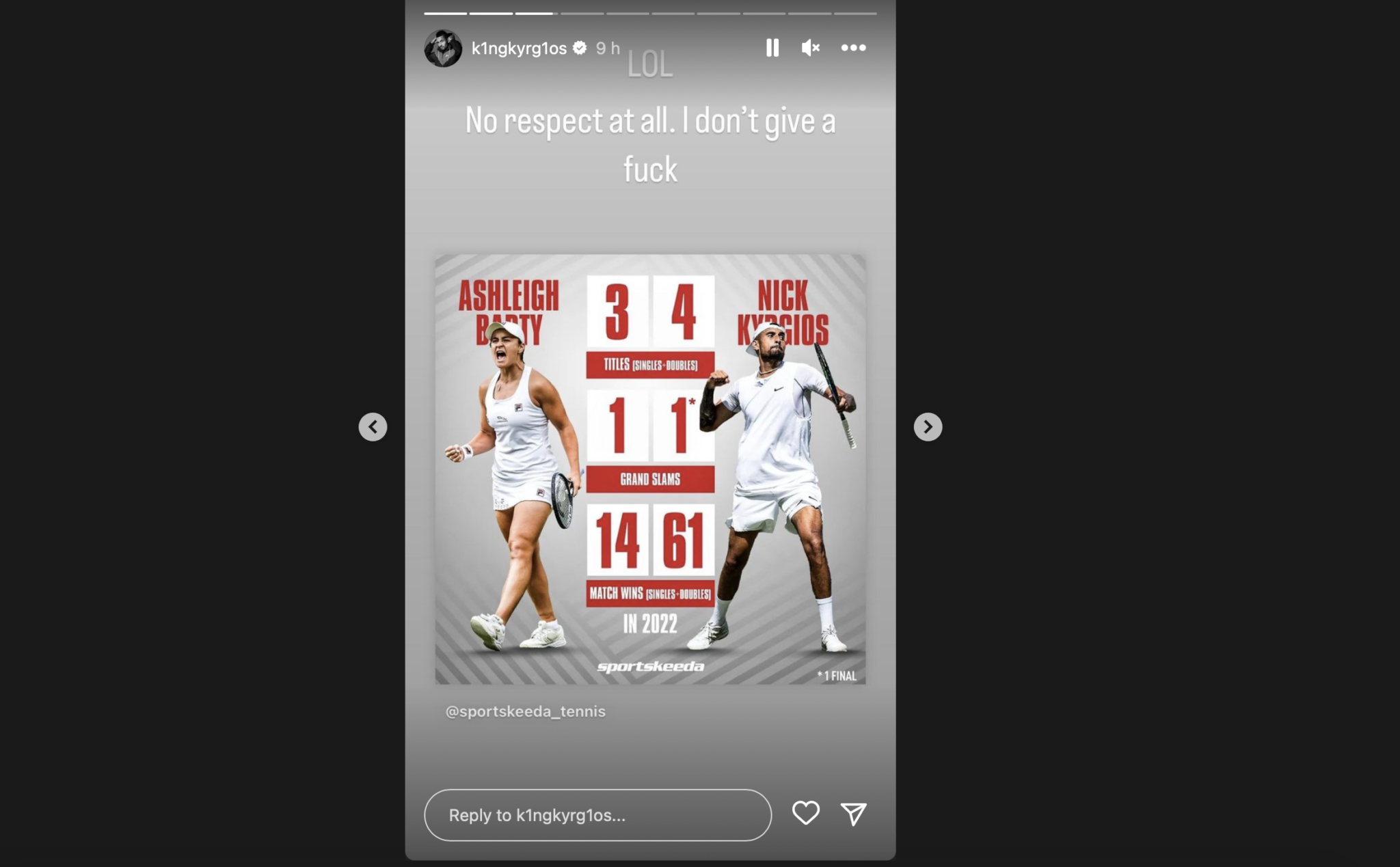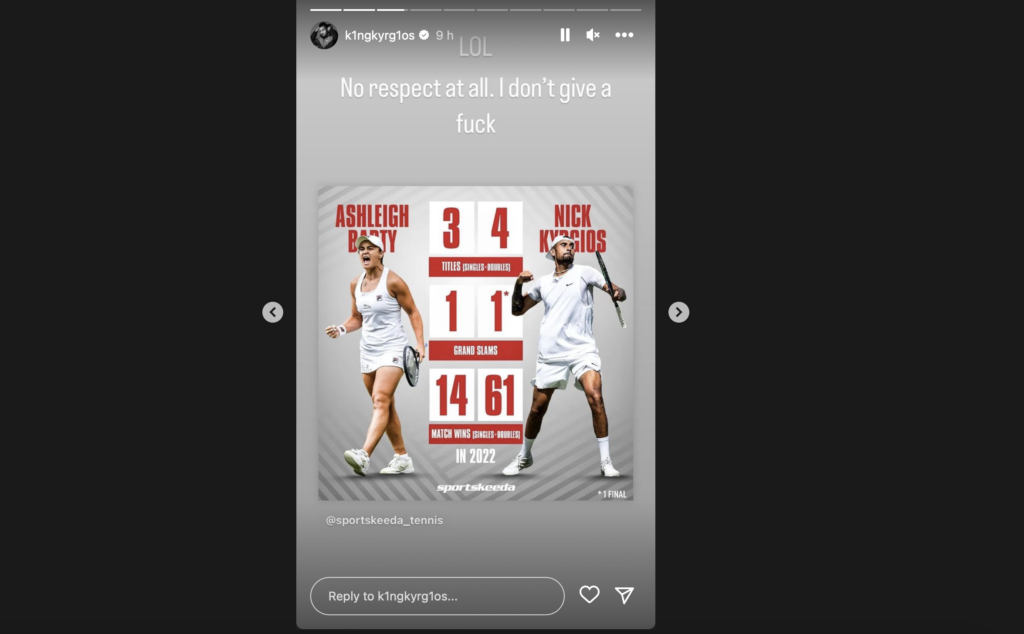 Earlier too, talking about his nomination, Kyrgios had left a cryptic response by sharing an ambiguous tweet replying to the list of nominees and posting seven sleeping emojis, and adding, "cmon now."
🏅🏅ASH🏅BARTY🏅🏅

Winner of the Newcombe Medal — the highest individual honour in Aussie tennis — for a record fifth time.

Congratulations to our AO 2022 champion! pic.twitter.com/Qg2XMtSJdw

— #AusOpen (@AustralianOpen) December 12, 2022
As far as the anger goes, this is not a first for Kygios. Earlier too, on the court, he used foul language and smashed his racquets during the matches. On the other hand 27-year-old, Barty has a humble personality and is very well loved globally which was visible in her victory speech."This has obviously been a very big year in my career and in my life. We've had exceptional change, we've had an amazing year of celebrating a journey of not only myself, but my team, and there is so much to be proud of." she said. 
This is precisely the reason why Barty was honored ahead of Kyrgios as the award is named after one of Australian tennis' most-loved figures, who won 26 Grand Slam titles before a glorious coaching career.
Read Also: Nick Kyrgios advocates using UTR rankings finding the ATP rankings biased against 'skill and form'
Nick Kyrgios will return to the French Open after his partner's request to see Paris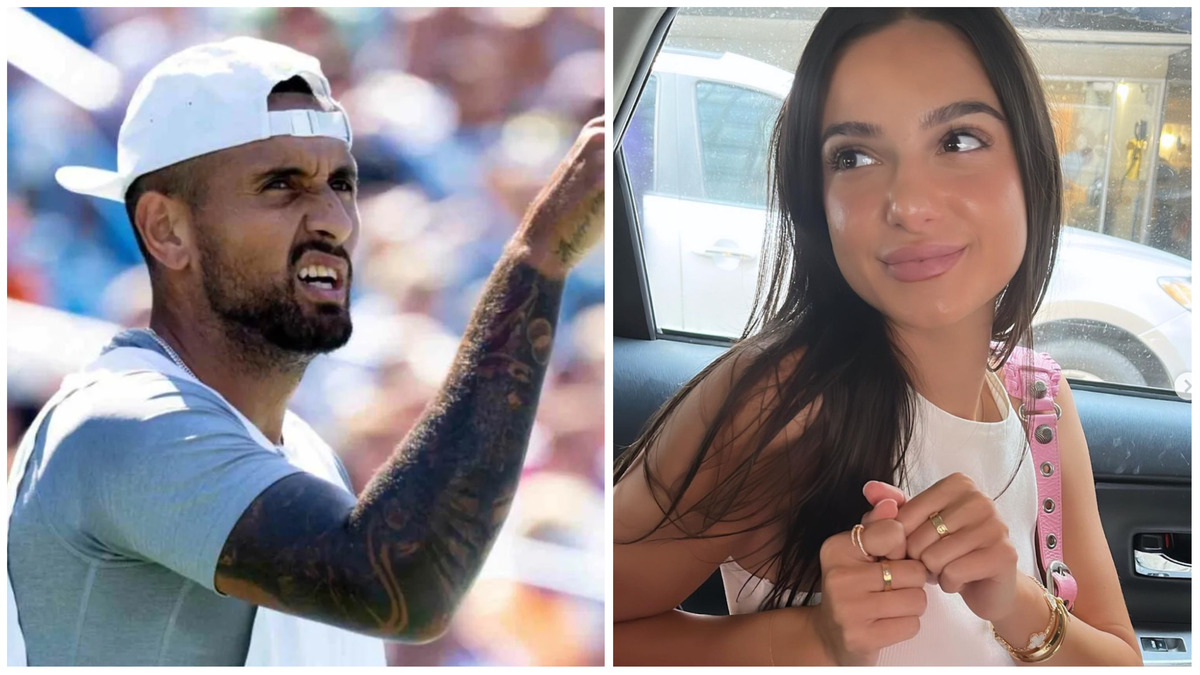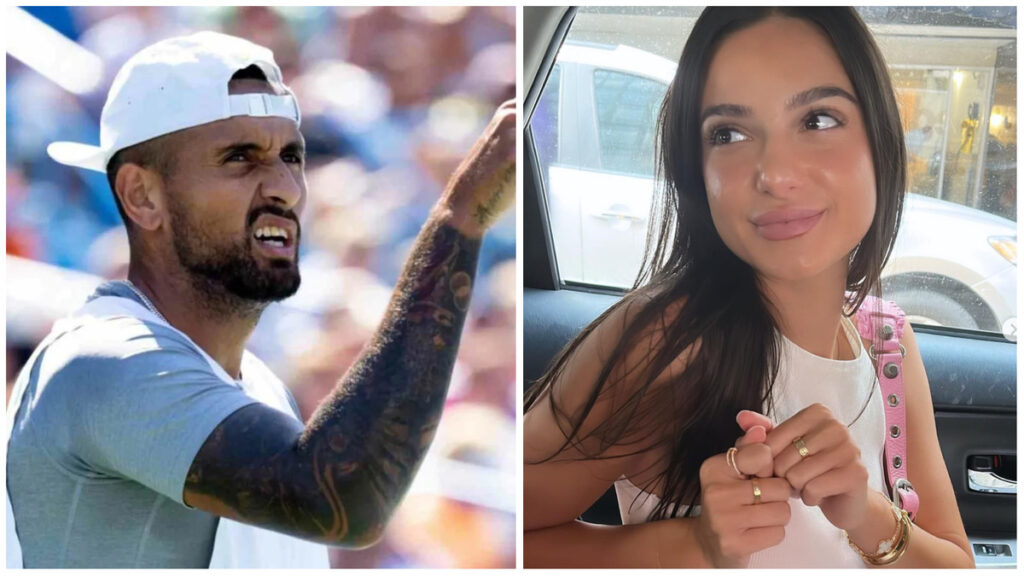 Australian tennis player Nick Kyrgios has said that he would return to the French Open next year at the Rolland Garros. This will be his first appearance at the event since 2017. Kyrgios is yet to advance to the fourth round at the clay-court major where h has only succeeded to reach the third round in 2015 and 2016.
Still, the decision of Kyrgios may not be all tennis related as he made it clear that he is going to Paris at his partner Costeen Hatzi's request to see Paris. "My girlfriend wants to know Paris, so I'm going to play at Roland-Garros 2023," Kyrgios said. "It will be good for me to earn some more money, although I would have preferred to stay at home." he said. 
Kyrgios is currently preparing for the Australian Open 2023 scheduled for next January at home. Earlier he admitted to Eurosport the pressure of expectation on his shoulders as he prepares for the Australian Open. "It's a lot to handle sometimes. Being in the spotlight is not easy." he said earlier. 
Read Also: Roger Federer receives a standing ovation after being bestowed with the prestigious Swiss Honorary Sports Award
Read Also: "They made a 23-year career seem normal," Andy Roddick honors legends Roger Federer and Serena Williams