The sensational US Open singles final between Carlos Alcaraz and Casper Ruud concluded just a few days ago with the Spaniard emerging victorious in the championship. No later than he was crowned as the Flushing champion, there have been speculations accusing Carlos of doping.
In a post-match press conference with the New York Slam's runner-up, Casper was asked to divulge his thoughts on the miraculous and jaw-dropping recovery by Alcaraz to which he replied with an underplaying statement saying "I'm not going to say it's a surprise."
Also Read: On Nike's 50th anniversary, Drake pays tribute to the brand and Serena Williams as one of its greatest ambassadors
"He's young and I guess he recovers fast," Casper Ruud downplays his suspicion of Carlos Alcaraz doping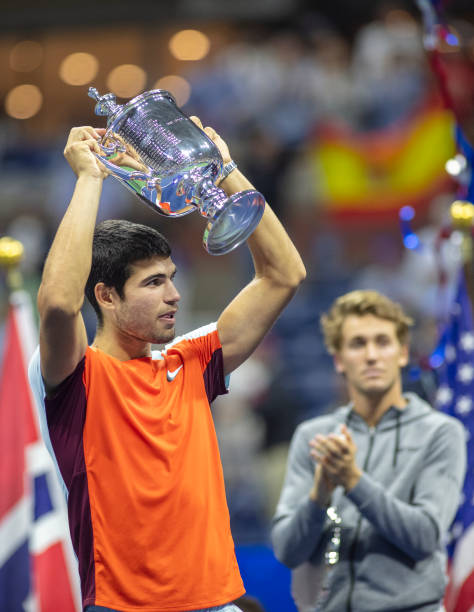 Carlos Alcaraz although won the Flushing championship he hasn't been able to recover his image and be the champion in the hearts of the global tennis community with suspicions of doping arising against him. Casper Ruud when questioned regarded the same in a US Open press conference delegated on the topic quoted "He's young and I guess he recovers fast and still looked fresh when he went against me on-court."
Discussing more of his insight on the 19-year-old's miraculous recovery, he solidified his stance by using polite words directed towards doping by saying "It's impressive that he has come from behind matches that have been played 4 or 5 hours and still have that energy to keep going. I think he also helps from a doctor who Rafael Nadal has had for many years."
Carlos Alcaraz after claiming the Flushing Meadows title gained himself the rank of world No. 1 and has been named the youngest player ever to achieve that mark. In addition to his victory celebration, he recently has been accused of doping just like his idol Nadal, who also has been under the spectrum of doping for several years now by critics. These allegations although have seen the light of the day, they, however, cause irreparable damage to the player's career.
Also Read: "Watch out for 2023," Taylor Townsend shuts her critics up 10 years after being cut off from the USTA due to her weight issues
Also Read: WATCH: Novak Djokovic attends his brother's wedding after skipping Davis Cup citing personal reasons