Marian Vajda, Novak Djokovic's former coach, recently shed light on the Serbian's early days, admitting that he counseled Djokovic to follow in the footsteps of Monica Seles to develop a connection with the audience and avoid the creation of unwanted "enemies."
In an interview, Marian Vajda reflected on Djokovic's rise from a promising young talent to a global tennis icon. Djokovic struggled to establish a strong bond with the fans at the start of his career, an issue that Vajda intended to overcome by borrowing inspiration from another tennis legend, Monica Seles.
Vajda recalled Seles's unforgettable gesture of appearing on the court with flowers and tossing them into the audience. It was a simple yet powerful act that attracted her to fans and made a genuine relationship with them. Recognizing the value of such actions, he encouraged Djokovic to do something similar in order to break down boundaries and create goodwill.
"I often gave him the example of Monica Seles. One day, she arrived on the court with flowers. She launched them into the crowd, she made it possible to create a link, to connect with the public," Vajda explained. "I told him: 'Do something like that! There is no point in having enemies.' And sometimes, he began to imitate the other players, he became a real actor."
Novak Djokovic's former coach, Marian Vadja, on his advice to a young Novak, and why Djokovic wanted to show off his impersonations:

"At the beginning of his career, he was not connected with the public. I often gave him the example of Monica Seles. One day, she arrived on the… pic.twitter.com/ZHOZVFBHgF

— Olly 🎾🇬🇧 (@Olly_Tennis_) September 25, 2023
Also read: Roger Federer discloses details of his conversation with 'hero' Rod Laver after sharing the box with him at the Laver Cup 2023
Greg Rusedski applauds Novak Djokovic for emerging from Federer and Nadal's Shadow
Greg Rusedski, a former professional tennis player recognized for his astute analysis of the sport, recently went on the Tennis Channel's InsideIn podcast to discuss Novak Djokovic's incredible career. In his forthright words, Rusedski emphasized the growing acknowledgment of Serbian tennis maestro Djokovic's accomplishments and said that Djokovic is finally receiving the credit he deserves.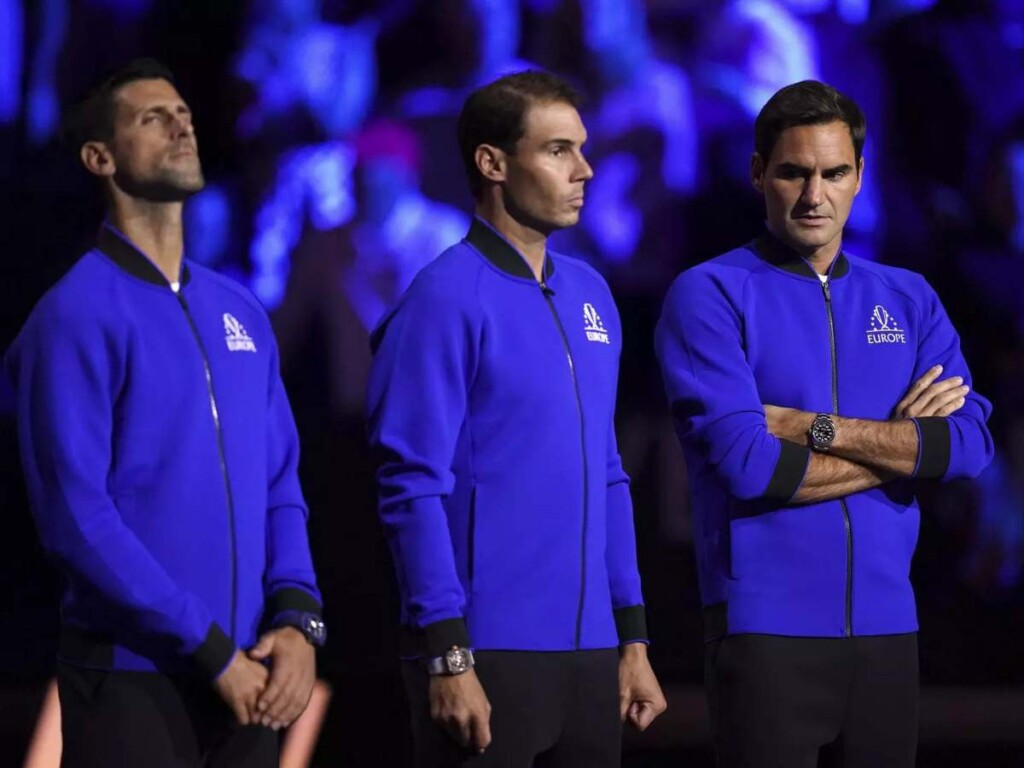 Despite his remarkable achievements, Novak Djokovic has spent years in the shadow of tennis legends Roger Federer and Rafael Nadal. According to Rusedski, the tide is shifting, and Djokovic's unrivaled professionalism, unshakable consistency, and indomitable grit are shining through, lifting him to a level of prominence commensurate with his great career.
During the podcast, Rusedski expressed respect for Djokovic's journey, citing the Serbian's unwavering pursuit of excellence as a distinguishing characteristic of his career. Djokovic's ability to sustain top performance over extended periods of time has distinguished him in the extremely competitive world of professional tennis.
"Let's take advantage of it because it's a very rare thing to see in sport. And I think he finally gets all the credit he deserves because he has always been in the shadow of Federer and Nadal with love and admiration. Now he really is what he deserves for what he accomplishes," Rusedski said. (H/T – We Love Tennis)
In case you missed it:
Do follow Firstsportz on WhatsApp Channel