Pete Sampras was in the pole position of being called the GOAT before Roger Federer announced himself to the Tour. Sampras was the first man to go past Bjorn Borg's tally of winning 11 majors as he retired with 14 majors to his name. Of the 14, Sampras won 7 at Wimbledon, a record that has been bettered only by Federer.
The Swiss maestro however is said to have cut-short the American's career after defeating him in the 4th round of the 2001 Wimbledon ending his 31-match winning streak at the major. Sampras retired the next year after winning the 2002 US Open at the age of 31 shocking the tennis world.
Years later, Sampras was quizzed if he could have defeated Federer in his prime and the American was confident that he could. "I think one thing Roger doesn't see on grass is a true serve-and-volleyer, someone that's willing to come in and put pressure on him, make him pass and return.
"With these big serves, I don't think anyone really scares him. I think my game could make Roger a little uncomfortable. I would come in on both serves, put pressure on his backhand, and go from there. Do I think I could have beaten Roger in my prime? Sure.
"I don't think anyone could beat me in my prime on grass. I felt unbeatable in the mid-'90s," Sampras had said back in 2009 when Federer had just won his 6th Wimbledon title and his 15th Grand Slam title to go past Sampras' tally and become the man with most majors, a record he held till 2020 before Rafael Nadal also won his 20th major.
Also Read: Iga Swiatek admits to being surprised by her own abilities as she remains hungry for titles despite two Grand Slams and more than 10,000 ranking points
Pete Sampras however admitted that defeating Roger Federer would have been a tough job to accomplish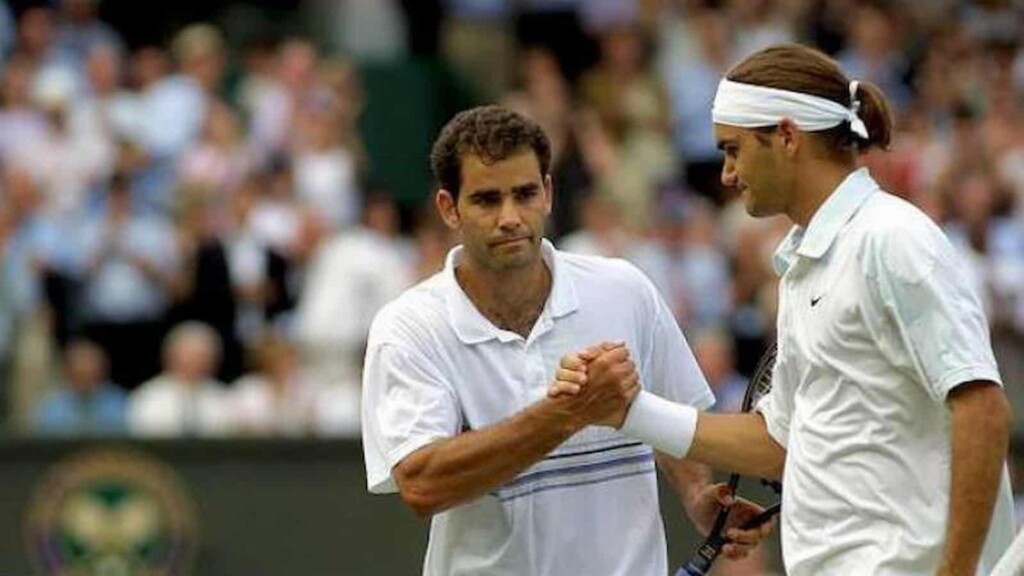 At the 2009 Wimbledon finals, Federer defeated one of his favourite opponents, Andy Roddick, in the finals to come in touching distance of Sampras' Wimbledon titles record. Federer won the finals in an extended 5th set to take his head-to-head against Roddick to 19-2 which ultimately became 21-3 following Roddick's retirement.
Sampras and Federer both turned out to be two of the toughest players to compete against on the grass. and It's said to be the misfortune of the sport that the Wimbledon meeting between them was the only match they ever played against each other.
Speaking about taking on Federer and how the rivalry would have turned out, Sampras had said, "But he would be a tough guy to beat, especially when he is hitting 50 aces like he did at Wimbledon. It would be a great matchup."
Sampras was in attendance during the 2009 Wimbledon finals when Federer went past his record. It was the first time Sampras had returned to the All-England Club post his 2nd round exit at the 2002 Wimbledon, his last-ever match at the Championships.
Over the years, both Federer and Sampras have shown mutual respect towards each other, The two have never hinted at any animosity between the two despite Federer going past many of Sampras' records to set his own.
Also Read: Taylor Fritz expresses his disappointment in fans over the abuse Frances Tiafoe and Jack Sock received for defeating Roger Federer and Rafael Nadal at the 2022 Laver Cup
Also Read: Doubles legend Todd Woodbridge reveals suffering a heart attack, calls it a wake-up call despite leading a healthy lifestyle