Nick Kyrgios getting mad on the court is not a new thing in tennis but Roger Federer supporting the Australian during one of those times is something to be remembered. It was during the second-round match in Italian Open 2019 against Casper Ruud that the Australian lost his cool. While trailing 1-2 in the deciding set after getting a game penalty, Kyrgios had verbal arguments with some people in the crowd and then with match officials. Following that, he threw the chair on the playing surface and left the stadium.
The match was awarded to Ruud by default. Kyrgios was fined 20000 Euros on the same day and was put under investigation for a suspension in sight. After the incident, Roger Federer was asked about the incident in his press conference. Federer replied, "I don't think he should be suspended. He walked off the court. What did he do? He hurt a chair? That's not enough for me. A zero pointer, fine, all this stuff is already tough enough. He knows it's a mistake what happened."
Federer also gave an insight on why there must be a potential suspension nevertheless, "I don't know if he's on probation or not from his Shanghai thing. If that's the case, then obviously you can maybe look into it. If that's run its course, I don't think he should be suspended". (Source: Express UK)
Also Read: WATCH: "Celebrating Novak's love affair," Novak Djokovic's wife Jelena posts a loving message for the Serb on breaking Steffi Graf's record
5 out of 7 matches between Federer and Kyrgios went to the final set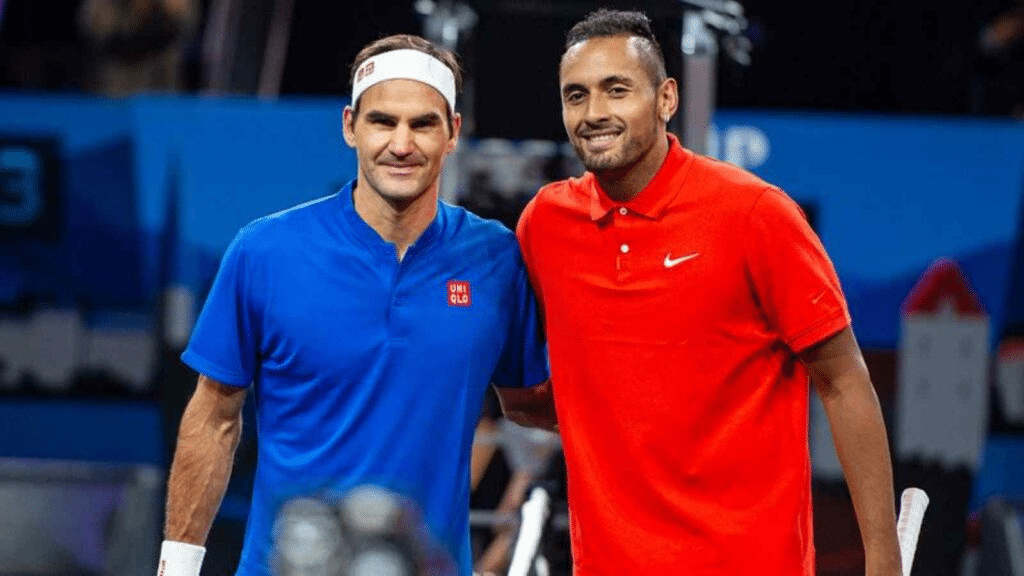 The Swiss maestro has played the Australian seven times in his career. Except for two of their matches in the US Open 2018 and Laver Cup 2018 which Federer won in straights, all the others were decided in the final set. After Kyrgios won their first-ever encounter in a classic clay court battle in Madrid in 2015, the rest six were won by the Swiss legend. Most of their matches had nail-biting drama and classic twists.
Nick Kyrgios is also the first player ever to beat all the big 3 players in their first attempt. He leads Novak Djokovic 2-1 in their head to head but trails both Roger Federer and Rafael Nadal 3-6. His last encounter with Roger Federer was in Laver Cup 2019 which he lost in three sets.
Roger Federer, who retired from professional tennis last year, is speculated to become a commentator at Wimbledon this year. It will be interesting to see him speaking and analysing players like Nick Kyrgios who always had an ambivalent relationship with Federer.
In case you missed it!
"I have other priorities," Novak Djokovic not going overboard ahead of breaking Steffi Graf's record
List of players to have won a match with a double bagel (ATP+WTA)