Indian tennis legend Ramanathan Krishnan, now in his 80s, always spoke about the importance of good tennis shoes. Krish Sr. as he is popularly known, belonged to an era when there was nothing really like special tennis shoes. During the course of several interactions with this writer, Krish Sr had mentioned how T-shirts and shorts were not the big deal, but the shoes.
Having grown up in Tamil Nadu and played in Madras, now Chennai, Krish Sr had talked of how he played tennis wherein the sole was so heavy. They were made of old worn-out vehicle tyres, shredded into layers, and then fixed to the sole of the shoe. Krish Sr spoke of how the weight of the shoes was too much, but that is all his father TK Ramanathan could afford.
So, when the Indian tennis genius and his son Ramesh Krishnan, famous for many Davis Cup sensational wins, hosted tennis clinics and also ran a tennis academy in Madras, advice to parents was tennis shoes. "There is nothing more important than the shoes. Whether you play on clay or hard courts, the shoes are most important as a player's feet and footwork is vital," Krish Sr had said. He used to speak to parents of budding players and harped on good tennis shoes.
Those were the days, around 25 years ago, when getting top-brand tennis shoes in India was not easy. Now, there is an explosion of shoes and different brands. You name the brand, it can be bought online or from showrooms. Not many would know, tennis shoes are actually designed for different surfaces. The clay shoes are designed in a way where players can slide more, maintaining balance.
Related: Roger Federer's 'ON' sign Iga Swiatek and Ben Shelton with the Swiss maestro personally welcoming the two
Tennis stars and their shoes have been a long story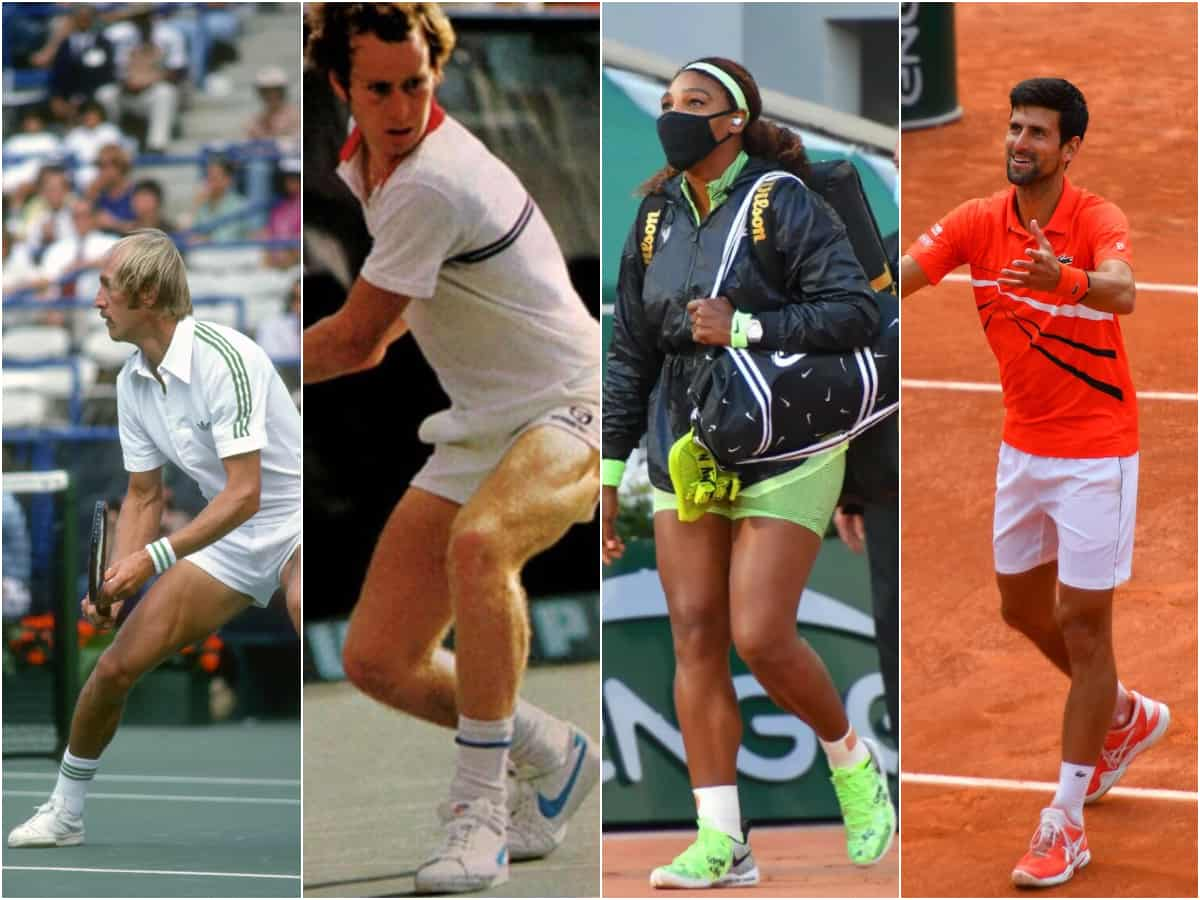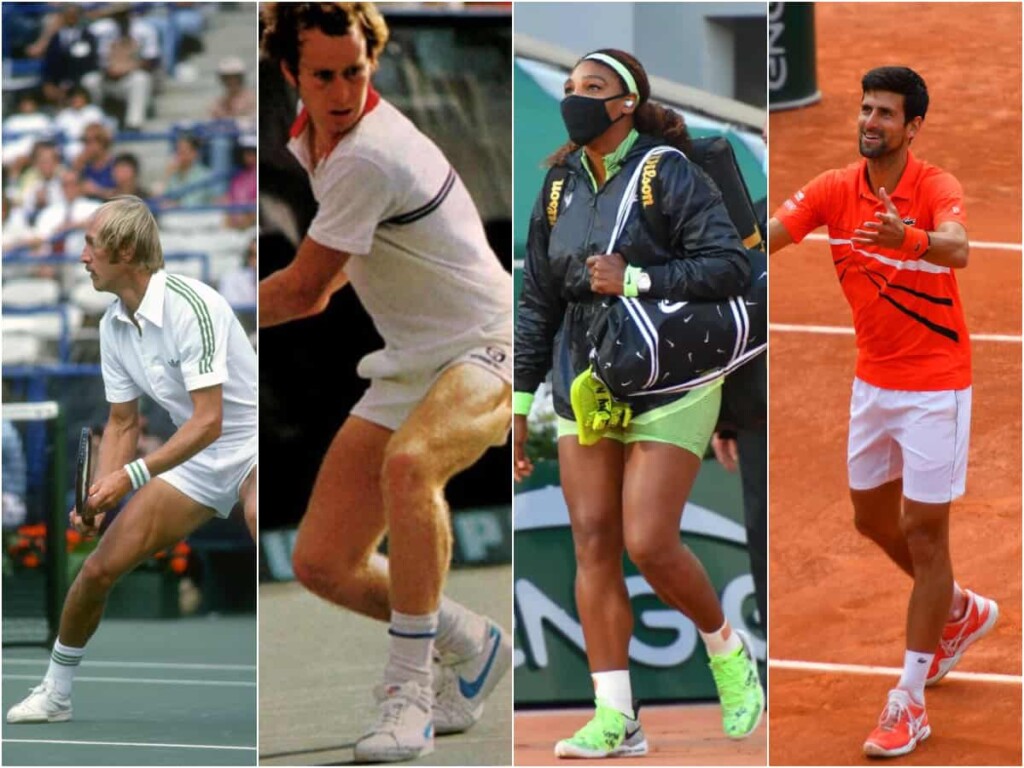 If you see old videos of clay court tennis, pre Rafael Nadal era, there will be players sporting shoes which had a unique sole. However, playing on old grass, which was fast and slick, meant a different type of shoes. One had to ensure grass blades did not got caught in the shoe sole grooves and also did not slip. And finally, when the US Open came, hard court shoes were designed to offer more support and cushion to a player's feet and ankles.
It all depended really, on the style of play. The change in shoe technology has kept pace with changes in rackets, and strings, and from wooden to graphite rackets, much lighter. They also generate more pace. From Stan Smith to Rene Lacoste and John McEnroe to Andre Agassi, the tennis shoe revolution has been taking place. Today, there is an embarrassment of choices for tennis shoes. Top players are not really getting customized shoes, it is more about endorsing a brand.
From Nike to Adidas and Reebok to Asics, there are many shoe brands. Agassi dared to defy the traditional white code at Wimbledon and was rightly admonished. His shoes and clothing had that punk glare ad and pink shade. Purists hated it. Yet, for a section, the Agassi stuff was cool, while some found it garish! Agassi was a rebel, in many ways. His tennis was also different, though what he endorsed as tennis products sold like hotcakes.
Sadly, when he said he did drugs, it broke the hearts of billions. Today's generation will laugh if you ask them to wear Stan Smith classy tennis white shoes. Each generation has seen changes. Yet, the big deal is not wearing a shoe because it is the best for tennis. For this generation of tennis players who are big stars, there is a business model involved. After all, Roger Federer, the latest to hit the tennis shoe business has not done it for charity.
It's "On" in many ways, the shoe brand biz deal. During his playing days, Roger had that RF tag on his shoes. People loved it. Now, RF is off and "On" is in. This just goes to show champions can retire but reinvent themselves as businessmen. RF is not the first guy to do it. Maybe, as he is more contemporary, and retired officially only last September, he can get more players to sign "On". Firstly, these shoes are not custom-built, it's more of an endorsement biz model.
There is money to be made. After all, a tennis player can endorse from head to toe, literally. The head sweatband, wristband, bandana, T-shirts, shorts, skirts, ladies' skirts, socks, racket, gut, ball, everything is commercial. Federer getting players to sign "On" may be big news but one cannot discount how Novak Djokovic's deal with Asics has also been very big. He had that FF Series, which was a rage.
Novak made a special collection for the Tokyo Olympics, where the Tokyo Olympics logo was there in the Asics tennis shoes, orange and bold in color. Sample this, at a time when there is talk that the ATP and WTA should merge for better commercial viability and pay parity, we have tennis stars doing great business. Federer has taken a sort of lead, right now.
What will stop Rafael Nadal, Serena Williams, and some of the other women tennis stars from doing something more brazen, commercially? If you still think tennis players do only charity, do not believe it. Charity begins at home. It's On!
PS: This piece is in no way meant to promote any particular brand.
Continue Reading:
"Not having a crack" : Tennis fans go into a frenzy after Thanasi Kokkinakis clarifies comments about 'nicest girl' Elena Rybakina
Barbora Krejcikova roasts Daniil Medvedev for his toxic relationship with courts at Indian Wells Masters