You gotta rave about this pair. On the ventilator after losing the first set, Rohan Bopanna and Rutuja Bhosale conjured up magic to outgun the Chinese Taipei pair of Liang and Huang 2-6, 6-3, 10-4 (super tie break) to clinch a gold medal for India at the Asian Games on Saturday.
Bopanna is 43 and Rutuja is 27. Combined age of 70, the duo produced the arsenal which is needed in a tight match. The roof shutter had been rolled over. So, the match conditions changed, artificial lights plus cooling. In the end, the Indians were the cool dudes who turned on the heat in an ambiance where the crowd support was partisan.
As the finale approached, the Chinese fans were restless. The body language of Rohan and Rutuja was flawless. They were not tight or taut, they were inspired by shouts from a corner, "BHARAT MATA KI JAI."
As the Indian duo stepped off court, it was emotions. Their tight hug was special, almost like crying, craving. They boarded the flight from New Delhi, praying for a medal. That the golden glow would come was so surreal.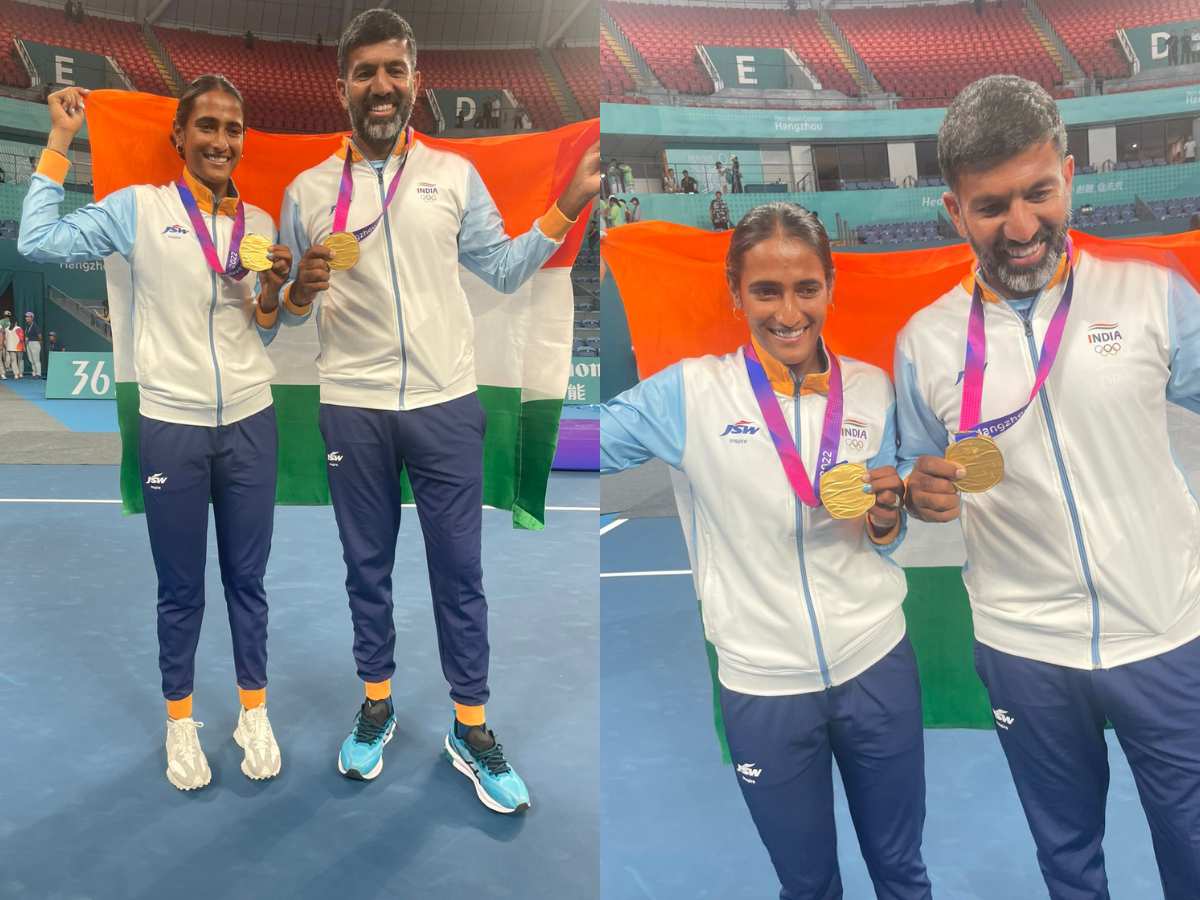 "Hang on, I am not quitting. I want to play the next Asian Games four years away as a player in Japan," said Bopanna. Sounds crazy, isn't it! Well, he means it. Rutuja Bhosale was also smiling, her legs all taped with medical pain relieving stuff. "At the last point, Rohan came to me and asked for the best serve. I hit the ace," she said.
Tennis fans are fed on singles and more singles. Doubles and mixed doubles is a rarity. In the Asian Games, it is all about binding and bonding. Rohan and Rutuja were in trouble early on against a pair that was hitting flat stuff. "We knew we had to change out return strategy," said Rohan.
Rutuja was like that kid who had won her candy. "This is my first Asian Games and a medal. The atmosphere is crazy. We meet different athletes, people now know me, who I am," she said. If she was anonymous till yesterday she became famous today.
Are they going to party tonight? "No, I am going to watch the India versus Pakistan hockey match," said Rohan.
Explore:Naomi Osaka will be back in the Top 10 within one season claims Serena Williams' former coach Rick Macci
Rohan's experience and Rutuja the ACE were unmatched in the finals of the Asian Games
Rutuja was the babe in this pair, younger by 16 years. She knew the experience of Rohan would help her. He was guiding her, talking to her. Yet, in terms of executing the shots as per plan, Rutuja showed heart and happiness. She was not tight or choking. That flow was on view, be it at the backcourt or crossing or in mid-court.
In doubles, the super tie-break is a Russian roulette. It can win or spin away. Boy oh boy, the Indians were pumped up. For once, the Bofors Bopanna mode was on and Rutuja was in beast mode, even though she is so thin-looking. Like gladiators baying for blood, the Chinese crowds were shouting.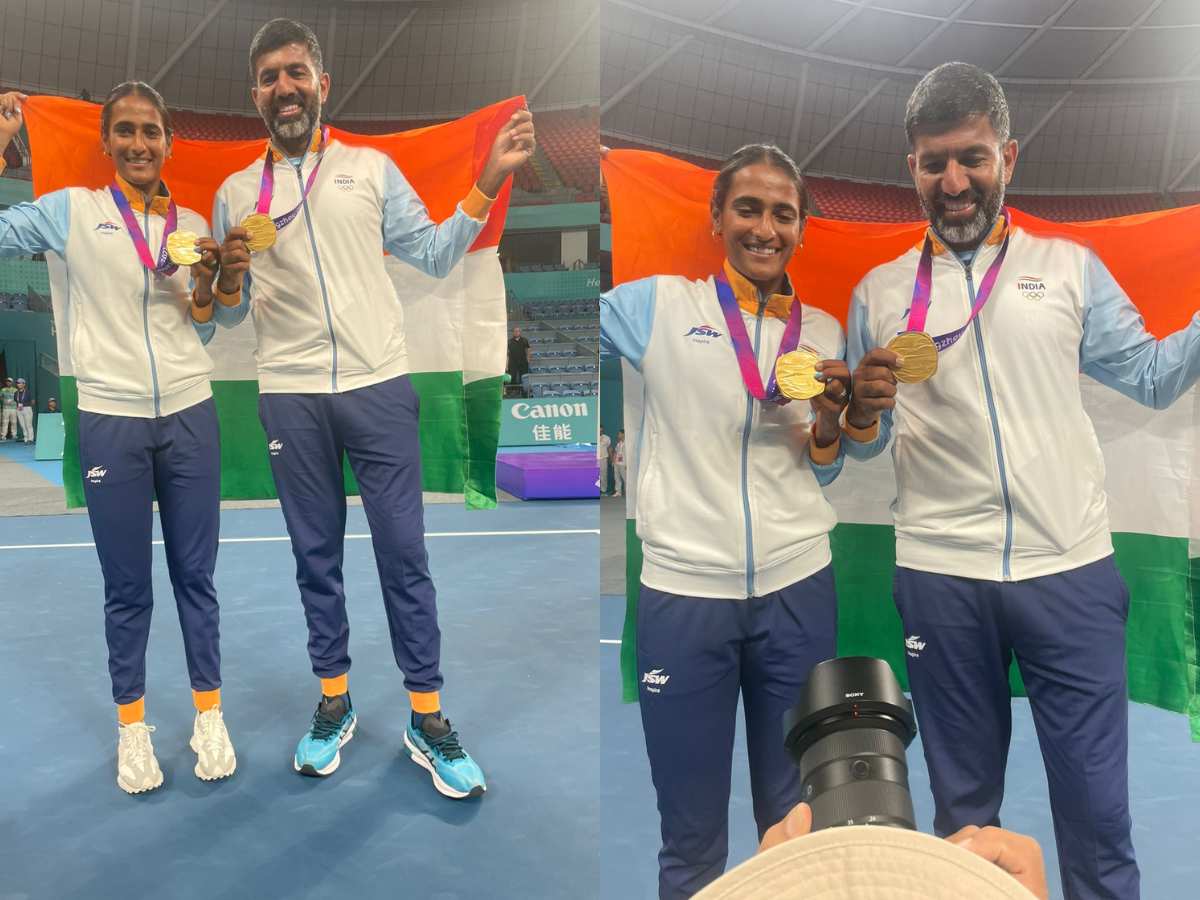 Points were going though in a jiffy in the fast-paced super tie break. Momentum swung like a tsunami, or was it a blind sandstorm blowing. In the end, at match point, a nation of a billion plus was watching Rutuja serve! Ball toss, up, racket head high, and bang she hit it. ACE.
That was it. Gold was sealed. Not with a kiss but a hug, a warm one by Rohan and Rutuja. This will be remembered for long, as Indian tennis has been struggling. At last, a golden glow.
"I won gold in Jakarta with Divij in 2018," gushed Rohan like a kid. His passion is high and enthusiasm is infectious. That's what happens when playing for TEAM INDIA.
In case you missed it: