According to Taylor Fritz, playing against Carlos Alcaraz is more perilous than facing Roger Federer, Rafael Nadal, and Novak Djokovic, as he experienced when he played against the current world No. 1 for the first time on Thursday. Fritz emphasized that he had to work harder and had less space on the court while playing against Alcaraz compared to when he played against the Big 3.
In the quarterfinals of the 2023 Miami Open, Alcaraz defeated Fritz with ease, clinching a 6-4, 6-2 victory. With this win, the 19-year-old Spaniard is only two wins away from becoming the youngest man ever to win the Sunshine Double. After a challenging match against Alcaraz, Fritz spoke highly of his opponent's exceptional level of tennis, which he found more difficult to handle than the Big 3's level.
Comparing the Big-3 with Alcaraz, Fritz said, "Oh, I definitely felt like I had more breathing room against those guys than in this match. I think that, you know, it's different game styles. Novak will have these long rallies, but he'll kind of slowly get you out of position and overwhelm me. I still feel like I can hang in these rallies for a long time and get more chances to attack. I mean, it's not even what I saw today. It's what I have seen for a while now."
He continued and said, "I think that I'd go back to the first couple games of the match. He just winner off of a lot of shots, winners and shots that hurt me off of a lot of shots that people normally aren't hurting me off of. Definitely less. I just felt he was more offensive and pressed me a lot more. You know, it's very rare to see someone so young so, I guess, just developed in their game and not really have anything that they need to work on so much."
Related: Christopher Eubanks gushes over his relationship with NFL star Chad Johnson and Jamie Foxx
Taylor Fritz analyses his game after losing to Carlos Alcaraz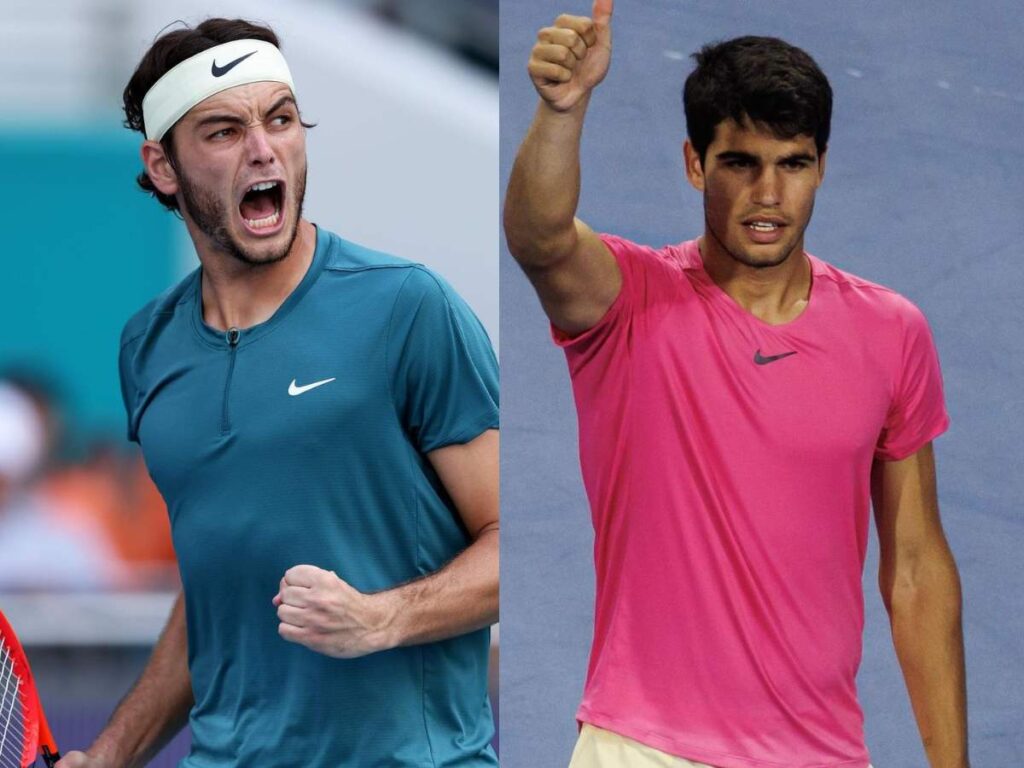 The ninth seed, Taylor Fritz has a 16-4 win-loss record this year and has also won the Delray Beach Open. However, he is still a few steps behind the likes of Alcaraz, Sinner, and Daniil Medvedev. After his latest defeat against the world No.1, he said, "I said it a year ago when I watched him play, for how young he is, he just has all the tools, you know. He can come to net, he can dropshot you, he can lob you, he's incredibly fast, he has all the power, his forehand is good, his backhand is good."
Fritz added, "Also, just speaking of the match today, I did feel the level of the first three games was absolutely unbearable. He was hitting clean winners off of 110-mile-an-hour second serves I was hitting into his body. I'm stepping up and crushing backhands cross, and he's going open-stance backhand line winners off of that. That wasn't the level for the rest of the match. I was able to settle in much more, and he wasn't doing that the whole match. But he obviously possesses that level, and for those first couple of games, it was pretty overwhelming."
However, fans and experts believe that Fritz has the potential to compete at the top. He is definitely one among the top in the new generation of players. After his loss to Alcaraz, Fritz's position in the Top 10 is now at risk, just a month after achieving his career-best ATP Ranking of No. 5. If Karen Khachanov defeats Daniil Medvedev in the semifinals on Friday, he will surpass Fritz and take over the World No. 10 spot.
Continue Reading:
Novak Djokovic becomes eligible for the US Open after the Senate passes new bill
Jennifer Brady, out since 2021, reveals her comeback tournament eyeing much-awaited return to the Tour