In a rare display of sportsmanship across disciplines, tennis star Stefanos Tsitsipas took time out of his busy schedule to congratulate ski racing sensation Mikaela Shiffrin on her incredible fifth World Cup overall title win.
Shiffrin, who has dominated the skiing scene since her debut in 2011, clinched the title after a hard-fought season on the slopes, battling it out with some of the best athletes in the world. Her consistent performances across all disciplines, including slalom, giant slalom, super-G, downhill, and alpine combined, saw her finish with a staggering 1,835 points – 678 points ahead of her nearest rival.
As news of Shiffrin's win spread throughout the sporting world, Tsitsipas, who is currently competing in the ATP tournament in Dubai, was quick to express his admiration for the skier's achievements. Taking to social media, Tsitsipas tweeted, " Congratulations @MikaelaShiffrin on your fifth World Cup overall title! Your incredible dedication, focus, and fearless skiing abilities continue to inspire us all."
Speaking to reporters after his match in Dubai, Tsitsipas explained his admiration for Shiffrin, saying, "I have a lot of respect for athletes like Mikaela, who put in the time and effort to become the best in their sport. As a fellow athlete, I know how much hard work goes into achieving success at the highest level, and I think it's important to acknowledge and celebrate that."
As the sporting world continues to be rocked by controversies and scandals, Tsitsipas' gesture serves as a reminder that at its core, sport is about more than just winning – it's about respect, camaraderie, and celebrating the incredible achievements of our fellow athletes.
Related : "Much better than I was" – Ingemar Stenmark applauds Mikaela Shiffrin as Olympian nears 86 World Cup victories
Stefanos Tsitsipas: A Role Model for Young Tennis Players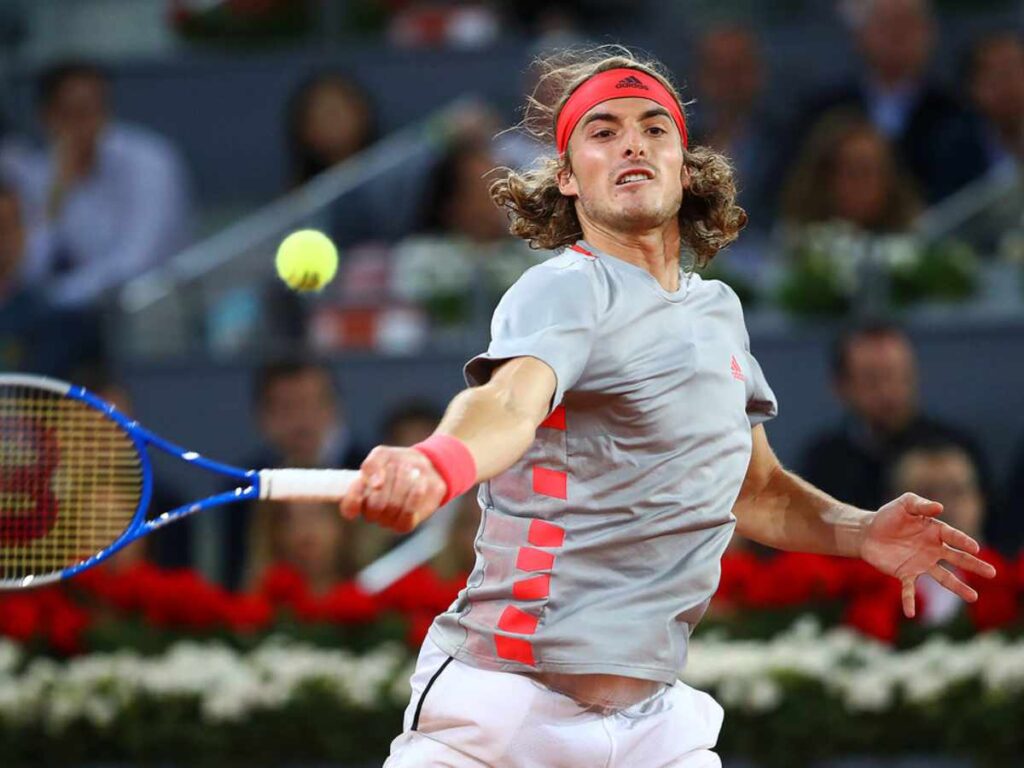 Stefanos Tsitsipas has become a household name in the world of tennis, thanks to his impressive performances and victories over some of the biggest names in the sport. He is not just a great athlete but also a role model for young tennis players around the world.
Tsitsipas has spoken openly about his love for the sport and his commitment to working hard and improving his skills. He has also emphasized the importance of discipline, dedication, and perseverance, traits that are essential for success not just in tennis but in any endeavor. In addition, Tsitsipas has also shown a strong sense of sportsmanship and respect for his opponents. His recent gesture of congratulating Mikaela Shiffrin on her World Cup overall title win is just one example of how he embodies the values of fair play and respect for fellow athletes.
For young tennis players who look up to Tsitsipas, his dedication to the sport and his values serve as a source of inspiration and motivation. He is a reminder that success in tennis, and in life, requires not just talent and hard work but also a commitment to personal growth and a willingness to learn from one's mistakes.
As Tsitsipas continues to make his mark on the world of tennis, he serves as a shining example of what it means to be a true champion, both on and off the court.
In case you missed it :
"Was looking forward to this match," Jannik Sinner satisfied after avenging his Australian Open defeat to Stefanos Tsitsipas in Rotterdam
Stefanos Tsitsipas readily welcomes Roland Garros and Wimbledon's decision to allow on-court coaching during match