The 2022 Laver Cup will be marked as the retirement tournament of Roger Federer. But it will also be remembered as the event where Rafael Nadal and Federer's bromance was on display. Arch-rivals for decades, Nadal and Federer sobbed together upon the Swiss maestro's retirement.
With not a single dry eye in the O2 Arena during Federer's retirement, Nadal also could not hold back his tears. However, when Federer's kids came to the court to hug their emotional father, Nadal stood beside the family to comfort them as it became too overwhelming for the Federer family.
In a now-viral video, Nadal can be seen extending a hug to each of Federer's four kids. Federer watched the scene from the side before the two walked together towards the locker room exiting the court to rousing applause and reception from every spectator in the stands.
Also Read: "I'm gonna own that Greek yogurt," Frances Tiafoe's racist remarks towards Stefanos Tsitsipas at the Laver Cup leaves fans fuming
Rafael Nadal left for Spain immediately after Roger Federer's retirement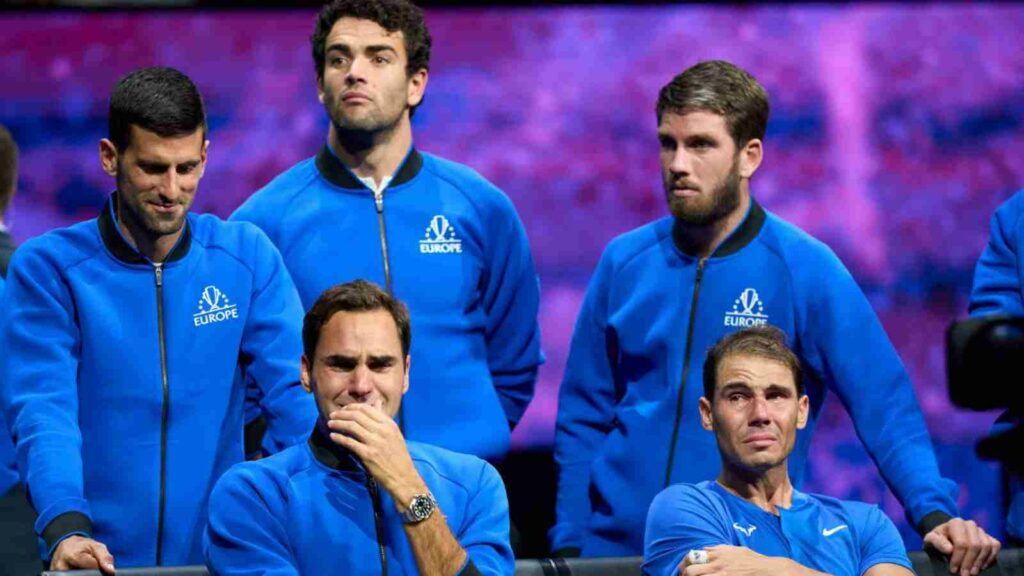 After the emotional speech of Federer, his parents Robert and Lynette, wife Mirka, daughters Myla and Charlene and sons Leo and Lenny made their way to the court. An emotional affair for the entire family, it was good to see Nadal staying late and walking off the court with Federer by his side.
Following the Day-1 of the Laver Cup, not only Federer, but Nadal also withdrew his name from the remainder of the tournament. With Nadal's wife Mery having some health issues, the Spaniard made the trip to London for just the farewell match of Federer.
Nadal's absence was however felt by Team Europe as they lost the Laver Cup for the very first time. Team World did not fall behind in any match and Frances Tiafoe's win over Stefanos Tsitsipas ensured the Team World will win the tournament for the first time after 4 consecutive defeats.
Had Nadal been playing, things could have been different as apart from his on-court presence, the suggestion and advice to other players from the bench could have certainly helped his teammates in the remaining two days. While Federer remained a part of the team, Nadal flew back to Spain immediately.
Also Read: Frances Tiafoe reveals Team World captain John McEnroe deliriously threw constant 'F-bombs' at them
Also Read: Roger Federer talks about his disappointment with the press recalling his heart-wrenching defeat to Hubert Hurkacz at the 2021 Wimbledon