Taylor Fritz stunned the world last week when he beat the 2022 French Open champion, Rafael Nadal, in his first Group stage match in the 2022 ATP Finals. The world could not believe it further when he advanced into the semi-final round, along with Casper Ruud from the Green Group.
He was looking good in the semi-final match against Novak Djokovic, too. He was able to dominate the match in the first set and was on the brink of winning that set until he blew it up.
It so happened that the World No.9 was dominating the second set at 5-4. He had already lost the first set but was looking determined to win this one. The points soon tied at 30-30 and Fritz was serving for the second set. A spectator shouted fairly loudly as he prepared to hit a backhand into the open side of the court to set up a set point with a winner along the line. Fritz's backhand, however, sailed into the net, awarding Djokovic a break point in its place. After that point, Taylor Fritz was incensed and expressed his dissatisfaction with the audience's behavior.
"This was tough. There was drama as Taylor Fritz looked to serve out the second set against Djokovic…" The American sports broadcaster Tennis TV posted small footage of the match with this caption.
This was tough 😳

There was drama as Taylor Fritz looked to serve out the second set against Djokovic…#NittoATPFinals pic.twitter.com/6HFMJdQFBe

— Tennis TV (@TennisTV) November 19, 2022
In the post-match interview, Taylor Fritz shared his own opinions about the incident.
"Someone just like flat-out screaming to like purposely try and throw you off – it's not something you're ever used to. So when it happens, it's an absolute shock. It's disgusting man," he said.
On the following point, Fritz's backhand went long, further infuriating him, and Djokovic eventually broke into the American's serve. Djokovic continued to take the second set in a tie-break to win the match 7-6 (7-5), 7-6 (8-6).
Also Read: John Millman lambasts Gerard Pique over the Davis Cup format following the retired footballer's comments on needing changes to appeal to young audience
Social media is confused whether it was a deliberate action by Taylor Fritz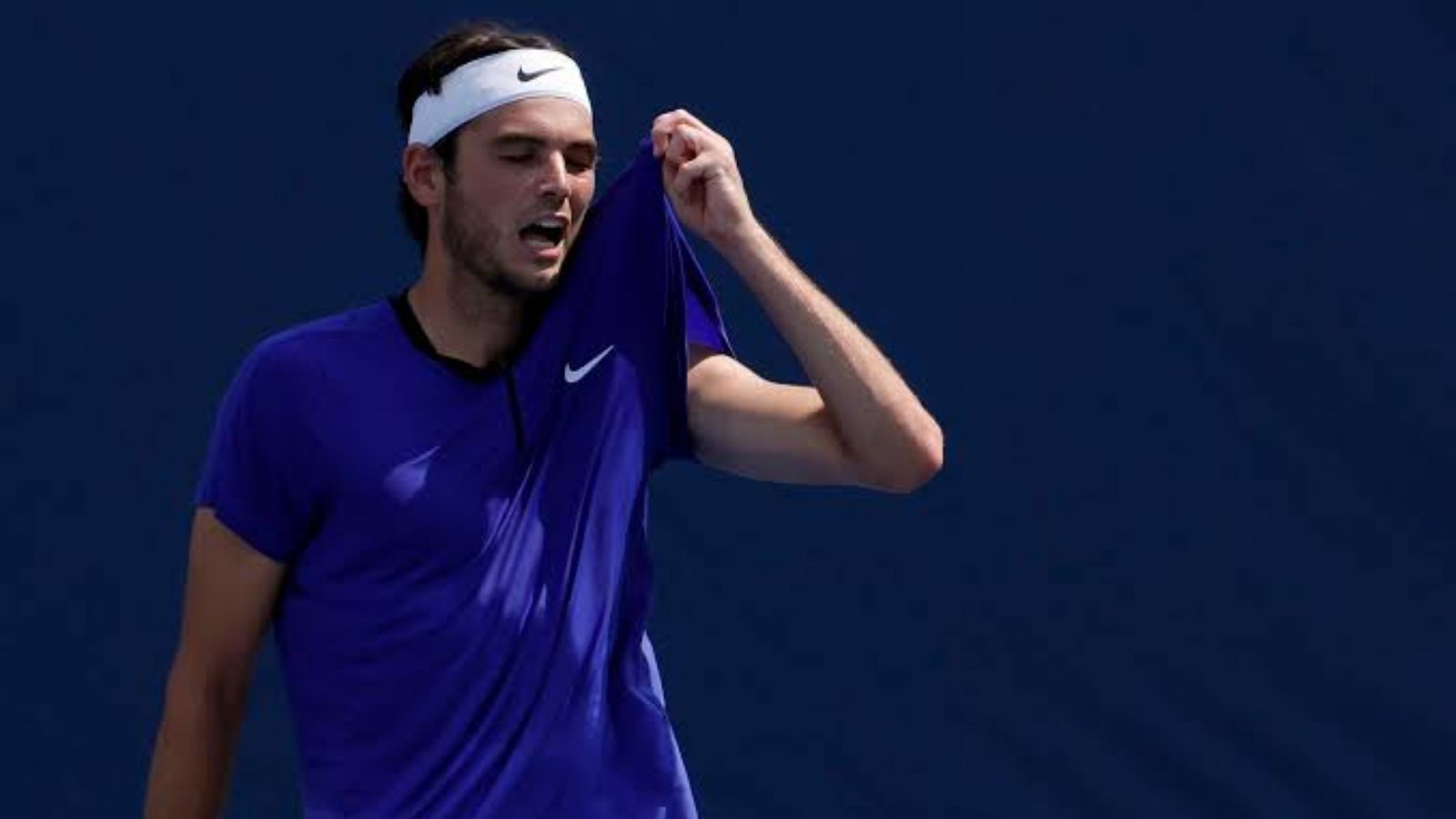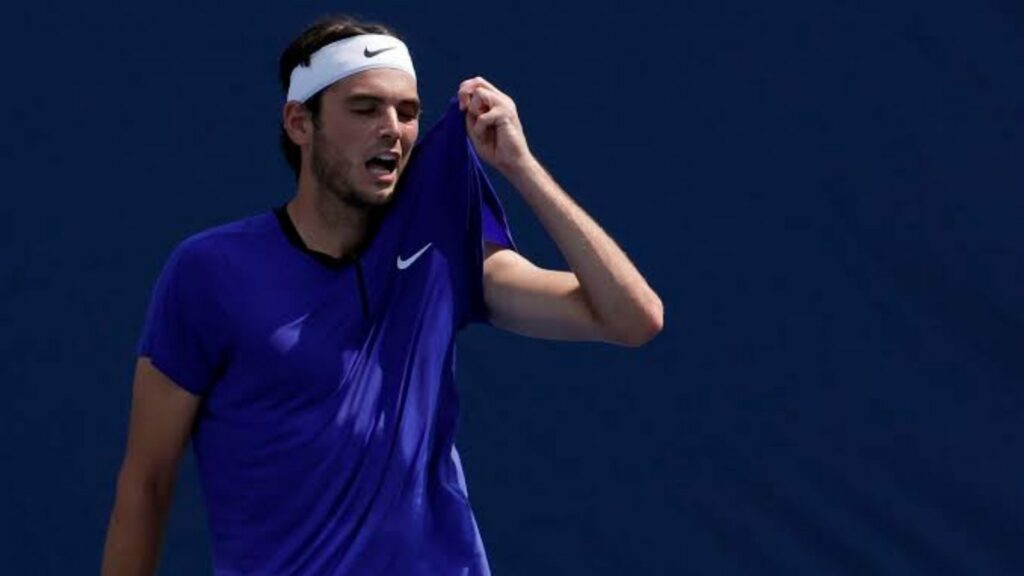 Taylor Fritz did not qualify for the 2022 season-ending prestigious tournament. He was ranked as World No.9. Everyone, including himself, thought that his 2022 season is over after he lost against Gilles Simon in the second round of the Paris Masters tournament. But an unfortunate injury to Carlos Alcaraz in the semi-final round of the competition led to his withdrawal from the ATP Finals. The American got entry into the prestigious tournament as Seed #8.
He made the most of his chance as he was able to defeat some of the biggest names in the sport and reached the semi-finals. However, this loss against Novak Djokovic will hurt him because he could have won the set and taken the match into the third set.
"Now is probably not the best time for me to give a good answer for the reflection of the week because I'm extremely upset about the match, more so about the things that happened in a match that I can't control," he said in the same interview.
On the question of what can be done when such an incident occurs or whether replaying the point is an option, Taylor Fritz conceded that there are no such rules and it would be not in the right spirit of the sport if it is allowed.
"What can you do? If you make a rule that you can replay the point, then the guy's just going to yell when I'm about to win a point, and then we're going to have to replay and it'll happen the reverse way. I can't expect anybody to be like, 'replay the point,' because in that situation I can't say that I would do that either. I kinda got screwed, and there's nothing that can really be done about it," he further answered.
Meanwhile, social media users are questioning whether Taylor Fritz was distracted, or the American is doing drama.
This was tough 😳

There was drama as Taylor Fritz looked to serve out the second set against Djokovic…#NittoATPFinals pic.twitter.com/6HFMJdQFBe

— Tennis TV (@TennisTV) November 19, 2022
It was his own fan, shouted "come on", he thought point was over..

— THE JOKER(S) 🃏🇷🇸 (@SerbsInSports) November 19, 2022
Blame one shout for your breakdowns in important moments 👏👏
Champion mentality!

— Vikash Kumar (@_Vikash) November 19, 2022
Should have made that shot regardless it there was noise from the stand or not.

— Pat_Porada (@realPat_Porada) November 19, 2022
This has happened to Novak like a millions times, but when he got an advantage for such interruption once,
you upload this non sense trying to convey people the message that this is why Djokovic made a come back.
How ugly and hypocritical you can get surprises me everytime

— AT Tesla Indian fan (@talrejaa8) November 19, 2022
Don't think the fan was trying to throw @Taylor_Fritz97 off I think he celebrated too soon but yah it sucked

— ❤️Fez 🧸 (@mbali_Djokofan) November 19, 2022
Like, literally, Djokovic played against Federer and 20 000 people numerous times, and won pretty much all of those matches… And I don't recall you even mentioned that? But you made a special clip about this?! You must be joking! 😄

— Igor Markovic (@IgorMarkovic_) November 19, 2022
why was that point not repeated?

— Doris (@Dorli_Wi) November 19, 2022
Yeah but then Novak had to win the next point. Taylor had a chance to bring it back. Tough but it could have been done.

— M Kim murphy (@MKimmurphy) November 19, 2022
One point does not win/lose a match.

— Luna (@Luna_SW19) November 19, 2022
It was @Taylor_Fritz97 Fan, not Djokovic 😄🙈

— Chilly Willy (@Chilly_willy99) November 19, 2022
That was tough, ok. Fritz said "that was disgusting", ok.
Now image people in your own box screaming talking loudly barking instructions at you & (in)fighting throughout the match, throwing off your concentration & calmness, making you lose your match?! It happened last night.

— LavanyaSingerDinesh🌺 (@LavanyaVocalist) November 19, 2022
@DjokerNole is used to it&has developed mental strenght for it.I bet it's hard&ppl shout when players needs silence.disrespect.Nole played&won matches when whole crowd was against him&yelling. So…You'll get there Fritz.The best #NovakDjokovic commercial #Peugeot #LetThemTalk 💪 pic.twitter.com/vP6GPSwJDr

— Merlivna Monroe (@MerlivnaMonroe) November 19, 2022
It was a Fritz fan, so… 🤷‍♀️

— Mari (@MarivalMari) November 19, 2022
Please no one screwed you over 😂. There were plenty points after that point that you could have won. If that didn't happen you still probably could have lost the match so what are you talking about being screwed over Taylor? Jeez, blaming the whole loss on one thing is crazy💆🏾‍♀️😂

— GiGi (@gigifrems) November 19, 2022
Excuses

— R2DR2 (@pdxamateur10s) November 19, 2022
It was Fritz fan tho

— savo 🐊 (@BiliSavo) November 19, 2022
Taylor Fritz must be proud of his achievements this year. He was able to play the semi-final match at the 2022 ATP Finals is a memory that he will cherish forever. This is the first time, but surely not the last time. We wish to see him play outstanding next year in the Grand Slams and other tournaments.
Also Read: "Really? Just underpants? Come on Wimbledon!" Fans express their fury through sarcasm over the rule change allowing female players to wear colored under shorts in the Wimbledon 2023
Also Read: "Horrible behavior" Martina Navratilova slams the NFL for allowing Deshaun Watson to practice with the Browns despite him not completing his suspension over charges of multiple sexual assaults