In yet another dramatic incident at the 2022 French Open, Romanian Irina-Camelia Begu made a small kid cry during her second-round match against Ekaterina Alexandrova. The match was on Court 13 where Begu and Alexandrova were a set apiece and the decider too was very closely fought.
The 30th seed Russian drew first blood and went a crucial break up in the third set and Begu was visibly frustrated with the course of the match. During the changeover, she released her frustration by throwing her racquet which bounced back and went straight toward the crowd. To Begu's dismay, the racquet directly hit a kid sitting in the front row. As soon as the racquet hit him, the kid started crying loudly and his parents were very concerned.
Begu regretted the decision and was standing next to the kid the whole time. The chair umpire noted the incident and called the supervisor. The crowd gasped in disapproval and as a result, Begu received a code violation for unsportsmanlike conduct. The Romanian was clearly sorry for her actions as she never intended to direct the racquet toward the kid. She later has a very nice moment with the kid. Begu won the match in three sets 6-7(3),6-3,6-4.
Also Read: John McEnroe blames Emma Raducanu's recent struggles on the frequent coach changes and parents' intervention
Twitter questions Camelia Begu's actions, calls for disqualification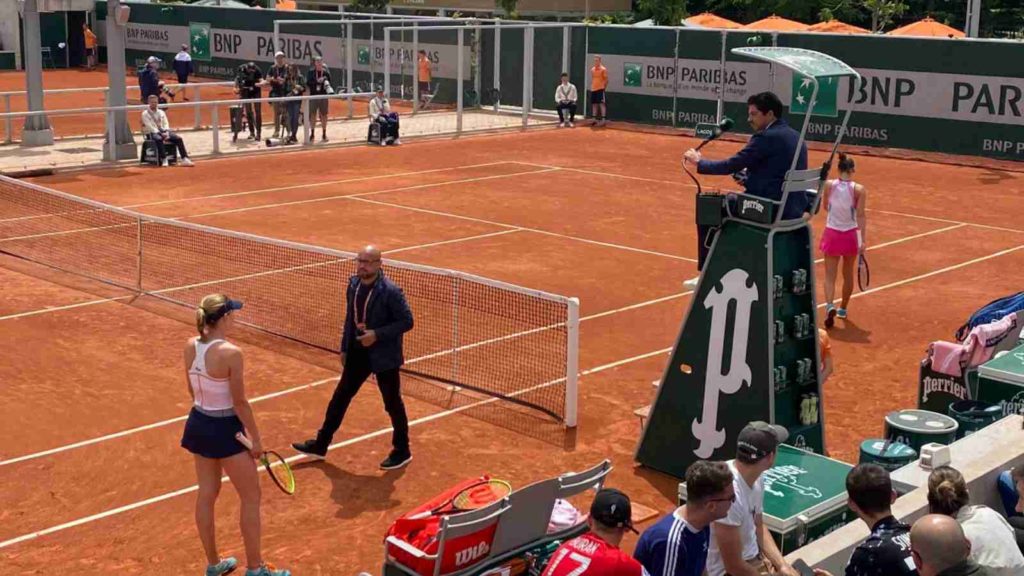 Begu's actions weren't obviously taken well by the internet. Twitter slammed her for unsportsmanlike conduct and even questioned, 'Why wasn't she defaulted?' Some even related this to Novak Djokovic's disqualification at the 2020 US Open.
On the court, Begu will now face Frenchwoman Leolia Jeanjean in the third round on Saturday.
Also Read: WATCH: 'Can you at least look at me?' Alexander Zverev irked by reporter on phone, demands total attention
Also Read: "Didn't realize it was this bad" Nick Kyrgios engages in a social media feud with Bernard Tomic, calls him 'the absolute worst player