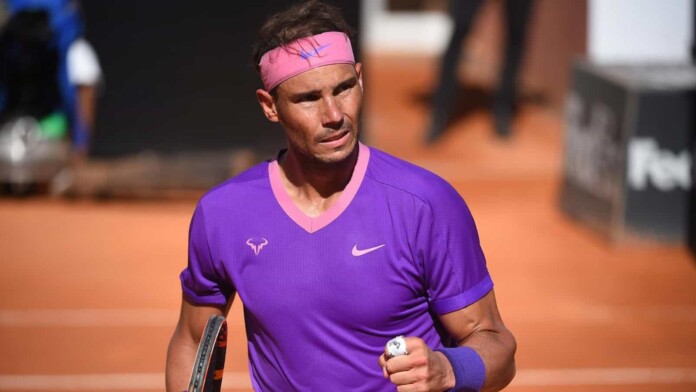 Rafael Nadal secured a straight sets victory over Alexander Zverev in the quarterfinals of the Italian Open 2021. The Spaniard won in straight sets by a score-line of 6-3, 6-4, and will face the American, Reilly Opelka in the semifinals on Saturday. The second seed is chasing his 10th title in Rome this year, and is just two wins away from doing so.
It was a sweet revenge for Rafael Nadal, who was defeated by Alexander Zverev in the quarterfinals of Madrid Open 2021 last week. The Spaniard was delighted after his victory over the German, and stated that he played a perfect match against Alexander Zverev.
"I have played very well all the time. Major win. Solid match. In Madrid the conditions were very fast, here it's different. I am happy," said Nadal. Rafael Nadal's upcoming opponent is Reilly Opelka, who is a surprise name in the semifinals of the Italian Open 2021. The American is one of the tallest players on tour, and a lethal serve. Nadal stated that it was difficult to return Opelka's serve, and he expects a tough semifinal. "It's almost impossible to return his serve. Tough matchup," he added.
I had some fantastic battles with Roger Federer: Rafael Nadal
Rafael Nadal and Roger Federer have played several memorable matches against each other. Among one of their most memorable matches is the Rome Masters 2006 final. Back then, the finals of the Rome Masters were a best of five encounter. Rafael Nadal won the encounter, defeating Roger Federer in a five-set thriller, that went all the way down to the last set tiebreaker.
"The old times were good and beautiful. I had some fantastic battles with Roger. The best thing for me is that 15 years later I am still here. Something unexpected for a lot of people, and for me too," said Nadal.
Rafael Nadal played a long three set match against Denis Shapovalov in the third round, and he might have been a bit exhausted for the quarterfinal. However, Alexander Zverev also was involved in a tight three set affair with Kei Nishikori on Thursday, and had to grind out a victory against the Japanese.
"Zverev played a long match yesterday too, but he is 10 years younger than me. I remember very well the feelings you have with your body when you are younger," the Spaniard added.
Also Read: Italian Open 2021: Rafael Nadal gets his Madrid Open revenge, defeats Alexander Zverev in straight sets in the quarterfinals