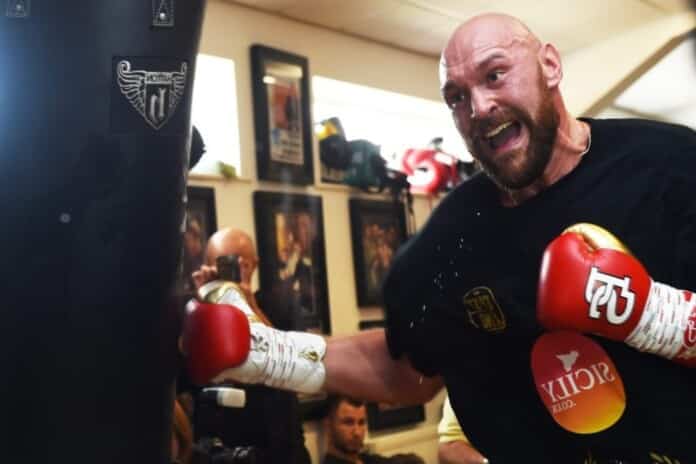 Tyson Fury might let it all lose after a victory. He will be seen completely unbothered about his body, gaining extra weight, partying; but once a fight inches closer, there is no one stopping him. 'The Gypsy King' becomes a 'monster among men', and pushes himself to the limits.
He is currently in America, set to witness his mate Billy Joe Saunders take on the ever-evasive Canelo Alvarez. BJS who is also of a 'Gypsy Mentality' is confident of upsetting the Mexican, to unify the super-middleweight title.
Saunders' cutman Jamie Sheldon recently revealed a mind-blowing story about Tyson Fury, sparring for over 30 rounds without taking a break, not even a water break. Yes, you read that right! Speaking in an interview with Planet Sport, Sheldon extensively detailed Fury's recent sparring session.
'I'm going to finish on the heavy bag, can I have a drink please?' – Jamie Sheldon on Tyson Fury
Sheldon was quoted as saying, "He said, we'll do 10 rounds. So after the first round, he had sparred for three minutes and then we stopped for a minute. Second round, we stop for 30 seconds and he says these breaks are too long. After the second round, he turns around and says 'I'm not having a break, let's just leave it.' Twenty-five to 30 rounds later and he never had a drink either in all that time – 25 to 30 rounds later he just went to everybody, 'right I'm done, I'm going to finish on the heavy bag, can I have a drink please?'" [via Planet Sport]
He then said, "Honestly, it was unbelievable and he finished as light on his feet as he started which I thought was freaky and seeing him up close, seeing a man his size and stature throwing a double jab as fast as he did – blown away. I respected him before as a fighter and I appreciated how good he was but it's gone through the roof seeing him up close. I was in awe of the fella, absolutely ridiculous." [via Planet Sport]
Tyson Fury vs Anthony Joshua is yet to be announced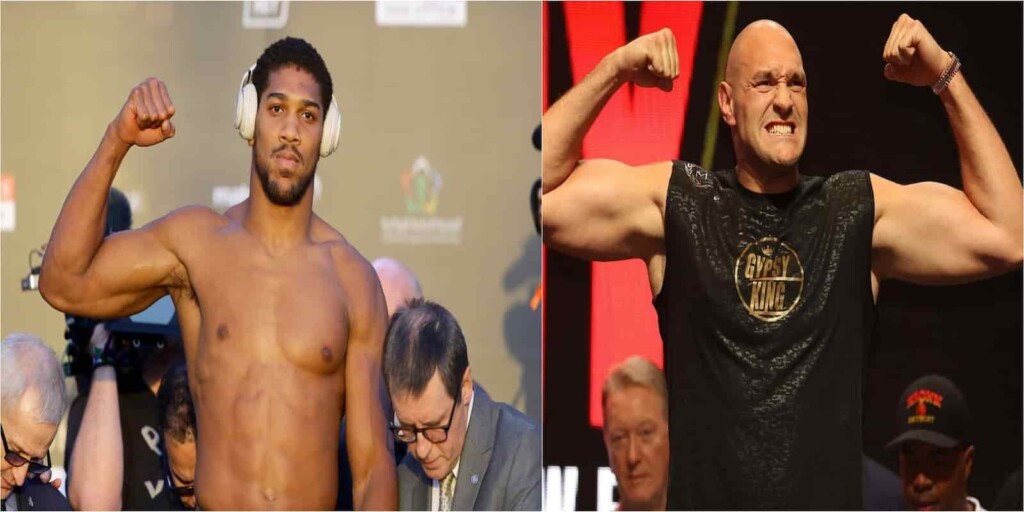 Eddie Hearn recently revealed that he would make Tyson Fury vs Anthony Joshua official during Billy Joe Saunders vs Canelo Alvarez fight. However, there have been very little signs of the fight being made official this soon.
The parties of both the fighters are struggling to land a proper location, after agreeing to a title-unification fight deal. Hearn has been extensively blamed by Fury's promoter Bob Arum for not speeding up things. Fight fans have been eagerly waiting for the fight to see the light of day.
Also Read : Canelo Alvarez vs Billy Joe Saunders – Other fights, What time is the fight, How to watch and Prediction
Also Read : Michelle Waterson opens up on pulling out from UFC 257