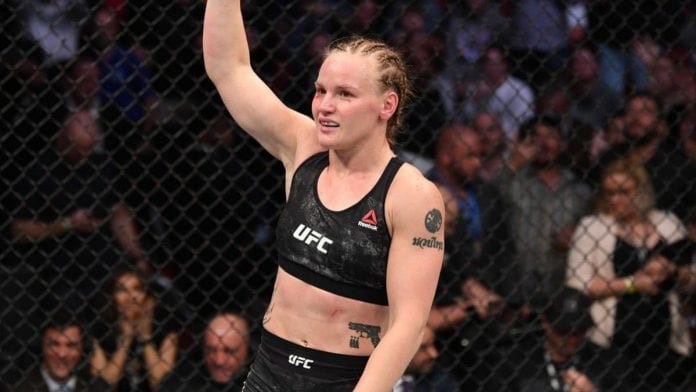 The first of the three title fights saw Valentina Shevchenko the women's flyweight champion go up against the Brazilian Jessica Andrade. Shevchenko was coming off a win against Jennifer Maia and was on a 6 match win streak, whereas Andrade snapped a two fight skid with a victory against Katlyn Chookagian.
Round 1 :
A few kicks from Valentina began the fight. One two from Valentina. A quick takedown from Valentina, followed by another. She then caught her with a high kick on the break. A few short punches from Valentina. The action shifted to the cage. Another takedown from Valentina. Having Andrade locked up against the cage Valentina kneed Andrade several times and then executed another takedown. Takedown number 5! 10-9 Valentina
Round 2 :
Takedown number 6 from Valentina began round 2. Once the action shifted back to both fighters on their feet after brief strikes from Valentina, the Kyrgyzstani executed another takedown and put her in a crucifix position and started opening her up with massive punches, before the referee waved off the fight. What a win for Bullet Valentina.
Winner : Valentina Shevchenko def. Jessica Andrade (TKO)
Also Read : Dana White reveals Jon Jones might have to wait as he charges $30 million to fight Francis Ngannou
Also Read : Colby Covington on his photo with Jorge Masvidal's wife