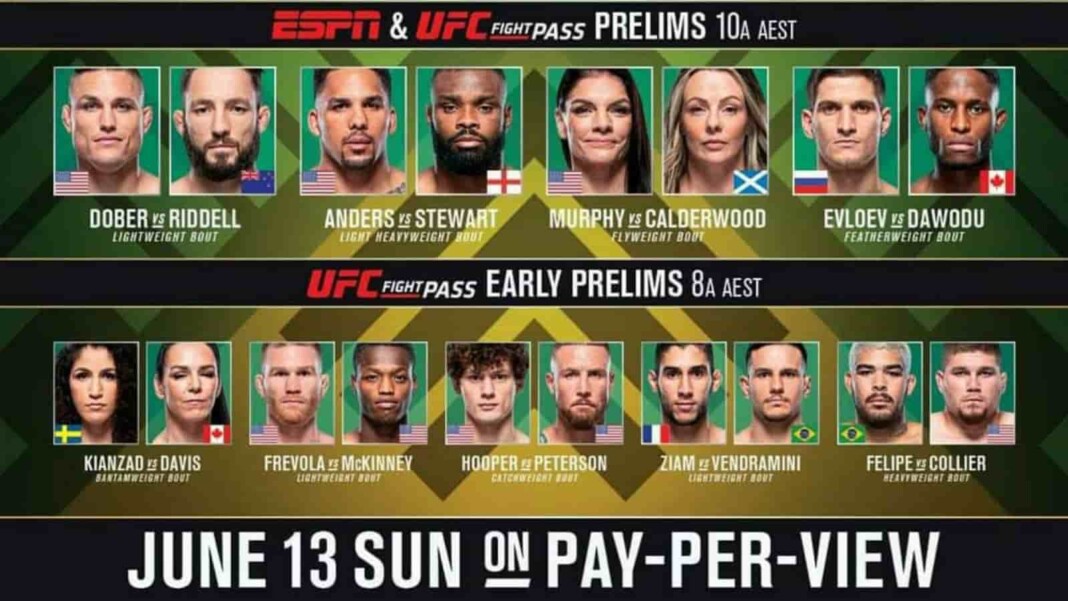 UFC's one of the most anticipated event UFC 263 kicked off today. The event took place at Gila River Arena in Glendale, Arizona. This event had one of the most interesting rematches possible. The main card airs on pay-per-view following prelims on ESPN/ESPN+.
UFC 263 was headlined by an excruciating matchup between former middleweight rivals Israel Adesanya vs Marvin Vettori 2. In the co-main event, we had flyweight champion Deiveson Figueiredo defend his title against Brandon Moreno for the second time. The most anticipated bout in the card is the fight between Nate Diaz and Leon Edwards. Despite being a non-title fight in the card it pulled massive attention given the return of the Diaz brother. Apart from the main card, the early prelims and preliminary card had an interesting lineup at UFC 263. Take a look at the results.
UFC 263 Early Prelims results:
Jake Collier vs. Carlos Felipe (Heavyweight):
Result: Carlos Felipe def. Jake Collier via split decision (28-29, 29-28, 29-28)
Luigi Vendramini vs. Fares Ziam (Lightweight):
Result: Fares Ziam def. Luigi Vendramini via majority decision (29-28, 29-28, 28-28)
Chase Hooper vs. Steven Peterson (Featherweight):
Result: Steven Peterson def. Chase Hooper via unanimous decision (30-27, 30-27, 29-28)
Matt Frevola vs. Terrance McKinney (Lightweight):
Result: Terrance McKinney def. Matt Frevola via knockout (punches) – Round 1, 0:07
Alexis Davis vs. Pannie Kianzad (Women's bantamweight)
Result: Pannie Kianzad def. Alexis Davis via unanimous decision (30-27, 30-27, 29-28)
UFC 263 Preliminary card results:
Hakeem Dawodu vs Movsar Evloev (Featherweight):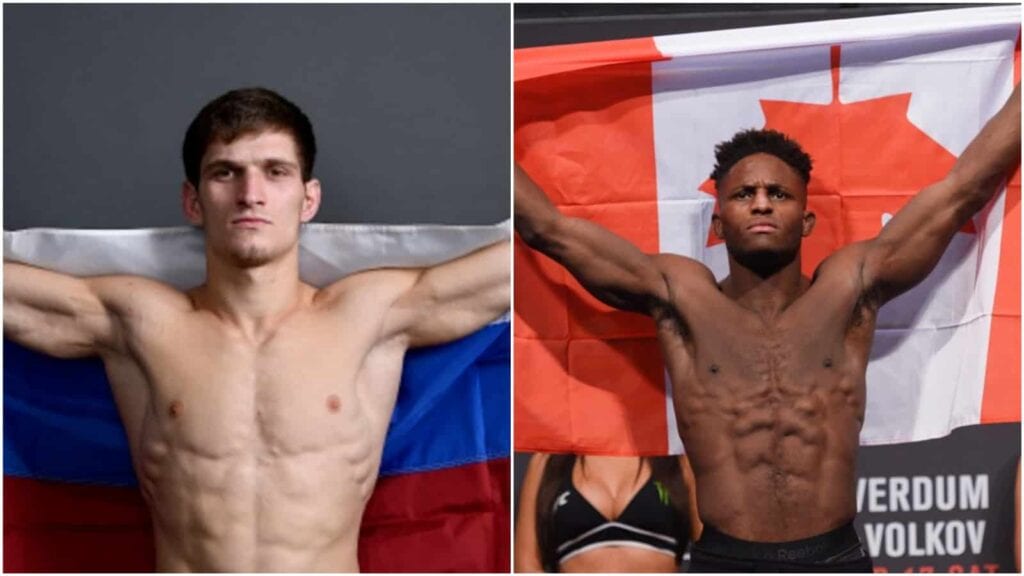 Round 1: The first fight of UFC 263 preliminary round begun with jabs traded from both fighters. Evloev, the first to throw a big overhand right that connects. A lot of movement from Evloev. Movsar managed to create angles and score with both rights and left. Dawodu took some time to come to grips with it. Evloev went for the leg and both the fighters in a scramble now. A lift from Evloev and Dawodu is thrown to the floor. Great grappling from Movsar. Short punches were landed by the dominant fighter and Movsar went out for the choke. Dawodu managed to not allow the choke to happen but can't do much.
Round 2: Evloev with a right hand and immediately went for the legs of Dawodu. Looked like Movsar had the same gameplan for the second round too. Once again Evloev manhandles his opponent and slammed him to the ground. Movsar wasted no time in ground and pound and went straight for the choke. But he could not get that choke. A lot of time on the canvas spent by both fighters. Dawodu can't get back to his feet as he is getting punched while on the ground. Round ends on the canvas.
Round 3: This time Hakeem tried something new and went for high kicks but went in vain as Evloev defended them. Great takedown defense from Dawodu in the final round as he escapes a leg sweep from his opponent. Finally, some success for Dawodu on the feet as he lands a few kicks and punches at Hakeem. A straight dagger to Evloev as Dawodu gets the crowd riled up in the final round of the fight. Evloev managed to get the takedown somehow, finishes the round with a hammer fist.
Result: Movsar Evloev def. Hakeem Dawodu via unanimous decision (29-27, 29-27, 29-27)
Joanne Calderwood vs. Lauren Murphy (Women's flyweight):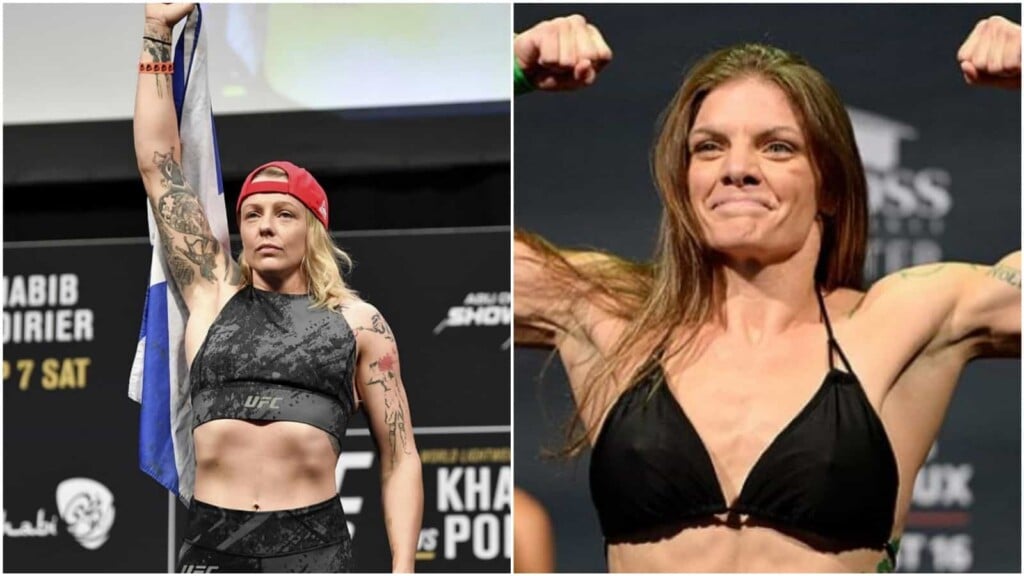 Round 1: The second fight of preliminary card at UFC 263 began with Calderwood acting as the aggressor. Both the fighters did not hold back as Murphy moved forward to press her opponent. Knees were traded from both fighters. Murphy with a left hand which was followed by right. A great kick from Calderwood to score on the body. A decent overhand right landed by Murphy but she moved from the clinch. Round ends.
Round 2: Once again, Lauren is acting as the aggressor as she looked to press forward trying to cut any space between the two. A crisp right hand landed by Calderwood towards Murphy. Lauren looking to change levels as she moves forward for the takedown. The action is now on the canvas. Short punches landed by Murphy as she was in full control. Calderwood finding it really tough to escape. Murphy heavy on top as the round ended.
Round 3: A clean right hand by Calderwood. This time Joanne moved around well with punches landed. A kick towards Murphy to the body. Murphy looked to change levels, but failed as Calderwood pushed her away. Murphy tried to push but Calderwood managing to keep the fight moving with punches and kicks. Another successful takedown defense from Calderwood. Amazing work by Joanne in this round as she scores a lot of punches. Calderwood jabs and punches left a mark on her opponent's face. Both the fighters traded punches in the end of the round. The bell rings!
Result: Laren Murphy def. Joanne Calderwood via split decision (29-28, 28-29, 29-28)
Eryk Anders vs. Darren Stewart (Light heavyweight):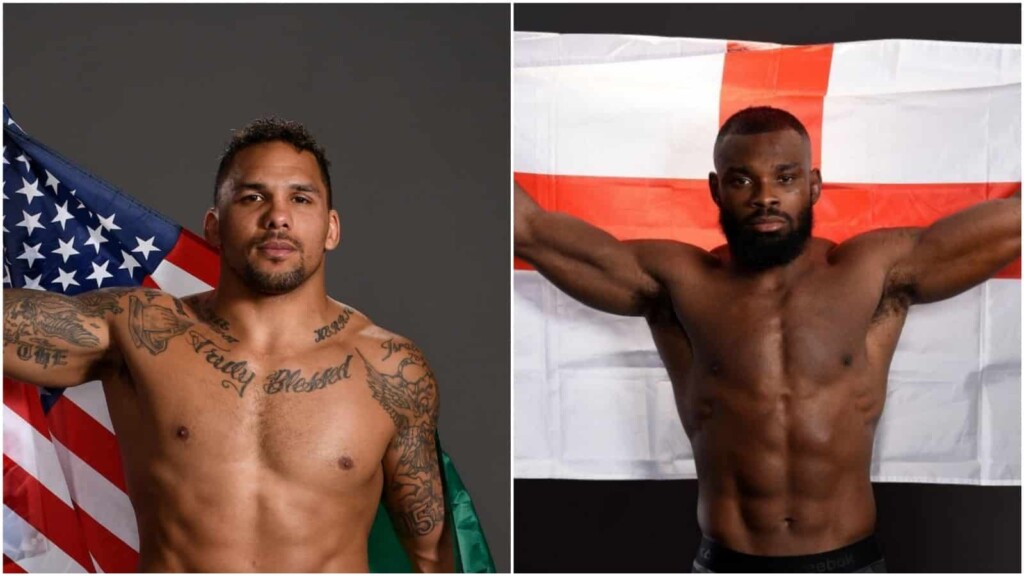 Round 1: Stewart looked real light and swift on his feet as the fight began. Darren worked his opponent with a few kicks as he moved around the octagon. Both the fighters slide in to the fence and in a very weird position trying to get the clinch. Not a lot shots were thrown as they get a reaction from the crowd. A lot of time against the cage as the crowd boos louder than before. Finally a trip, as Stewart gets a takedown. Round ends. Nothing exciting.
Round 2: This time, the fight started a little more aggressive as Eryk looked to throw a huge left hand. A takedown for Anders as he drove to the clinch. As the fighters went towards the fence, crowd boos galore. A restart to the fight as referee looked to get things back into action. Both the fighters traded a few shots since the reset. Once again the crowd boos as the fighters try to clinch. Then both the fighters trade a few punches as the round ends. Not much action in this fight.
Round 3: Stewart moved well looking for the right space as Anders lands a left followed by a right. A wonderful takedown attempt from Stewart but Anders is back up on top using his volume. Big left hands landed from Anders while they stayed on the ground. Stewart looking to get back to the feet but found it very hard. Anders punches away as he remains to have control. A lot of damage caused from the punches. Finally they are on their feet but Anders continues to trade blows.
Result: Eryk Anders def. Darren Stewart via unanimous decision (29-28, 29-27, 29-27)
Drew Dober vs. Brad Riddell (Lightweight):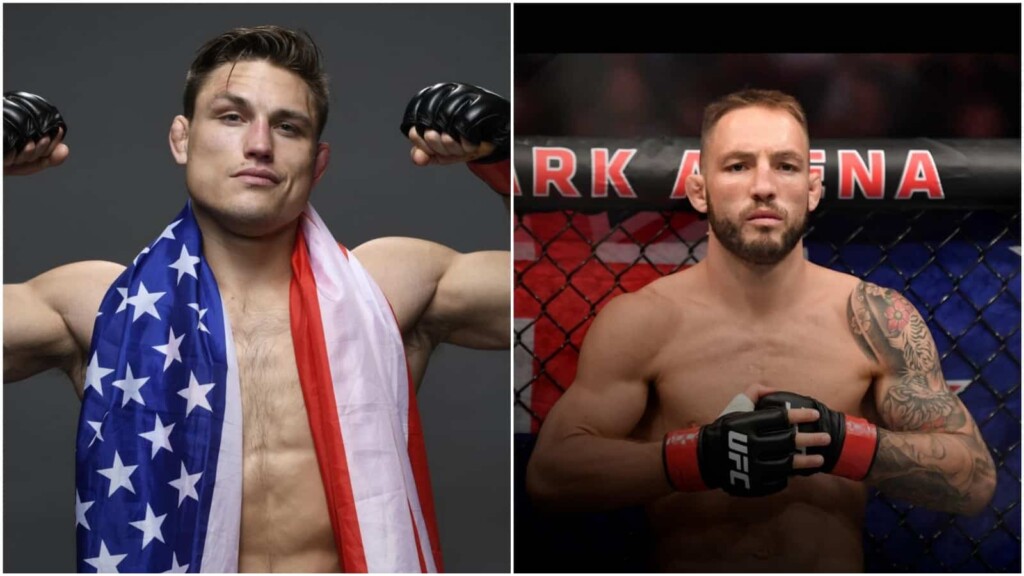 Round 1: The last fight of the preliminary card before the heavy hitters walk-in at UFC 263. Low kicks traded from both the fighters. Dober leads with two straight punches and received his share from Riddell. Riddell looking to change levels as Dober continues to punch. Riddell manages to push him to the cage but Dober manages to get back on his feet and pulled away. Great exchange from the fighters. As Riddell lands two left hands and is reciprocated by Dober. Dober is the one that acted as the aggressor. With the intense exchange, Riddell has a cut on his forehead. What a round of fighting! Great exchange of strikes from both the fighters.
Round 2: Both the fighters wasted no time to engage into a fight. Big shots landed in an opening flurry. Drew with a change of levels as he goes for the takedown. The fight is back on feet after a failed attempt at grappling. Riddell is bleeding and has blood pouring from the nose. A clean left from Dober as both trade shots. A huge left hand from Riddell. Low kick from Brad and kicks to the body. End of the second round!
Round 3: The final round starts with Riddell going at Dober's body. Dober looked to press but Riddell countered beautifully. Dobers looked to change levels and going for the takedown. Riddell displayed amazing defense. Both the fighters slinging their hands as they traded hooks. Dober countered Riddell's kicks with huge punches. Dober hits his opponent with a double jab. Dober lands a punch, Riddell lands back. Story of the fight. Riddell ends the round staying on top and punching his time away. What a fight! That's an end to UFC 263 preliminary card.
Result: Brad Riddell def. Drew Dober via unanimous decision (29-28, 29-28, 29-28)
That's all for the UFC 263 early prelims and preliminary card. Hope you enjoyed it. The main card is coming up with some exciting fights lined up.
Also read: UFC 263 Live Results: Israel Adesanya vs Marvin Vettori 2, play by play results