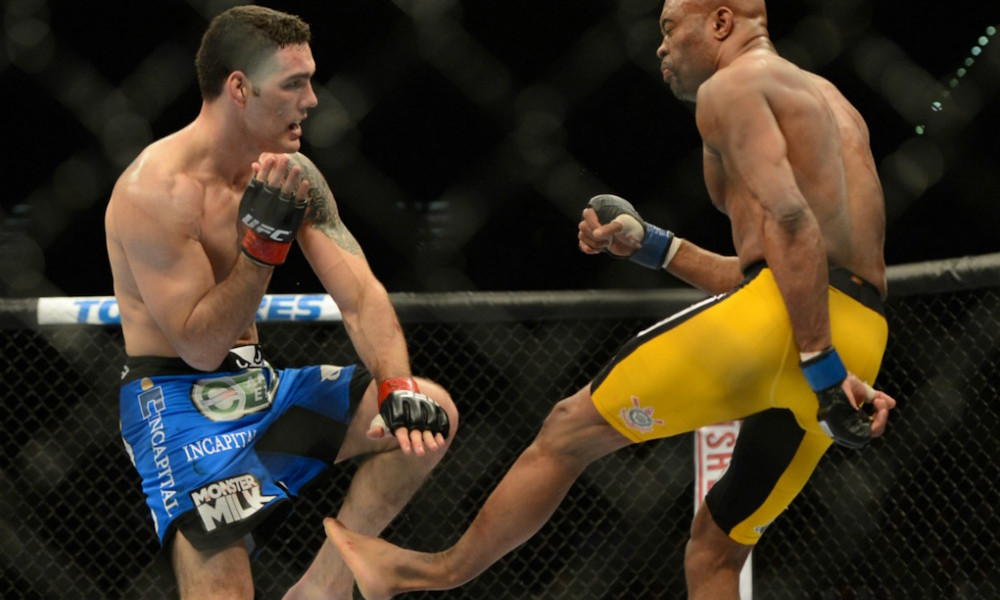 At a full house inside Jacksonville Arena, Chris Weidman stepped inside the Octagon for his UFC 261 fight against Uriah Hall. Little did he know that the fight would end in the next 17 seconds. 'The All American' had his right leg snapped in half after Hall checked Weidman's vicious leg kick. The fight was waved off then and there, and it was awarded to Hall who hadn't even landed a single strike.
Weidman was taken to the hospital immediately and was operated on the next day. He has been recovering steadily ever since. And more recently, Chris Weidman started a new show called Won't Back Down on his YouTube channel. And to make things special he invited Anderson Silva as his guest.
Now, Silva and Weidman have a huge history inside the Octagon. Weidman famously stopped Anderson Silva at UFC 162, and did the same at UFC 168. However, at UFC 168, Silva's leg had snapped strikingly similar to the way Weidman had his leg snapped recently. The pair reminisced about that incident.
'I've never even said this out loud but it's been on my mind since it happened' – Chris Weidman
Weidman apologized for the aftermath of the incident. Weidman, wasn't aware of the situation (that Silva's legs had been broken) and hence celebrated quite wildly following the fight.
Weidman was quoted as saying, "I feel terrible now because I now I understand the pain that you went through, all the trials and tribulations that you went through, and it just makes me empathize with you so much more with those situations. And, to be honest, I've never even said this out loud but it's been on my mind since it happened. I want to apologize to you because afterwards, I felt terrible."
Following that injury, Silva recovered after 12 months, and at UFC 183 in 2015, he made his comeback against Nick Diaz. However, he was never the same after that leg injury.
Also Read : 'They sparred and made money' – Khabib Nurmagomedov mocks Logan Paul vs Floyd Mayweather
Also Read : 'Borrachinha is totally right' – Patricio Pitbull Freire rips into UFC over Fighter Pay Issue