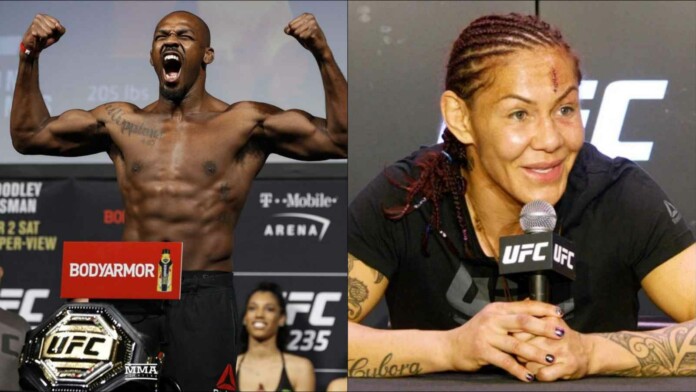 Jon Jones' heavyweight future is uncertain right now. He hasn't fought for almost 10 months since joining the heavyweight division. Payment dispute with the UFC President Dana White has been the main reason for any fight failing to materialize. Jones is 33 right now, and his prime years are being wasted already.
In the wake of this, Jones recently tweeted that he has retained Richard Schaefer as his advisor. He revealed that with Schaefer's experience he will reach greater heights in terms of massive PPV events.
Elsewhere, Bellator Women's Featherweight Champion Cris Cyborg weighed in on the Jon Jones situation. She felt that Muhammad Ali act should be used to protect fighters in MMA. The Ali act is only meant for boxers, for protecting their welfares and interests. It hasn't been extended to other combat sports like MMA and kickboxing.
'We need the Muhammad Ali act to protect fighters in MMA' – Cris Cyborg
Jones' tweet read, "I have retained Richard Schaefer as my advisor. Richard has been in the combat space for over 20 years and has put together some of the biggest global pay per view events over that period. The likes of Mayweather, De La Hoya, Canelo, Hopkins, Barrera, and Marquez have headlined the exciting events that Richard has promoted and produced."
He then went on heaping praise about Schaefer's experience, "His knowledge and experience of the Pay Per View industry and combat sports are second to none. I am excited to embark on his next chapter of my career as I continue to cement my place in history as one of the greats with Richard as my advisor. I can't wait to give my fans and the sport the fights they want to see."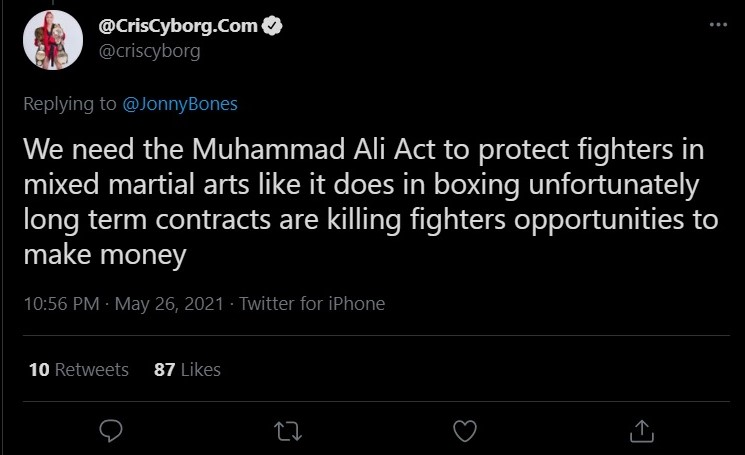 Replying to Jones' tweet, Cyborg wrote, "We need the Muhammad Ali act to protect fighters in mixed martial arts like it does in boxing. Unfortunately, long term contracts are killing fighters opportunities to make money."
Jon Jones reveals that he wouldn't be fighting this year!
In a recent twitter interaction with fans, Jones claimed that he felt he wouldn't be fighting for another year, due to the uncertainty surrounding his future. He tweeted, "Yes, I got a feeling you guys will still be around. The sport should be bigger than ever by then.. Always looking on the bright side."
Also Read : Why was Anderson Silva vs Nick Diaz a no contest?
Also Read : When is Francis Ngannou's next fight?