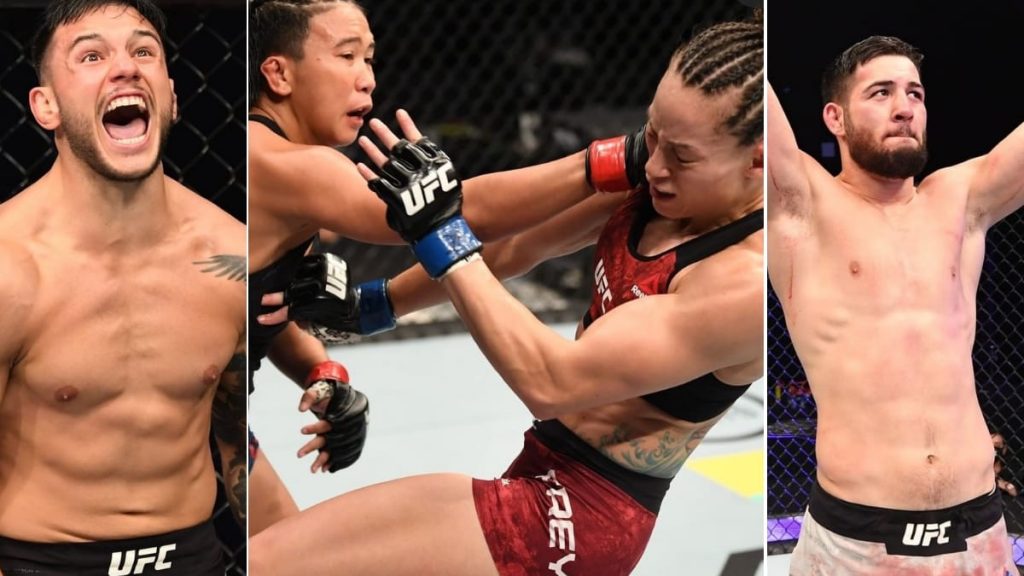 UFC Fight Island 4 is live! The event kicks off with prelim fighters putting an amazing display. Carlos Condit comes back to winning ways, Kenny put an amazing martial art show.
Watch all results below-
Carlos Condit def. Court McGee by unanimous decision (30-27 x3)
Carlos "The Natural Born Killer" Condit and Court Mcgee were the main bout in the prelims and with the fight that took place, they proved so. The NBK came off after a long halt from the game and looked impressive. Although both the fighters had something to showcase, Condit took away the win with his thrilling performance in the 3rd round.
Charles Jourdain vs. Joshua Culibao ends in split draw (30-27, 28-29, 28-28)
The split draw decision in the fight between Jourdain Culibao seemed pretty controversial. The split draw in MMA is very rare and even the commentators criticised the decision. Culibao, the biggest underdog on the card had two solid rounds, only to be outclassed by Jourdain in the third. Both fighters put on a good performance, however the favored in the fight was Culibao. Criticism came flowing after a judge gave 10 points to Jourdain in all three rounds even though he was dropped twice and suffered a broken nose.
Nassourdine Imavov def. Jordan Williams by unanimous decision (29-27, 29-27, 29-28)
Imavov defeated Jordan Williams after his amazing performance in the Octagon. Imavov, as expected had an upper hand in the fight and showcased it beautifully, earning him his first victory inside the Octagon.
Loma Lookboonmee def. Jinh Yu Frey by unanimous decision (30-27, 30-27, 29-28)
The woman strawweight bout between Lookboonmee and Frey ended up in a win for the former via unanimous decision. The fight wnet on for full 3 rounds with Loma Lookboonmee having an upperhand with her striking and grappling skills that outclassed Jinh Yu Frey.
Casey Kenney def. Alateng Heili by unanimous decision (30-25, 30-26, 30-27)
The already packed bantamweight division got themselves a new player tonight after a remarkable performance by Casey Kenney against Alateng Heili in the prelims. Kenney put his striking to good use as he smashed Alateng with vicious body kicks and made sure to leave a mark, literally.
So happy with his performance, Kenney jumped off the cage and claimed he wants to fight again next week. Lets see what the future holds for the new bantamweight contender.
Luigi Vendramin def. Jessin Ayari by TKO (head kick and punches, R1 at 1:12)
Luigi Vendramir got his first octagon win with a highlight-reel knockout, stopping Jessin Ayari with a head kick in the first round.
After referee Jason Herzog stepped in to save Ayari, who faceplanted to the canvas after taking the shot, Vendramini let loose years of frustration with a primal scream and tears in the octagon with his father.
Also Read: UFC Fight Island 4 Holm vs Aldana: Holly Holm won against Irene Aldana by Unanimous Decision of judges