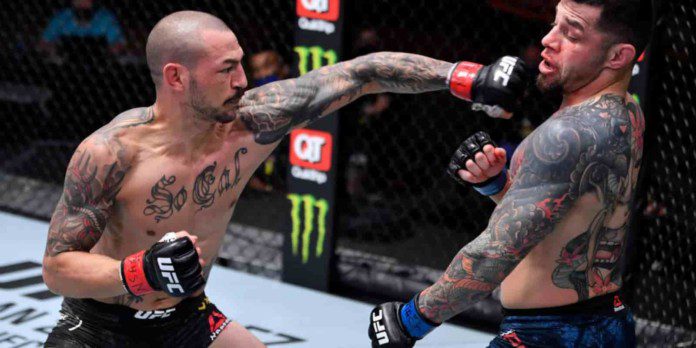 This was his 40th pro appearance and win it, and man did Cub Swanson show why he is one of the few evergreen fighters that cannot be counted on when it comes to putting on a show no matter how long and rough the road of a professional fighter goes.
Swanson dazzled the MMA fans and moreover shocked his opponent Darren Elkins for his amazing boxing and secured his 13th career win via knockout at UFC Fight Night 199. Swanson landed a powerful straight and two devastating hooks to deliver the first knockdown of the fight within the first round. Watch this GIF below to assess what happened for yourself.
Cub Swanson finishes the job with a spinning kick and another hook
The fight was stopped in the second knockdown after Swanson closely landed a spinning kick and landed another hook at Elkins to allow Herb Dean to intervene and stop the fight. This comes as an upset to the MMA world for they expected the fight to go to the later rounds considering the iron-chinned Elkins was in the fight.
Twitter reacts to Cub Swanson's smooth knockout victory over Darren Elkins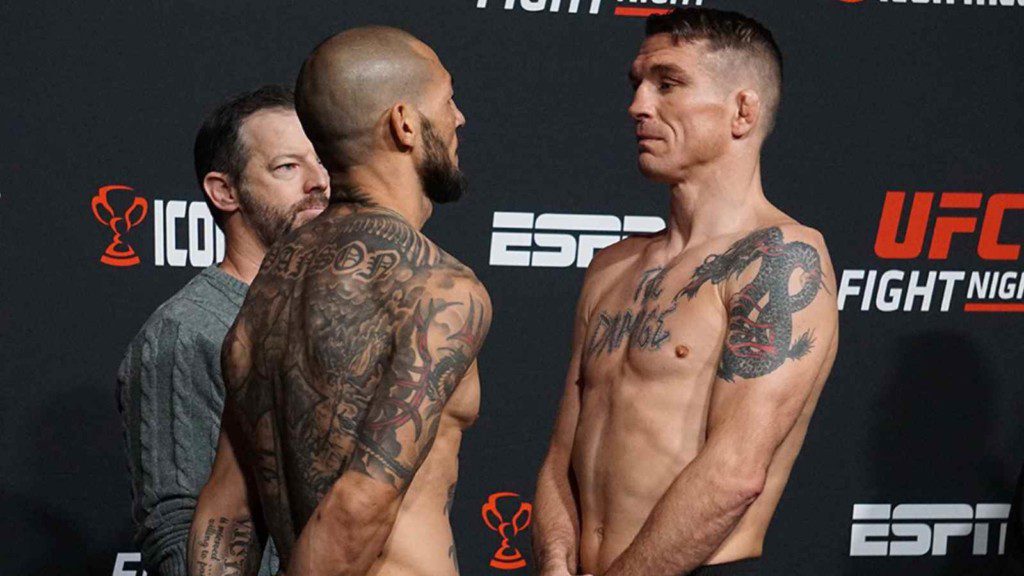 At 38, Cub Swanson is putting on shows for the UFC. For someone who's fighting since the WEC days, Swanson's persistence inside the fight game will speak volumes of his legacy no matter what. His significant victories now include Elkins, Doo Ho Choi, Kron Gracie, Dustin Poirier, Charles Oliveira, George Roop, Dennis Siver, and Jeremy Stephens. Here's Twitter going wild over Swanson's knockout victory and hailing over his legacy!
Whenever he decides to hang on the gloves, we shouldn't be judging with how Cub Swanson's legacy lacked championship runs, a fighter's legacy should always be judged by his/her will to keep up with the toughest of opponents from one era to the other, and Swanson checks on that box in a very legendary way!
Also Read: "I've taken him at his word"- Chael Sonnen believes Charles Oliveira might let Conor McGregor skip the line in a "scumbag move"