Julianna Pena turned the entire MMA community upside down after she submitted the alleged G.O.A.T of women's MMA, Amanda Nunes at the co-main event of UFC 269. She dethroned Nunes to become the women's bantamweight champion, and it was one of the biggest upsets in all of combat sports history.
Related – "My journey is my journey"- Kayla Harrison reveals whether Amanda Nunes' loss to Julianna Pena has a bearing on her move to UFC
Many were stunned by Pena's performance, but the former lightweight champion, Khabib Nurmagomedov thought it was pretty ordinary. He organized a press conference for his promotion "Eagle FC", and a reporter asked him if he is planning on introducing a women's weight class in his promotion. Khabib was quick to respond to the question, and he claimed there aren't many good women fighters in the world.
And to prove his point, he took the example of Pena vs Nunes. He said, "I am like, we can watch what Julianna Pena did with Amanda Nunes. But Julianna Pena, she's not like greatness or something like that. She just beat Amanda Nunes like."
Khabib then made it very clear that he is not planning on including a women's division anytime soon, "We can watch and not many good fighters all around the world. There are only like five or six of them. And so we will wait and see," Khabib concluded.
"He was completely downgrading the whole win"- Julianna Pena was heartbroken by Khabib Nurmagomedov's comment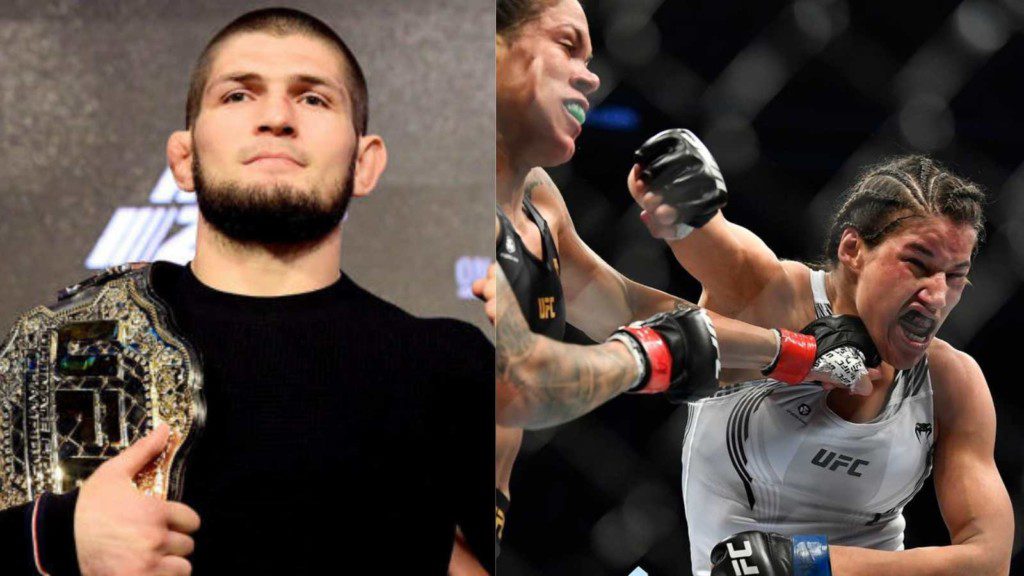 Pena addressed this on her appearance on Joe Rogan's podcast, she said, "I saw in a presser that they asked a question and he was just completely downgrading the whole win and everything like that….it totally broke my heart. I was like, 'Dude, you're breaking my heart, man. Like, I freaking love you. Like, seriously."
"He must be friends with Kayla Harrison or something. I don't know. Because he was like, 'If this is the top of women's division, it's a joke," Peña said. "I mean, it wasn't very nice. I didn't appreciate it, Khabib."
Also read – "Pay me and I'll fight Fedor," Pena open to fight Kayla Harrison only if the money sounds right