Jake Paul has successfully built his boxing career by beating up old and retired UFC fighters including Tyron Woodley, Ben Askaren, and Anderson Silva. Unfortunately, the fighter failed to do so against a proper professional boxer, Tommy Fury. Doesn't matter what his critics say Paul has shown his dedication to boxing and has impressed many with his boxing skills including Joe Rogan.
UFC color commentator and Podcast host, Rogan is known for his extensive experience and knowledge of combat sports. On top of all that, Rogan has quite a reputation for being a legit mixed martial arts practitioner himself. In one of his podcasts with comedian Andrew Shultz, the 55-year-old addressed how he would perform against Paul in a boxing match.
Rogan was totally humble and realistic with his expectations and said, "He would probably f*** me up. He's a really good boxer." When Shultz changed the question from boxing to kickboxing where Rogan is relatively better, Rogan mentioned that age will be a great factor. According to Rogan, now he suffers from knee pain and it won't help him fight Paul in a kickboxing bout.
"When I was a younger man and I had good knees I could be Kickboxing people but I can barely get through a workout without being in pain now," said Rogan. Rogan has a cult following and they would have loved to see him going against Paul it would be an amazing PPV event.
Related: 'Makes 27 million but can't pay $300,' Former UFC fighter accuses millionaire Jake Paul of refusing to pay after getting dropped in sparring session
Joe Rogan was impressed by Jake Paul despite his loss to Tommy Fury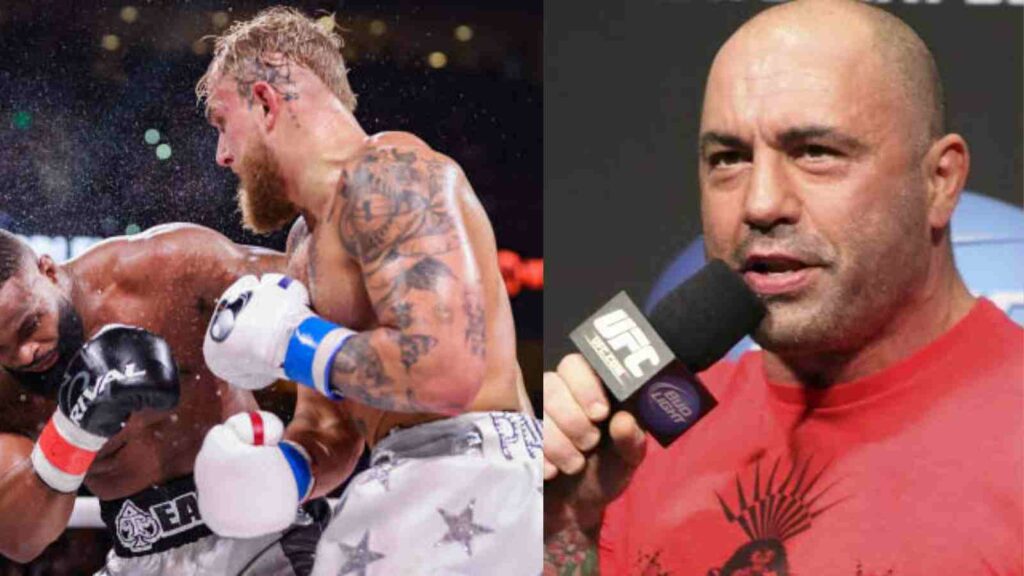 Everything was going smoothly with Jake Paul after he defeated Anderson Silva via TKO in a boxing bout. But fighting a professional boxer Tommy Fury was always the biggest challenge for the 26-year-old and when the chance came, Paul failed. However, Joe Rogan who is well respected for his opinions believes that Paul did great and he's a marketing genius.
He said: "I thought it was a very good fight. It confirmed two things that I've been saying for a long time. One, Jake Paul is 100% legit. People that think he's not legit, he's conning you. He's conning you with his antics, he's conning you with his online persona and the sh*t-talking and the marketing."
Rogan is absolutely right about Paul's ability to sell his brand and bring new eyes toward himself. Nevertheless, fans loved that Paul took the loss like a true sportsman and promised to comeback stronger.
Continue Reading:
"It would be a problem," Joe Rogan warns 'regular-sized' heavyweights to beware of elite NFL athletes joining UFC
WATCH: Jorge Masvidal chases fan after getting 'Jake Paul' moaned in his ears