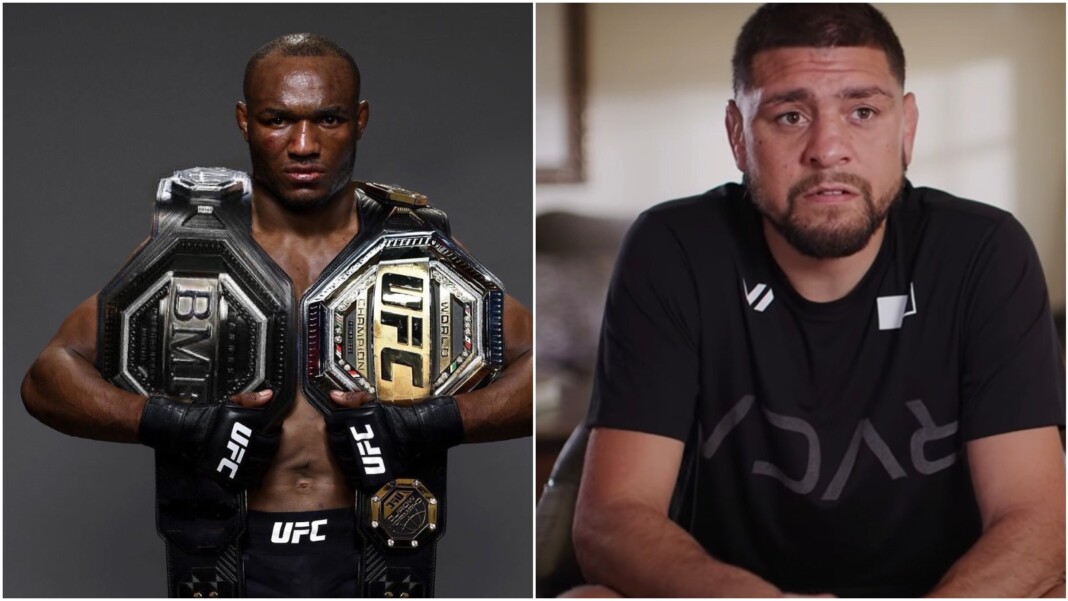 Kamaru Usman has responded to Nick Diaz wanting to take him on. 'El Diablo' will be stepping inside the Octagon for the first time in almost 7 years. He will be facing his old foe, Robbie Lawler, in a five-round non-title middleweight fight that is set to take place at UFC 266 – T-Mobile Arena.
The pair met 17 years ago previously at UFC 47. Nick Diaz knocked the then-largely feared Robbie Lawler out in the second round. That was how the legend of Diaz was born. Aged 38 and 39 respectively, the pair are set to fight once again – a rivalry spanning three decades!
Earlier yesterday, Diaz sat down with ESPN's Brett Okamoto and discussed a plethora of topics. That was when Diaz claimed that he shouldn't have been fighting Lawler in the first place, and that he should fight the welterweight champ, Kamaru Usman, instead. 'El Diablo' went on to make a big claim that he would beat up Usman.
He was quoted as saying, " "I think I'll beat Usman. I have a better shot at beating Usman than I do Lawler, just because I … I already beat Lawler! This doesn't make sense, for me to go in there and fight Robbie Lawler. I don't know why I'm doing this. This should not happen. Whoever set this up is an idiot. I don't know why I'm doing this, why this happened — I should be fighting Kamaru Usman, and that's it!"
Kamaru Usman responds to Nick Diaz
"I like that Energy!!! #p4p", Usman replied, with a couple of emojis with a wry smile while also denoting his p4p kingship. A fight between Usman and prime Nick Diaz would have been a treat to watch. But a fight now, makes absolutely no sense, given the form Usman has been in of late.
However, only the 25th of September will tell how much of an effect ring rust has had on the seasoned gangster, Diaz. If he starts off with a win, it would do his confidence a world of good. What are your thoughts on this?
Also Read: Everything you need to know about the Bellator 266 judging controversy – Phil Davis vs Yoel Romero
Also Read: Who was Heather Ceballos? Here's everything you need to know about the deceased UFC employee