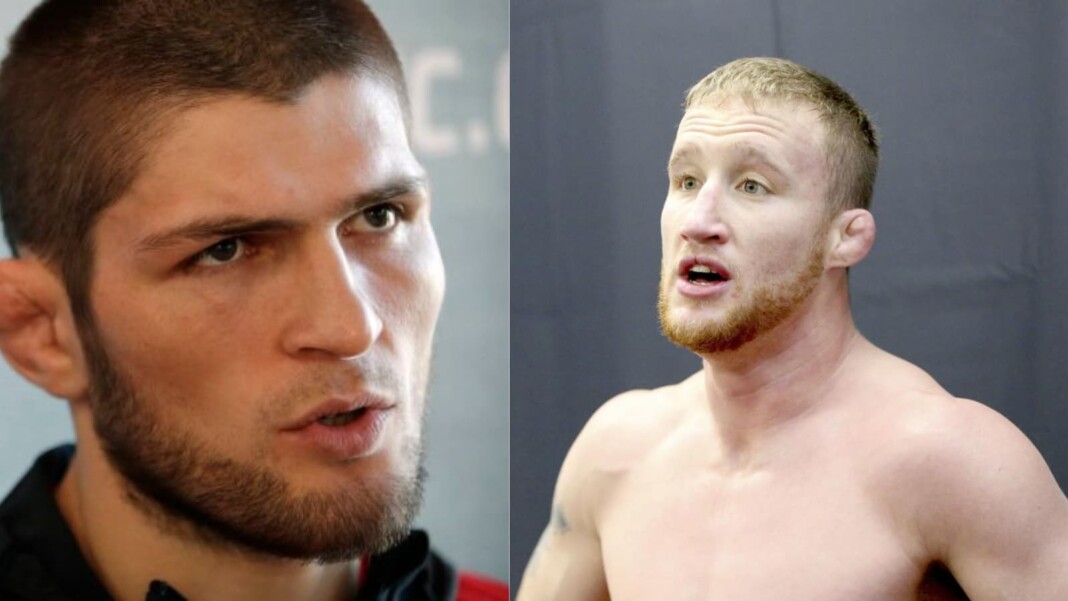 Khabib Nurmagomedov has had enough from Justin Gaethje demanding to be the only rightful contender for the title in the lightweight division. The Dagestani rips his former rival for thinking he deserves the title shot over his teammate Islam Makhachev.
Justin Gaethje has convinced almost most of the MMA world that he deserves the next lightweight title shot. But former lightweight champion, Khabib Nurmagomedov is not buying into his claims. Khabib, who has decided to sideline his teammates after his retirement is backing his close friend and top lightweight contender Islam Makhachev as the next title contender.
Justin is coming off a stunning fight in the lightweight division against another title contender Michael Chandler at UFC 268 in Madison Square Garden. Before fighting Chandler, Justin faced defeat against Khabib at UFC 254 challenging the undefeated champion for the lightweight title. Nurmagomedov put Justin to sleep via submission in the second round of the fight before hanging up his gloves.
In a recent post by ESPN MMA on Instagram that quoted Gaethje saying, "The travesty to the integrity of the sport would be too great if I didn't get a title shot now," Nurmagomedov did not hold back in the comments. The Dagestani asked the #2 ranked lightweight to "shut up" and accept Islam deserves the title shot.
Read: "What the f**k does that even mean," Dana White dodges reporter who asks if Islam Makhachev can get the next title fight
Khabib Nurmagomedov reminds Justin Gaethje "fell asleep" in his last title shot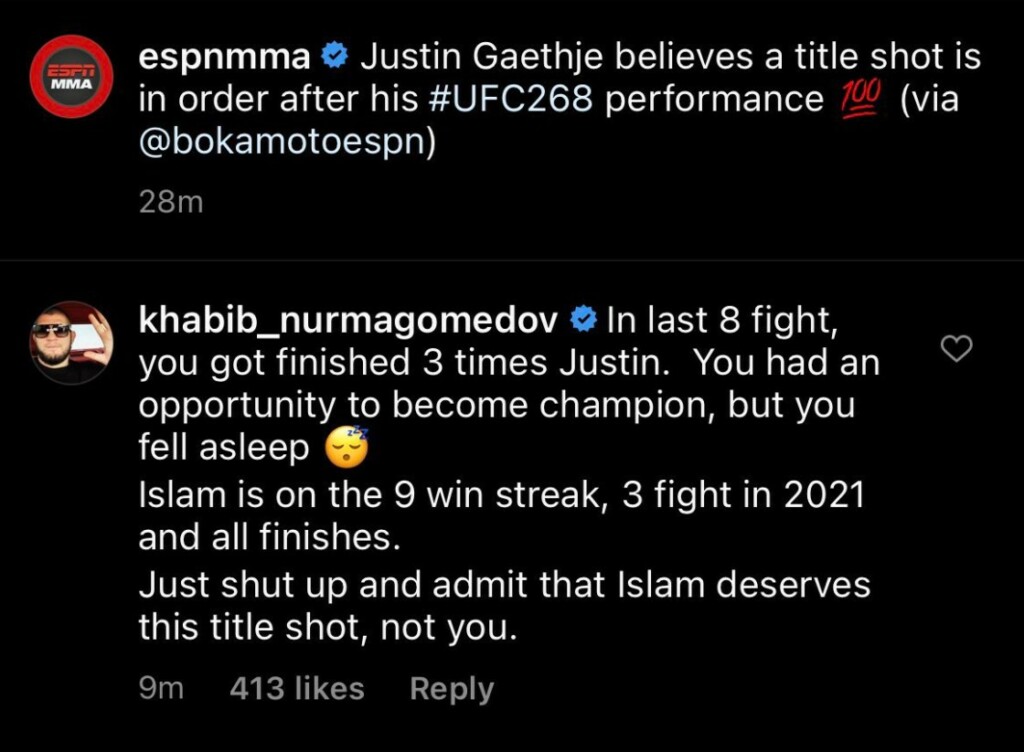 "In last 8 fight, you got finished 3 times Justin. You had an opportunity to become champion, but you fell asleep. Islam is on the 9 win streak, 3 fight in 2021 and all finishes. Just shut up and admit that Islam deserves this title shot, not you," said Khabib in the comments, trashing Gaethje for his demands.
Islam Makhachev beat the likes of Drew Dober, Thiago Moises, and Dan Hooker in 2021. The fighter has submitted all three fighters. Islam has a record of 21-1-0 in his professional MMA career. The lightweight division is stacked with fighters that could make a legitimate argument for the lightweight title but very few have a case as strong as the Dagestani.
Who do you think should be awarded the next title shot in the UFC lightweight division?
Also read: "It's a huge issue," Justin Gaethje trashes ref Mike Beltran for his carelessness at UFC 268