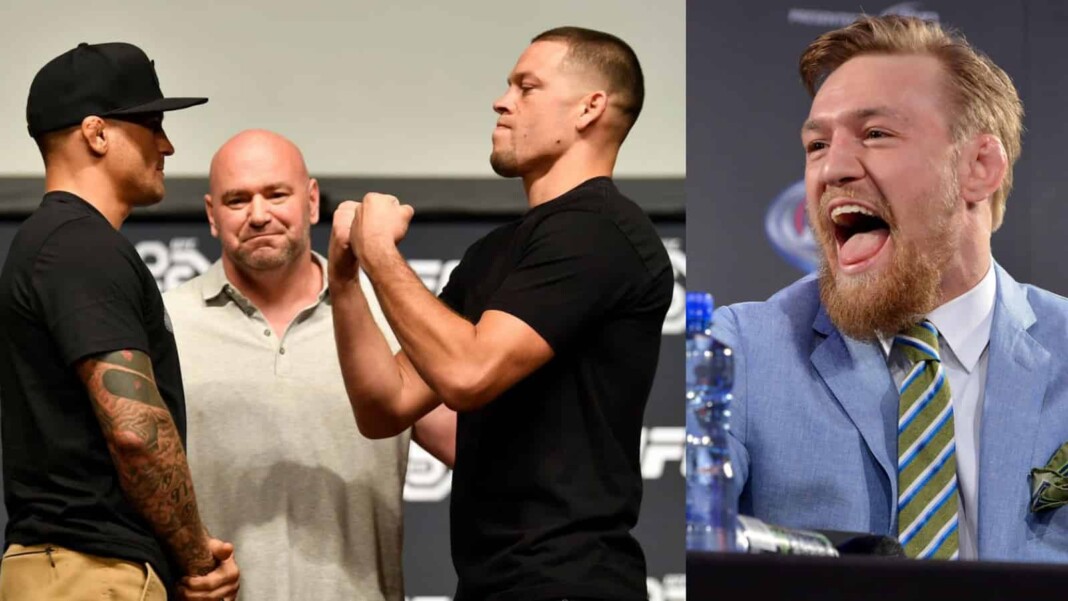 A lot of interest has been brewing in the UFC the past few days as Nate Diaz and Dustin Poirier tease a matchup between the two. A recent addition to their conversation is The Notorious Conor McGregor.
UFC superstar welterweight Nate Diaz has been going back and forth with UFC lightweight division's title contender Dustin Poirier lately. Both the fighters have hinted that they might fight for in a welterweight matchup. Nate recently returned to the octagon as he took the headlines against Leon Edwards despite his defeat. On the other hand, Dustin is the star of the UFC as he beat up the fan-favorite Conor McGregor at UFC 264 via TKO that helped him seal the trilogy between the two.
On July 16th, Nate called out Dustin to a 185lbs bout on Twiter, and "The Diamond" didn't hesitate at all. "I'd touch you up at any weight," said Dustin in response to Nate's call out.
But earlier today, Nate once again targeted Poirier today calling the lightweight fighter a "p*ssy" probably saying that the Louisiana fighter turned down the fight. "I knew you was a p*ssy b*tch that's 2-0," wrote Nate. Dustin believes Diaz has been misinformed that he turned the fight and replied, "They're lying and you're getting played." Does this mean Dustin is signing up for another money fight leaving the lightweight belt that he is bound to fight for?
Conor McGregor seems to enjoy the Nate Diaz banter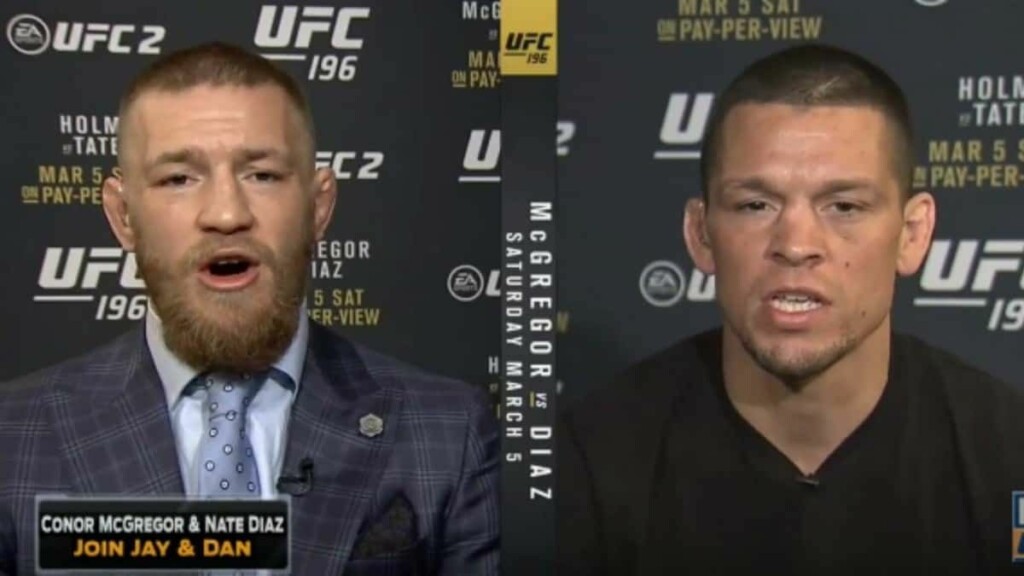 Another fighter that is up for a trilogy fight against Conor McGregor is the Stockton Slugger. Like Dustin-Conor, Nate also is tied 1-1 with the Irishman and it a fight between the two seems like the most ideal matchup right now given Conor's recent form in the UFC. Conor and Nate have been going at each other for a long time and it is no surprise we find McGregor on Nate's tweets talking trash to the American fighter.
Nate wrote, "Boss the f*ck up quit being a lil b*tch I do what I want you do what your told," subliminally dissing. To that McGregor who is recovering from his injury wrote, "hahahahha continue going, I am entertained."
Also read: "Worry about the dudes that keep beating your a*s" Daniel Cormier gives a stiff reply to Conor McGregor for his deleted tweets during UFC 265
"He is a fat mess," McGregor attacks UFC analyst Daniel Cormier on Twitter after his recent critique of McGregor's tweets.