At UFC 284, Alexander Volkanovski will finally get what he has been asking for. The featherweight champ has been vocal about wanting to move up in weight classes and fight for the lightweight title. He has cleared out his division, beating former champions like Max Holloway and Jose Aldo multiple times.
He had made it clear before UFC 280 that he was ready to fight either Islam Makhachev or Charles Oliveira. In fact, he was the backup fighter for that fight before Islam demolished Charles. He was even called out to the octagon by the lightweight champion after his dominant win. There, Volkanovski challenged Islam to a fight with the lightweight title and the P4P #1 status on the line at UFC 284.
And now, the UFC has made it official. This super-fight will take place in the main event of UFC 284, emanating from Volk's native country Australia. The card already another amazing fight on it in the form of Robert Whittaker vs Paulo Costa, in what could be Costa's final match under the UFC banner as he announced his intention to switch to boxing.
With more fights left to be added to the card, UFC 284 is shaping up to be quite the card with two amazing fights already on there. Volkanovski who continues to bulk up in anticipation of this fight will surely be over the moon with this announcement. Makhachev will also be itching to get that P4P #1 status. UFC 284 should be a great PPV for fans everywhere.
Related: "Putting on size" – Alexander Volkanovski reveals HOW MANY calories he is consuming every day in order to challenge lightweight champion Islam Makhachev
Who has the better resume heading into Alexander Volkanovski vs Islam Makhachev at UFC 284?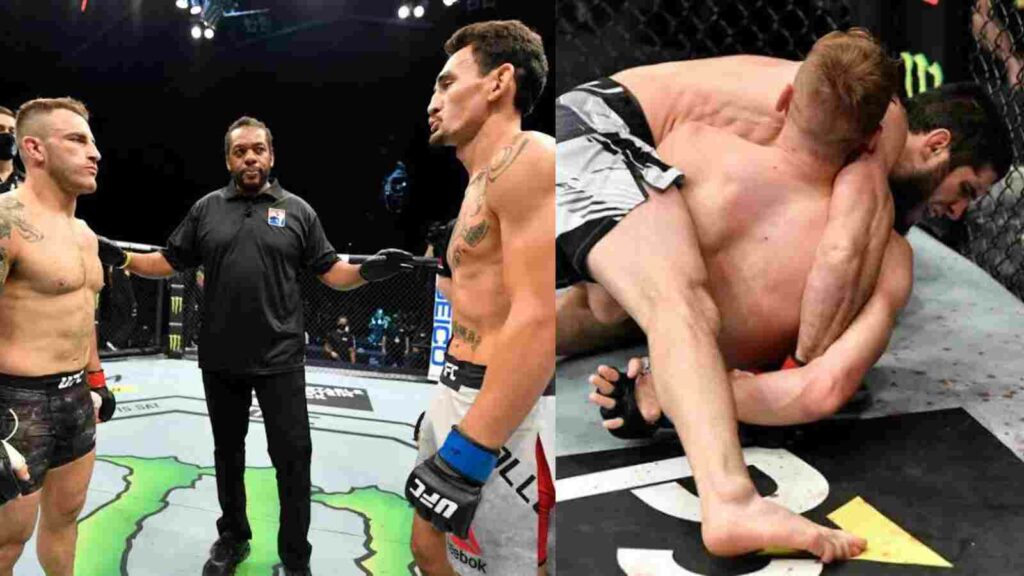 Many fans wouldn't have cared if they saw Volkanovski vs Makhachev in 2020, however, now in 2022, it's a must-see for any MMA fan. They both have impressive winning streaks at 12 and 11, respectively. However, which fighter has the better record heading into UFC 284?
Islam Makhachev has finished most of his opponents in a dominant fashion. His most recent win came at UFC 280 where he easily defeated Charles Oliveira to capture the UFC lightweight title. His 11-fight win streak comprises names like Ragin' Kajan Johnson, Drew Dober, Dan "The Hangman" Hooker, and of course, Charles "Do Bronxs" Oliveira.
Also Read: "Bring him back" – Israel Adesanya claims he would still be champion if infamous referee Steve Mazzagatti was at Alex Pereira fight
On the other hand, the featherweight champion, Volkanovski has cleared out his division. He has beaten everyone and his latest win was over Max Holloway, making it the third time he has beaten the former champ. He also holds two wins over former champion Jose Aldo and one over elite submission artist Brian Ortega.
All in all, on paper, Alexander "The Great" has a better resume than Makhachev. However, it hardly matters when Makhachev has finished all his competition in a dominant fashion. And the first elite opponent he faced, he demolished. Suffice to say, this match cannot be judged on paper and fans will have to wait till UFC 284 to find out.
Also Read: "Turns up to events and slaps people" – Dillon Danis is Nate Diaz's new victim as he gets "Stockton Slap" treatment at UFC 281