Belal Muhammad has fired shots at Colby Covington on Twitter. In light of rising rumors that Colby Covington and Belal Muhammad will face off in the octagon soon, the fourth-ranked welterweight contestant disputes Colby Covington's standing in the UFC Welterweight rankings. 
Belal Muhammad recently posted a screenshot of the UFC Welterweight rankings and questioned the position of Colby Covington on the list. Muhammed compared Colby Covington with the American football team Buffalo Bills infamous for their losing streak. According to Belal Muhammad, Colby Covington has lost both his fights to Kamaru Usman recently and should not deserve the second spot on the list.
Targeting  Covington, Muhammad tweeted, "Why is colby number 2 again? Because he lost lost to kamaru twice? should start calling him Buffalo bills. Famous for losing 4 straight super bowls"
Bela Muhammad is coming after a huge victory at UFC 280 defeating the unbeaten Sean Brady via TKO taking his own unbeaten run to eight. After his match at Abu Dhabi Muhammad called out Khamzat Chimaev who was in the arena on that night.
Read More: "Who has he beaten that's won?" – Belal Muhammad questions the credibility of Colby Covington's wins at the UFC
Belal Muhammad challenges Khamzat Chimaev and Leon Edwards to a fight following his triumph at UFC 280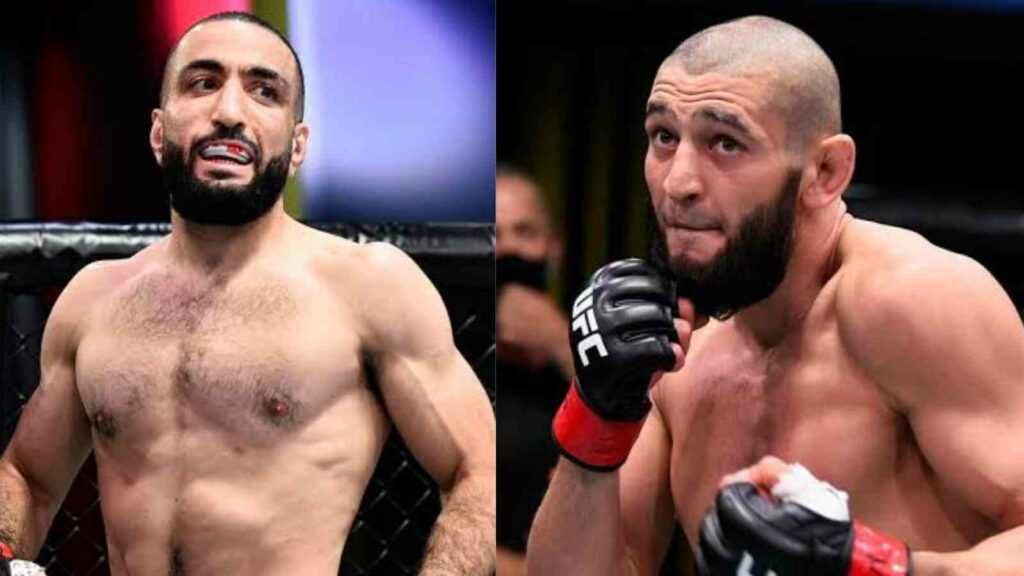 After winning, a visibly elated Muhammad seized the chance to challenge Khamzat Chimaev, an unbeaten welterweight phenom, to a catchweight match at "179.8" lb.
Muhammad said, "I heard Leon Edwards is out here. Where is he at? I also heard the big-bad wolf if coming back down [ to welterweight]. I can fight at 179.8 [lbs]. Doesn't matter to me. I'm here to fight the best people."
Also Read: "Start SLAPPING him," Belal Muhammad suggests the perfect gameplan for Nate Diaz for Khamzat Chimaev ahead of UFC 279
Belal recalled Khamzat Chimaev 's historic slip-up at UFC 279 when his unsuccessful attempt to make weight pulled him out of the main event against Nate Diaz.
Belal has amply demonstrated why he deserves a crack at the welterweight championship. The division is filled with skilled and competitive contenders, though. Among rising talk of an Edwards-Kamaru Usman trilogy fight, Belal might go up against Colby Covington or Khamzat Chimaev.
Also Read: "I won't be surprised if Nate stops his ass" – Jorge Masvidal differs from the norm in his prediction for Khamzat Chimeav vs Nate Diaz