Colby Covington is one of the most controversial UFC fighters of all time. The welterweight fighter's contribution to the company has been tremendous over the past years. In his interviews, he brings attention to the UFC with his continued endorsement of Donald Trump and right-wing talking points. This time, he went on Tim Pool's Timcast IRL show to discuss Trump and Florida Governor Ron DeSantis.
Tim Pool and Colby Covington discussed the Republican primary to determine the nominee for the presidency. Pool is a reactionary content creator, and the Timcast IRL predominantly attacks the woke culture. His recent guest was Colby Covington, who had thoughts on the recent presidential election news.
Colby Covington said, "You can tell that DeSantis [Ron DeSantis] doesn't wanna take a backseat. He feels entitled like he's America's governor right now. He's not ready for the national stage. Donald Trump would walk circles around him in a political debate." Ron DeSantis is the biggest threat to Trump's presidential candidacy. However, Covington feels that Trump is the better candidate as DeSantis is not ready for the national stage.
He continued, "We need Trump [Donald Trump] back in the office, his policies worked. Our economy was booming. America was first." In recent years, Trump and DeSantis have embarked on a cold war. Trump's endorsement helped DeSantis become the Governor of Florida in 2018. Since then, DeSantis has emerged as the most prominent Republican in the country besides Trump. It appears Colby will continue to support Trump after bashing DeSantis during the show.
Related: Kamaru Usman reflects signing 'mental agreement' with Colby Covington to not wrestle each other in grudge match
Colby Covington recalls his phone call with Donald Trump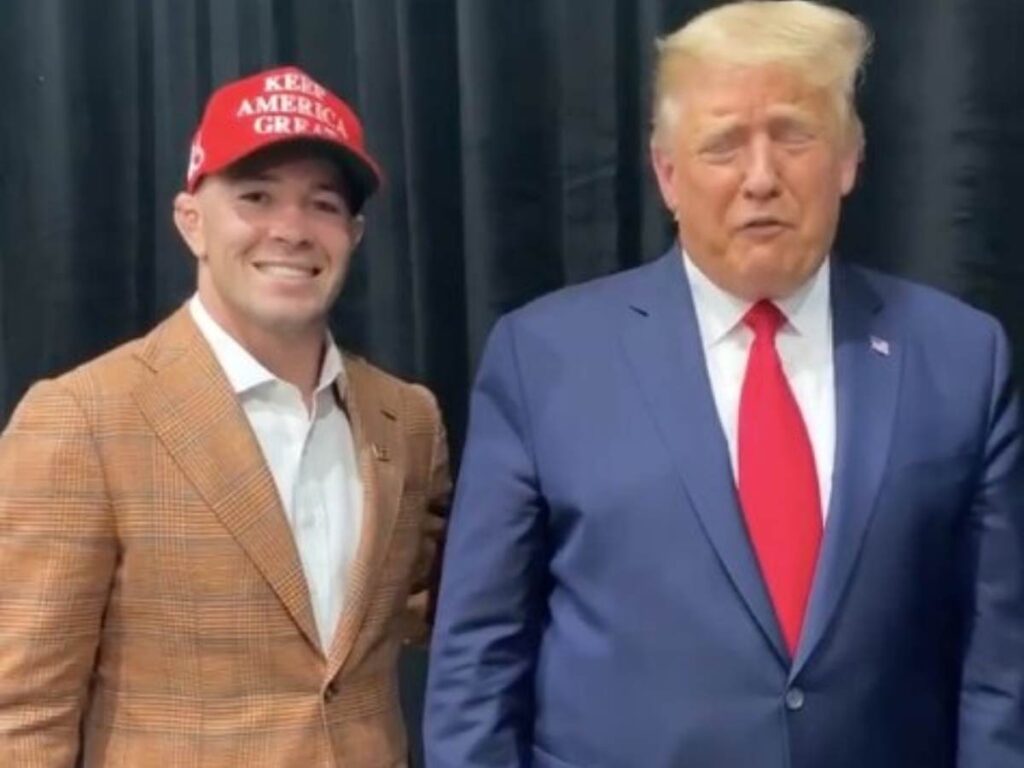 Former President Donald Trump surprised Colby Covington after he defeated Tyron Woodley in 2020. While talking to ESPN MMA reporter Megan Olivi, Trump called to congratulate Colby live on air. Covington went on the talk show of Candace Owens to talk about how he felt about the surprise call.
Colby said, "It was surreal. It was my career-defining moment. To have someone who I admire so much, who's a hero to me and my idol, to have me call and celebrate. And, saying how big of a fan he is, of me. Dude! I'm a big fan of you. I appreciate what you've done to America."
UFC welterweight contender Colby Covington has attracted many reactionary fans throughout the years. His support for the Republican party and Donald Trump have gained him a lot of supporters and detractors. For the 2024 Presidential election, he will endorse Donald Trump from the Republican party.
In case you missed it: