Conor McGregor and his rival Floyd Mayweather created history when they engaged in one of the biggest boxing fights of the decade. Both fighters express their desire to revisit the fight.
While in Beverly Hills, California, McGregor recently spoke to Insidefighting about fighting Floyd Mayweather. 'The Notorious' had recently gone on a Twitter rant ridiculing his former opponent. Mayweather has not dropped the fight either. As of now, there is no official declaration while fans await the much-vetted fighters to go back at each other.
"For sure, I have been thinking about it for a long time…" McGregor said. "…I have had a long time to think about it and analyze it." He revealed that his style has developed and had previously tweeted out that with a few slight adjustments to his style, he could take down Floyd Mayweather. He also mentioned reuniting with old boxing coaches. "I'd for sure love to go back to my old boxing coaches with whom I reunited post-fight. I feel my style has developed," said Conor McGregor.
Their first fight had been a massive success with fight clips and clippings from the trash talk still flooding the internet. Mayweather had previously mentioned back in 2022 about working out with Conor to potentially fight in 2023. Although it looks highly unlikely that Conor would be making a boxing comeback without getting back into the UFC first, you never know what these tricks the sports giants have up their sleeves.
Related: "Done the splits like a stripper" – Conor McGregor and fans troll 'mastermind' Henry Cejudo for failed comeback after hype
Khabib Nurmagomedov's manager accuses Conor McGregor of drug use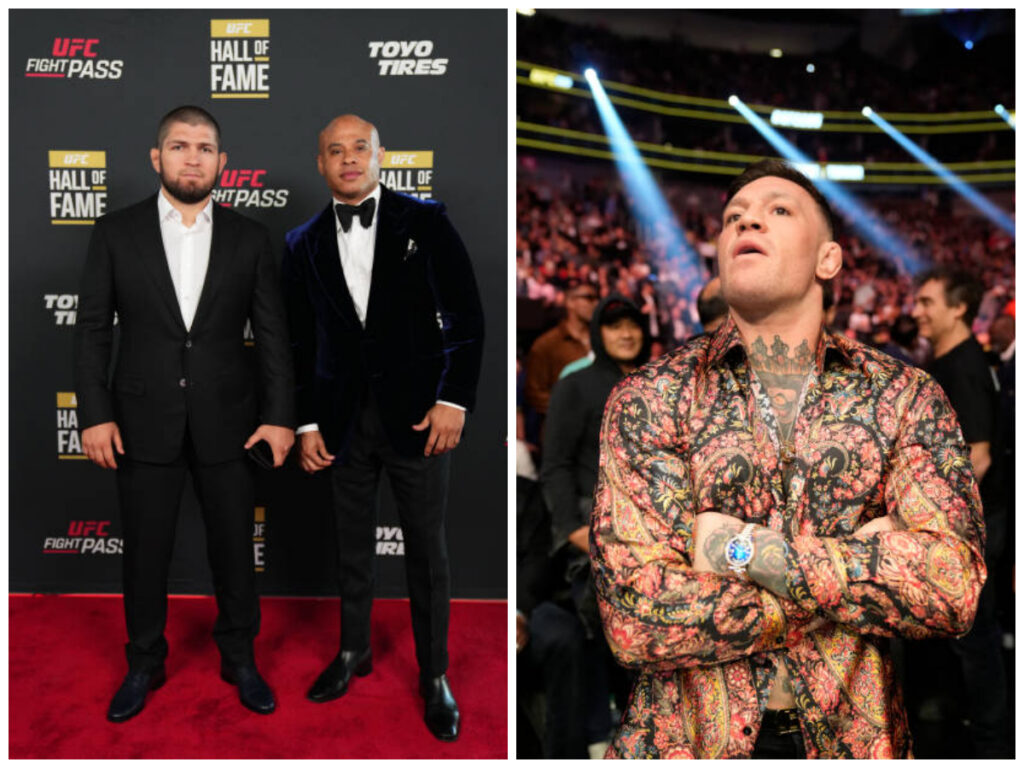 Another famous McGregor rivalry other than with Floyd Mayweather is with former UFC champion Khabib Nurmagomedov. The two UFC stars clashed back in 2018 when the Dagestani emerged victorious after a much-heated rivalry and rigorous beatdown inside the octagon.
Recently Khabib's manager Ali Abdelaziz took shots at McGregor for dissing Henry Cejudo after his loss at UFC 288. The Irishman had taken to Twitter to ridicule Cejudo's fighting style and congratulate rival Aljamain Sterling whom Conor bet on to win the fight. Henry Cejudo who made his return to the UFC after nearly three years of hiatus had previously criticized McGregor's fighting style on social media and pointed out his mistakes and weaknesses.
Ali Abdelaziz took to Twitter to defend Henry Cejudo and mocked Conor McGregor saying, "At least he is fighting instead of you doing drugs and steroids and talking from the sidelines, STFU you bi*ch." McGregor much like Cejudo has been out of the UFC ever since his leg injury in the trilogy fight against Dustin Poirier. 'The Notorious' is set to make his return to the octagon later this year.
In case you missed it!
Do follow us on Google News | Facebook | Instagram | Twitter