Darren Till has been itching to get back in the octagon and now he doesn't care even if it's a veteran like Nick Diaz that he may have to face. Till was originally scheduled to be on the UFC London card as its headliner but like is the case with most Till camps he got injured and had to pull out being replaced by Chris Curtis.
Recently Darren came out and made the statement that he was ready to make a move and wishes to fight twice in close succession before the end of the year. Till who has had a very shaky career since his days of being the heralded as the incoming Welterweight Champion, has recently been on a losing skid at Middleweight. The only victory he secured in the division was against Kelvin Gastelum in a very forgettable fight.
Nick on the other hand has been similarly out of action but for vastly contrasting reasons. He originally left the sport as he refused to comply with the Athletic Commission's unreasonable fines and suspensions he would have to endure after testing positive for marijuana during his fight with Anderson Silva. By the time the dust settled, it was too late and Diaz had lost his love for the sport.
Related: Watch: Nick Diaz winces in pain as Leon Edwards whoops his BABY BROTHER'S A**
Darren Till calls out Nick Diaz for UFC 279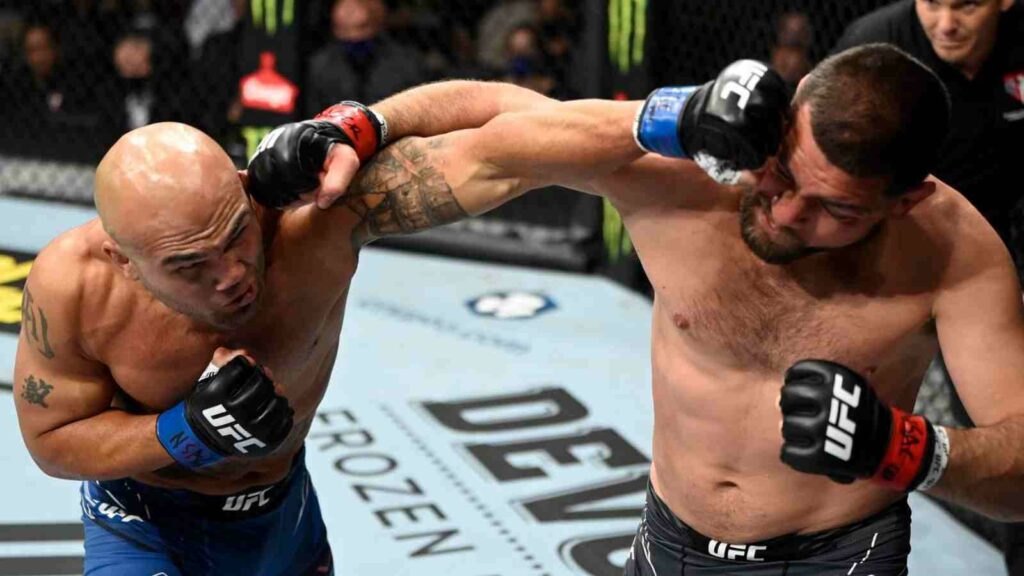 Nick did make a return to the octagon in 2021 against fellow veteran Robbie Lawler, in a rematch, 17 years in the making. The bout displayed a former self of the OG Stockton Badboy, who many fans described as "fighting in slow motion." Very reminiscent of his precise punching back in the day, Diaz ended up having the highest percentage of significant strikes landed for the year 2021. However, his coach and others near him would reveal that Nick never wanted to the fight and was kind of forced into it.
Recently as Diaz was celebrating getting his Twitter account back, the Englishman proposed an interesting offer. As most are aware by now Nate Diaz will be having his final UFC fight in a matter of days against a young and hungry contender in Khamzat Chimaev. Darren, wanting to fulfill his promise of fighting twice before the end of the year, proposed to be on the same card, billing it as "Smesh Bros vs Diaz Bros"
Also Read: "I wait for his brother"- Khamzat Chimaev details plans to take on Nick Diaz if Nate Diaz pulls out of UFC 279 clash
A mismatch in every sense of the word, it is doubtful that Diaz will ever want to fight again, however, he has shown fading interest in the matter from time to time. A fun fact for this fight, while not at all representing each of their career trajectories accurately, both Till and Diaz are 2-4 in the last 6 fights.
How do you see a UFC 279 card with both the Diaz bros headlining? Let us know below!
Also Read: "Don't let DC commentate" – Darren Till pokes fun at Daniel Cormier's bias towards Dagestani fighters