Jake Paul experienced his first career defeat in a split-decision loss against Tommy Fury. However, he is determined to return to the winning column by fighting Nate Diaz in August. In a recent interview, former UFC interim champion Dustin Poirier shared his thoughts about the complicated nature of Diaz vs. Paul's boxing bout.
Nate Diaz has not competed in a fight since departing from the UFC in late 2022. Conor McGregor, his former rival, is interested in having a third bout with Diaz. However, Diaz chose 'The Problem Child' as his next opponent during his stint in the free agency. Dustin Poirier recently appeared on The MMA Hour with Ariel Helwani, expressing his desire to fight Nate Diaz.
Diaz and Poirier had a bout scheduled in 2018, but a conflict of interest led the fight to be canceled. It seems unlikely that the fight will ever happen again. Nevertheless, Poirier did share his thoughts on the upcoming fight between Diaz and Jake Paul. Poirier mentioned that he would definitely watch the fight and believes it might not be easy for Diaz, despite his extensive fighting experience.
Poirier said, "You know, Jake's younger, bigger, faster. It's not an easy fight." 'The Diamond' acknowledged that Nate Diaz is an experienced fighter, while Jake Paul is a young fighter with access to resources that can provide him with a top-notch training camp. Poirier continued, "Nate's a grizzled veteran with the right experience, and Jake's a new guy who's on YouTube. He's got the money and the amenities to surround himself with the best people and dedicate himself to fighting."
Related: "Fight's over in two rounds," Dustin Poirier believes nemesis Conor McGregor can get job done, but only under ONE condition
Dustin Poirier picks Jake Paul over Nate Diaz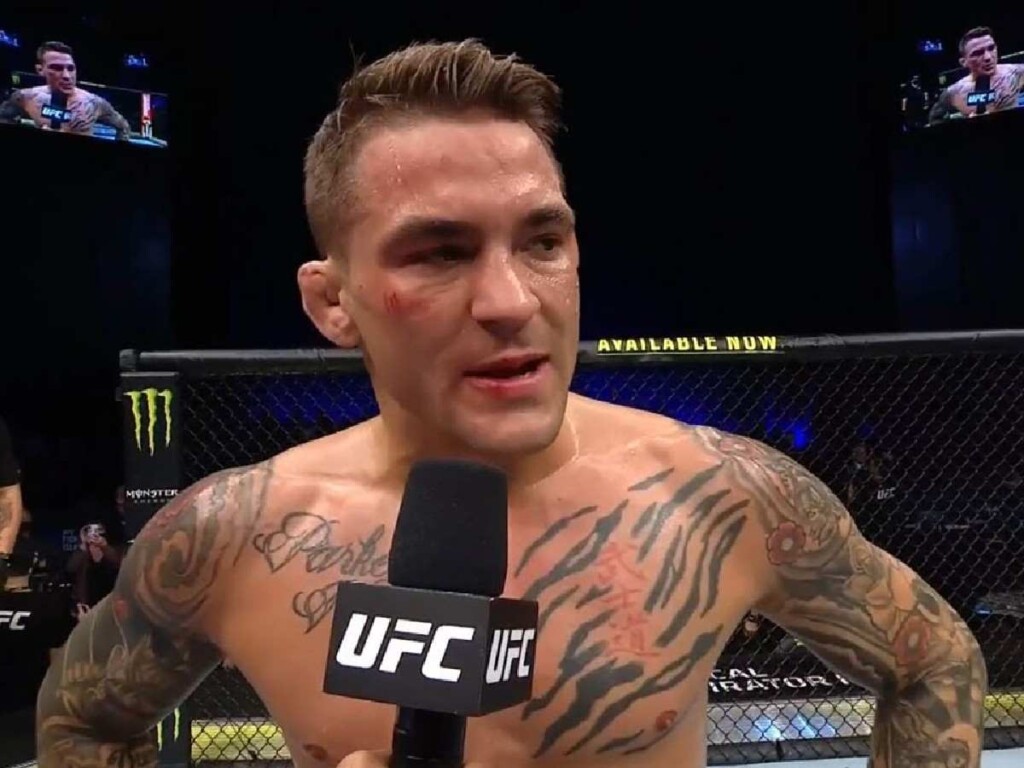 'The Diamond' believes in the age factor that gives Jake Paul an advantage over 36-year-old Nate Diaz. Paul is young with explosive movement and power on his side. Poirier also commended Diaz's boxing abilities within the realm of MMA but expressed uncertainty about how those skills would translate in a pure boxing match. Poirier stated, "I think Diaz's boxing is good for MMA. It's a completely different thing."
During an interview with Ariel Helwani, Poirier expressed his belief that Jake Paul would emerge victorious in the fight. Poirier's fiercest rival, McGregor, believes Nate Diaz will win. Fight fans will find out in August about the winner of the blockbuster boxing clash.
Dustin Poirier will fight Justin Gaethje at UFC 291. The lightweight fighters will compete for the vacant BMF title. The former BMF champion, Jorge Masvidal, retired at UFC 287, making the title vacant again. Dana White and the UFC decided to book a title fight between the two exciting fighters on the UFC roster for the July PPV event in Salt Lake City.
In case you missed it!