Katie Taylor fell short in the biggest fight of her career and lost her bout against Chantelle Cameron in front of a massive Irish crowd. Despite the defeat, Conor McGregor had words of encouragement for the female Irish boxer and believes she will be back stronger. McGregor paid his tribute to the Irish boxer with a heartfelt Instagram post.
Conor McGregor played a key role in promoting the boxing match between Irish boxer Katie Taylor and undisputed champion Chantelle Cameron. This was Taylor's first pro fight competing on Irish soil in front of a massive and supportive crowd. Taylor was the crowd favorite and betting favorite, going into the fight. However, Chantelle Cameron managed to pull upset on the Irish fans.
Despite the challenge from the Olympic gold medalist and her hometown crowd, Chantelle retained her undisputed title. She had two judges scoring her 96-94 and one 95-95 on the scorecard to defeat Taylor by a narrow margin in her own backyard.
While all the Irish fans and Katie Taylor were wrecked by the defeat, Conor McGregor comforted the Irish boxer with words of encouragement. McGregor took to Instagram and paid tribute to the Irish fighter following her first loss.
"Our hero! Thank you for an amazing event I had the fight scored a draw. A very close bout where you once again showed your heart, your skills, your fitness and your toughness. You are an Irish Warrior! I love you Katie, I am honored to know you and be in your presence! Thank you so much! Onwards and upwards we go! Just another day for Katie Tay!," said McGregor in his post.
Conor McGregor was also wrecked after the defeat, given his involvement in the event. According to Matchroom Boxing promoter, Conor McGregor was very passionate about this fight and a gem to work with.
Related : WATCH: Conor Benn and Kell Brook shove each other at Katie Taylor boxing event
Eddie Hearn's experience watching Katie Taylor vs Chantelle Cameron alongside Conor McGregor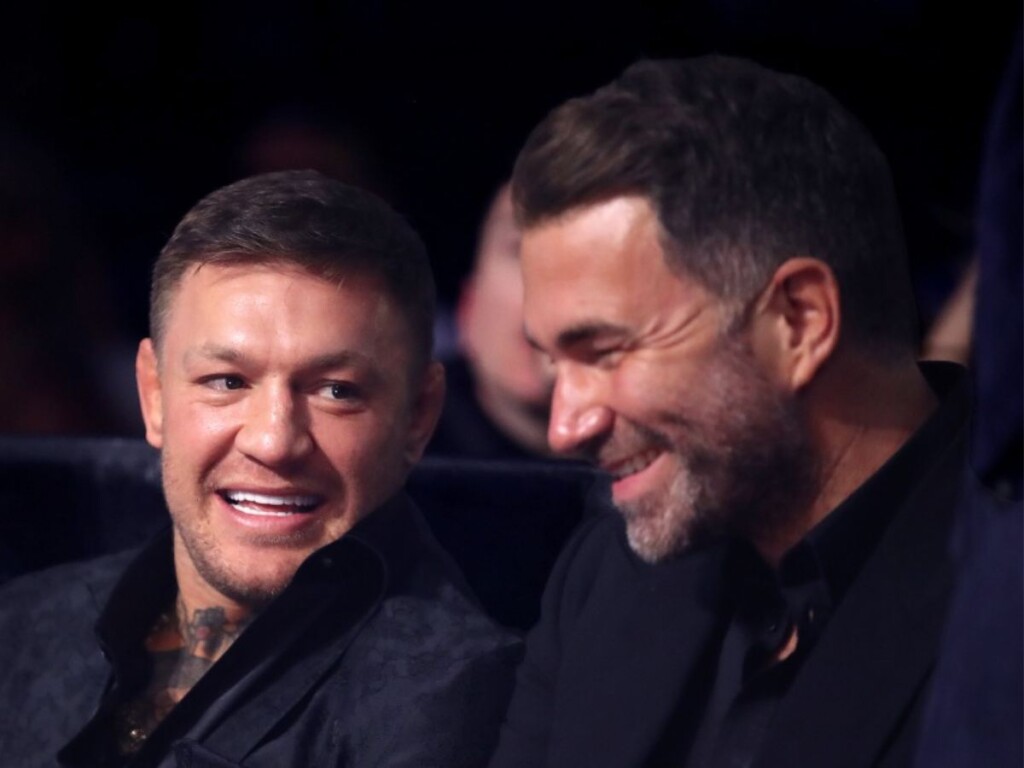 Katie Taylor went head to head with Chantelle Cameroon in one of the most anticipated bouts in female boxing history. Taylor's big homecoming fight was promoted by former UFC double champion Conor McGregor in partnership with boxing promoter Eddie Hearn. Taylor was the betting favorite going into the fight. However, she lost via decision to Chantelle Cameron.
While the whole arena was upset by Taylor's loss, no one was more devastated than Conor McGregor. Eddie Hearn, on the MMA Hour, revealed what it was like to experience Katie Taylor's loss alongside Conor McGregor in Dublin's 3 Arena. "He was gutted when Katie lost. All the Irish were, but he was getting up. He was banging the canvas during the fight," said Eddie Hearn. Hearn also revealed how Conor McGregor was riled during the co-main event after Irish boxer Gary Cully's loss.
"When Gary Cullly lost, he got up and he was like, 'Why did you put him in with him.' He said, 'It's his homecoming in Ireland, you should've given him a can," added Hearn. While McGregor was devastated watching two Irish fighters lose on the card, he was really passionate while promoting the fight. According to Hearn, Conor's involvement bought a lot of energy and eyes for the event. Hearn also added, despite what the general crowd thought, McGregor was one of the most recognizable faces in the world.
In case you missed :