Dustin Poirier who lost to Charles Oliveira in a lightweight title fight in December in the main event of UFC 269 is number 7 in the updated UFC pound for pound rankings. This means he overtook all-time great Jon Jones on the list who has been inactive for more than two years now. Dustin Poirier who has held the interim belt before in the UFC after his victory against Max Holloway has now lost two fights that would have led him to be the undisputed king of the lightweight throne.
He lost both the fights through the rear-naked chokeholds. If the rear-naked choke didn't exist Dustin Poirier would have become a champion a long time ago. Khabib submitted him in the fourth round and Charles submitted him in the third round of their respective fights. Irrespective of all this Dustin still remains one of the best fighters in the lightweight division. Since his loss, he has been looking for an opponent.
Related: Dustin Poirier offers update on his donation promise to Charles Oliveira after UFC 269
Dustin Poirier leaves a cryptic message for Nate Diaz on his birthday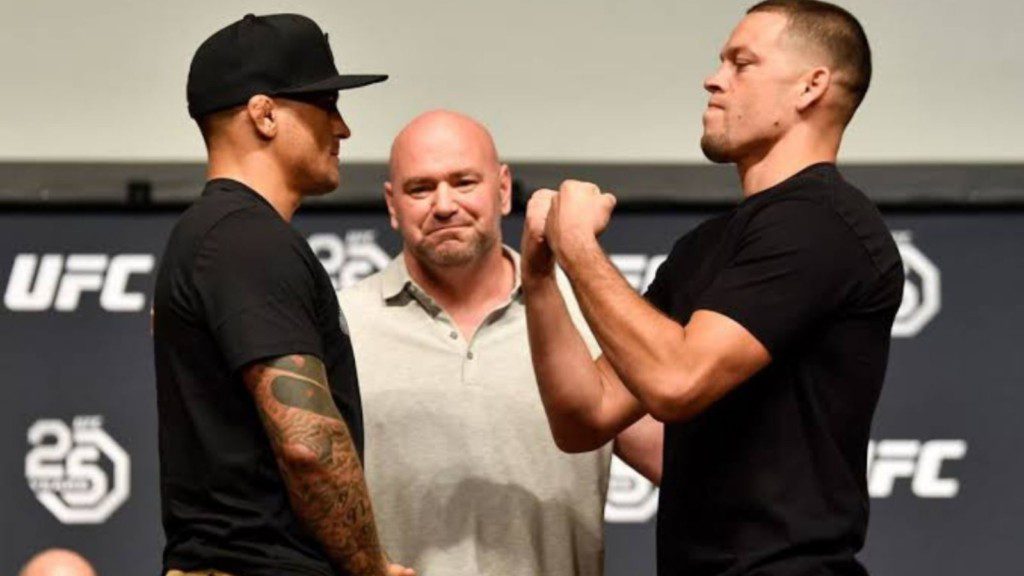 Nate Diaz recently celebrated his 37th birthday on the 16th of April. Dustin Poirier was quick to wish him well but also asked him to sign the contract for a possible fight in the future. Nate Diaz hasn't fought since last June when he lost to Leon Edwards via unanimous decision. If these two ever fight Dustin will be the heavy favorite. Nate has a phenomenal gas tank but takes a lot of damage in any of his fights. Dustin will neutralize Nate's grappling as he himself is a jiu-jitsu black belt.
Dustin Poirier is a much more active fighter than Nate Diaz and is also on the list of most wins in the UFC organization. Will Dana White ever allow this fight to happen in either welterweight or lightweight will be interesting to watch. Irrespective of the odds Nate Diaz remains a fan favorite and will bring a lot of eyes to any matchup he is involved in.
Also Read: "Something nasty next time out"- Dustin Poirier offers grim prediction for his next fight