UFC Vegas 68 didn't end the way the fans and Derrick Lewis expected. People wanted to see Lewis win his fight against Sergei Spivac, but it didn't go as planned when he submitted Lewis in the first round.
The main event for UFC Vegas 68 was between Derrick Lewis and Sergei Spivac. Lewis looked to end his losing streak, while Spivac looked to climb the ranks of the UFC heavyweight ladder.
Both Black Beast and Polar Bear were ambitious in their buildup to the fight. Lewis even dropped some pounds and looked phenomenal during the weigh-in, but got submitted in the first round of the fight. It is the biggest win in Spivac's UFC career, which would help him fight other higher-ranked fighters in the future.
THE BIGGEST WIN OF SPIVAC'S CAREER!!

The Polar Bear submits Derrick Lewis in round 1 to close the show at #UFCVegas68 🐻‍❄️ pic.twitter.com/D1NMlWUFKC

— UFC (@ufc) February 5, 2023
With Lewis losing his 3rd straight fight, things will soon become difficult for him – like Tony Ferguson, who is used by other lower-ranked fighters as a stepping stone for a fight with the top-ranked fights. It will interesting to see what the future holds for both these fighters – Derrick Lewis and Sergei Spivak.
Related: "India you have a Khabib" – Twitter erupts as lightweight Anshul Jubli earns UFC contract via brutal ground and pound
Fans react to Derrick Lewis's loss against Sergei Spivac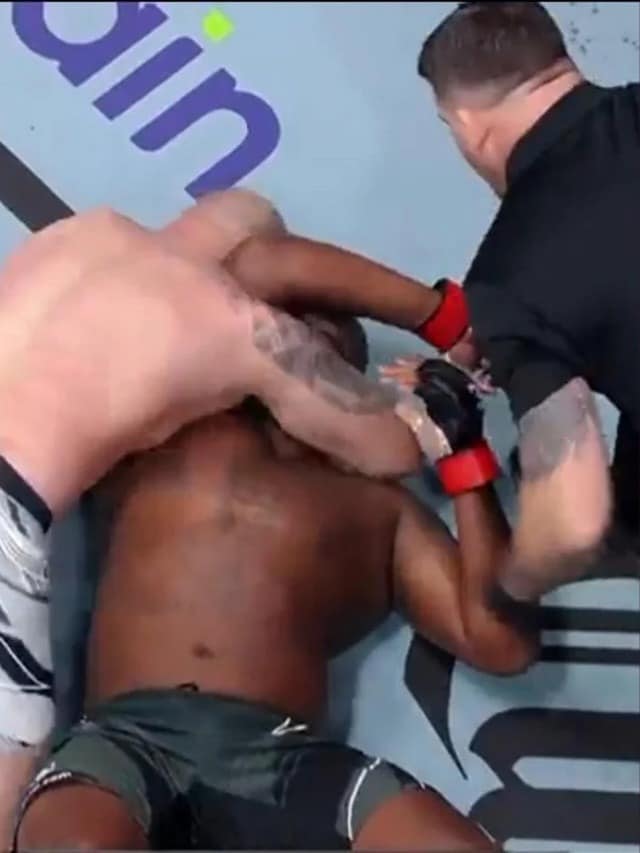 Derrick Lewis had a chance to redeem himself against a newer fighter in Sergei Spivac and get back to his winning ways. But alas, it didn't happen. Spivac submitted the Black Beast in the first round itself.
People were praising Lewis for finally getting in shape for a fight and were expecting him to win against the new generation fighter. They wanted him to lose his losing streak. With this loss, he has lost for the 3rd straight time. Fans are now saying that he is finished.
No disrespect but Derrick Lewis is absolutely finished, dude is moving like the heavyweight division's Tony Ferguson right now

— ham (@GoinHAM9HD) February 5, 2023
Derrick is cooked man I HATE IT HERE

— ℂ 𝕎𝕠𝕠𝕕🥷 (@nylvla24) February 5, 2023
That was the worst fight I've ever watched. Derrick Lewis is washed and Spivac just goes up down up down zzz

— Aaron Fraudgers (@Fraudgers12) February 5, 2023
The new generation is here. The talent and skill level has increased a lot lot.

Lewis! I love you bruh 🥹🥲😭❤️

— #Westmonti (@WestmontiAllday) February 5, 2023
When Lewis "just stand up" defense doesn't work anymore pic.twitter.com/Pieue7ENKz

— 이사야 (@OGICEY) February 5, 2023
The fans have certainly started to take notice of these new-gen fighters when they are beating the OG fighters of the game. But only time will tell if these new-gen fighters will continue their run, especially after what Spivac did today, or if one of the veterans of the game will be able to revenge the fallen Derrick Lewis.
In case you missed it: