Death, Taxes, and Aspen Lad missing weight seem to be the 3 certainties in life now. The 27-Year-Old bantamweight fighter has now managed to miss weight almost 4 times in her UFC career alone. In fact, she has competed in 7 UFC Fights and has managed to get 10 fights canceled. Of these 10, 4 were to weight misses and 1 due to complications caused by a weight cut.
With her being on a losing streak already, constantly having issues at the scale is not a good indicator either. In fact among the few times she's made weight, most have required the box for her to do it, with her constantly being on the edge of fainting and collapsing. This week, Ladd walked up to the scale and weighed, 138 lbs, 2 pounds over the non-championship limit of 136 for bantamweight.
Many have asked the fighter and other bantamweights who struggle to make weight to consider a move to the rather contender-less featherweight division. Ladd has not been responsive on this front.
While many have asked for the fighter to consider making a shift in weight classes, many others just wish to see her gone from the organization completely. A few have even called for a change in the people she surrounds herself with, claiming her team to be the reason that she has so many complications during fight week.
Related: "Grooming sexual predator"- Sean Strickland offers an extremely unsettling opinion on Aspen Ladd's relationship with her trainer
Fans call for Aspen Ladd's termination after the latest Weight-Miss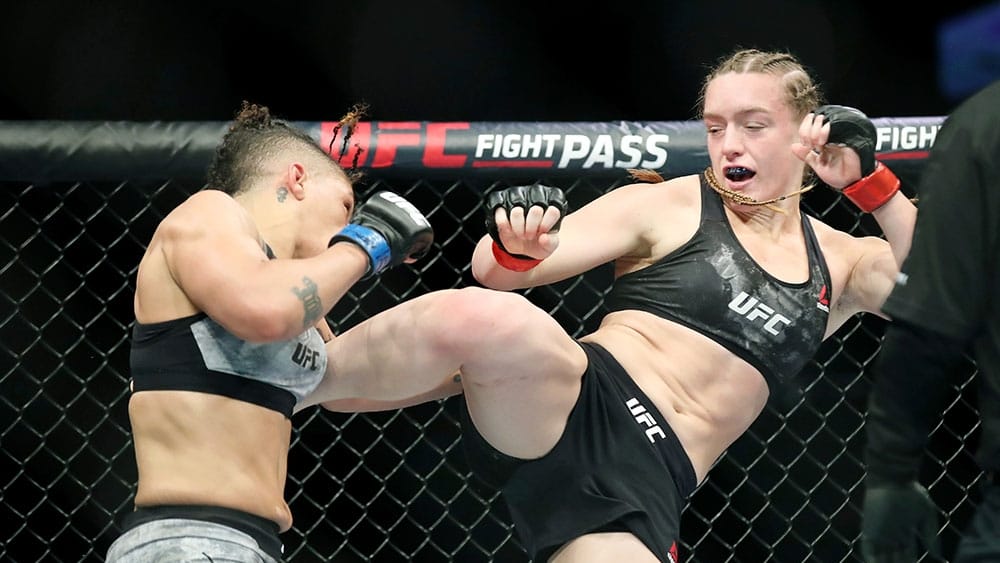 The fight with Sara McMann has now been canceled by the UFC, the third time a but between McMann and Ladd has been scrapped.
Now with her latest weigh-in blunder, fans are don being kind to the young fighter and mocking her for her constant inconsistency on the scale. Here are the best fan reactions
Also Read: "It's not personal," Miesha Tate passes on the fight against Aspen Ladd citing her history on the scales
Also Read: "They start to feel like they can rule your life," Miesha Tate advised Aspen Ladd to break things off with her head coach