Frankie Edgar has a venue and a competitor in his mind to send him off to retirement after that, and that's one legendary name and a place. Edgar has officially broken the news to ESPN MMA that he would be retiring in his next fight. Edgar last fought at UFC 268 when he got knocked out in the last round by Marlon Vera, a fight Edgar was closely winning all the way but couldn't answer back to the vicious front kicks put on by Vera.
Edgar is a legend of MMA, a person with the most fight time inside the UFC octagon (7 hours, 55 minutes and 9 seconds), with the most title defences in UFC lightweight history (3; tied with BJ Penn, Benson Henderson and Khabib Nurmagomedov) and with wins over the likes of BJ Penn, Charles Oliveira, Gray Maynard, Tyson Griffin, Cub Swanson, Urijah Faber, Chad Mendes, Pedro Munhoz, Yair Rodriguez, Jeremy Stephens and many more.
Also Read: "Have been kicking the idea of it," UFC legend Frankie Edgar to officially retire after next fight
Frankie Edgar wishes for a 'legacy fight' against the former world champion to precede his retirement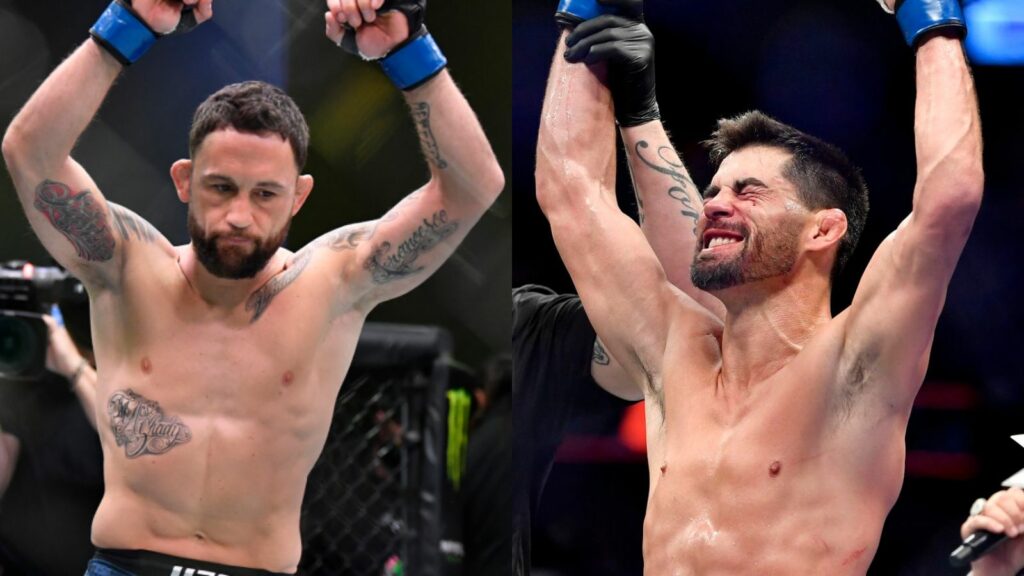 In an interview with ESPN MMA's Brett Okamoto, Edgar talks about his decision to officially put out the retirement announcement, his promise to stay associated with the sport in some way, his bittersweet feelings about leaving competition and much more. Edgar was finally asked if the retirement fight would preferably be desired inside the Madison Square Garden, the mecca of all combat sports events. Following that, Edgar also named the person he would like to fight.
"I think that'd be cool," says Edgar "A pretty cool send-off, you know, Madison Square Garden is pretty much in my backyard and trained up in Renzo's [academy] for so many years… [For the opponent] I'm never one to call anybody out or pick anybody out, I usually like the UFC and Ali [Frankie's manager] to figure that out but I will say a name because I think, it's more of a legacy fight, you know, I know he has a fight coming up… but I think Dominick Cruz you know…" Edgar continued.
What do you make of Edgar's desire to fight Dominick Cruz? Who do you think would win the fight? Cruz is a former UFC bantamweight champion who was a champion at 135 lbs when Edgar was ruling the 155 lbs. After their reigns, Edgar came down to featherweight whereas Cruz underwent a series of profound injuries that drastically slowed down his career. But back in 2016, Cruz became the champion again before losing it within the same year. Now, Cruz is looking for a third title run when he will face Marlon Vera next month to climb back to the top of the bantamweight rankings.
Also Read: "Martial artist"- Charles Oliveira reacts to Brian Ortega apologising to Pantera's Family post the bout ending
Also Read: "Get on knees & beg you old f**k," Jake Paul blasts right back brutally at Dana White's "PPV turd" comments